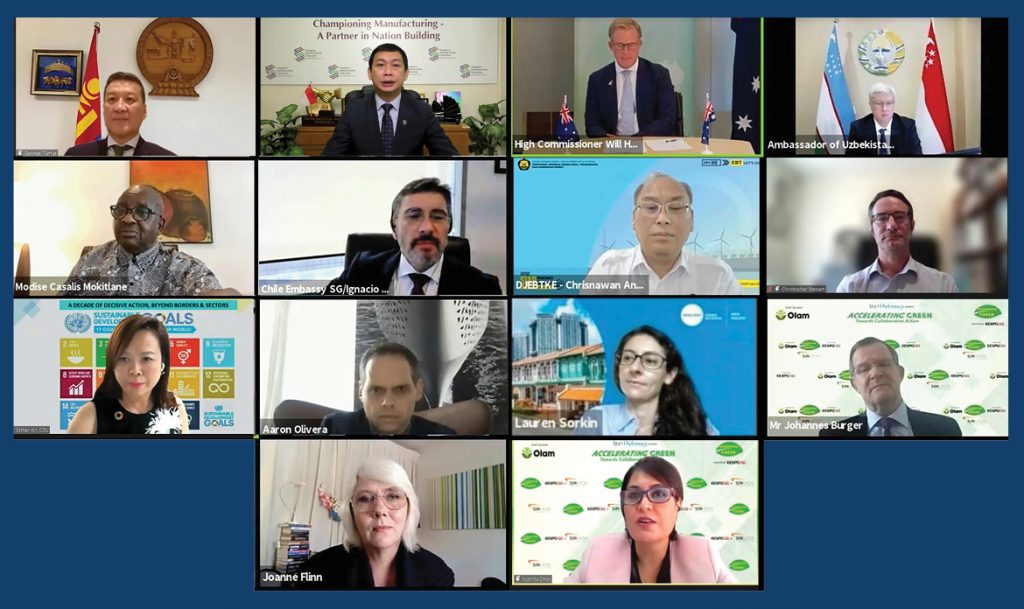 The inaugural e-conference gets enthusiastic response as speakers give a broad range of areas where sustainability issues can be applied
View the Speakers' Presentations here
ACCELERATING Green, a series on Sustainability organised by IN Diplomacy, supported by the Diplomatic & Consular Corps (DCC) Singapore and sponsored by Olam International, received an enthusiastic response for its inaugural virtual conference on 29th July 2021.
Ms. Nomita Dhar, founder of Sun Media Pte. Ltd the Publisher and Editor-in-Chief of IN Diplomacy, in her welcome highlighted the spread of speakers who are keen to share thoughts on the subject of sustainability. They included H.E. George Tumur the Dean of the DCC and Ambassador of Mongolia; Mr. Douglas Foo, the President of the Singapore Manufacturers Federation; the ambassadors/high commissioners of Australia, Chile, South Africa and Uzbekistan as well as the Director of Various Renewable Energy from Indonesia's Ministry of Energy and Mineral Resources. They were complemented by experts in the private sector who shared their insights in specific areas (see accompanying section on speakers).
In her introduction Ms Nomita said: "Accelerating green is urgent. Never in history, the answer to a simple question – "How is the weather?" has been as important and critical as it is now. We all have only one Home, this Earth, of which we are all custodians and we are all responsible to preserve it and do everything possible to keep it from deteriorating any further. "
She also added: " While each one of us can contribute, through collaboration we can Accelerate our Green efforts. As a media company, we wish to be a catalyst for conversations and collaborations between countries, corporations and communities in our circle of influence, and beyond.
Programme Highlights
ACCELERATING GREEN was officially launched by H.E. George Tumur, the Dean of the DCC and Ambassador of Mongolia. He also spoke on how important the Sustainability cause is to the country: "I am happy to share that Mongolia is one of the first countries to adopt the Sustainable Development Goals. Six months following the adoption of the SDGs by the global community, the Parliament of Mongolia approved its long-term development strategy (Mongolia's Sustainable Development Vision 2030).
The Hon. Douglas Foo is the President of Singapore Manufacturing Federation (SMF) and vice chairman of Singapore Business Federation and Vice president of Singapore National Employer's Federation. He is one of Singapore's three Appointed Representatives at the ASEAN Business Advisory Council.
He outlined programmes and measures for Sustainability undertaken by the SMF to meet the business challenges arising but said this was a necessity in the long term. One of the examples he highlighted: "SMF has incorporated in our operations is the establishment of our Manufacturing Alliance Transformation Office, or MATO for short. MATO is the product of collaboration between the SMF, Enterprise Singapore and other trade associations and chambers, or TACs to come together to drive transformation and innovations in many critical industries of Singapore including the food sector, the precision engineering sector and the electronics sector, to name just a few."
"In this collaboration, the SMF identifies companies that require assistance to update their technologies and processes and partner with our partnering TACs to recommend solution providers to these companies. These companies can then tap on the available support to implement these solutions, which in turn will increase their output and by extension, increase these companies' contributions to Singapore's GDP. This is a circular system but one that has proven to be effective."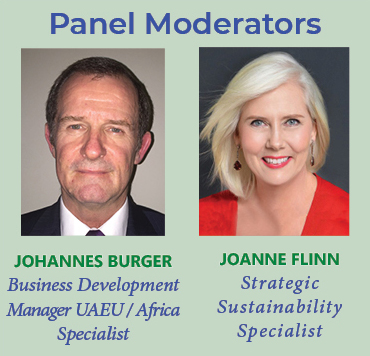 Australian High Commissioner Will Hodgman who is also the former Premier of Tasmania (the state achieved Zero Emission in 2018) said: "Australia is working with Singapore to share expertise and reduce emissions with priority areas in hydrogen, carbon capture, use and storage, renewable energy trade, measurement and verification of emission reporting. The latest development was the joint launch by the Australian and Singapore Prime Ministers this year a $30 million dollar partnership to accelerate the deployment of low emission fuels and technologies and to trial the use of clean hydrogen and ammonia in port operations."
The other heads of missions also gave highlights of their countries' progress in the area of Sustainability while experts from the private sectors weighed in with direct insights related to its application in sectors like property development (Ms Esther An of CDL); the soil's impact on climate change (Dr Christopher Stewart of Olam International); Earth 300 project – symbol and showcase of research for sustainability solutions (Mr Aaron Olivera of Earth 300) and what can be done to plan and build up safe, equitable and sustainable cities (Ms Lauren Sorkin of Resilient Cities Network).
Panel 1: Global Sustainability and Eco Wakening in Asia
+ H.E. Will Hodgman
High Commissioner of Australia
Cooperation in Low-Emission Tech & Renewable Energy (Hydrogen & Solar)
+ H.E. Ignacio Concha
Ambassador of Chile
Cooperation in Green Hydrogen
+ Chrisnawan Aditnya, S.T.,M.T.,
Director for Various Renewable Energy, Ministry of Energy and Mineral Resources, Indonesia
Renewable Energy Resources
Panel 2: Supply Chain and Sustainable Business
+ H.E. Modise Casalis Mokitlane
High Commissioner of South Africa
The Leap Forward WITHOUT Climate Change
+ Dr Christopher Stewart
Chief Sustainability Officer, Olam International
Circular Systems in Food Chain
+ Ms Esther An
Chief Sustainability Officer, CDL
ESGs & Competitive Advantages of Sustainability
Panel 3: Circular Economy and Thinking Out-of-the-Box
+ H.E. Kakhramon Shakirov
Ambassador of Uzbekistan
Integrating Sustainable Development Goals into National and Regional Development Strategies and Programmes
+ Mr Aaron Olivera
Founder & CEO of EARTH 300
The Earth 300 Odyssey – Making a Difference
+ Ms Lauren Sorkin
Executive Director, Resilient Cities Network
Clean Energy, Climate Change and Conservation Risks and Opportunities
---

---