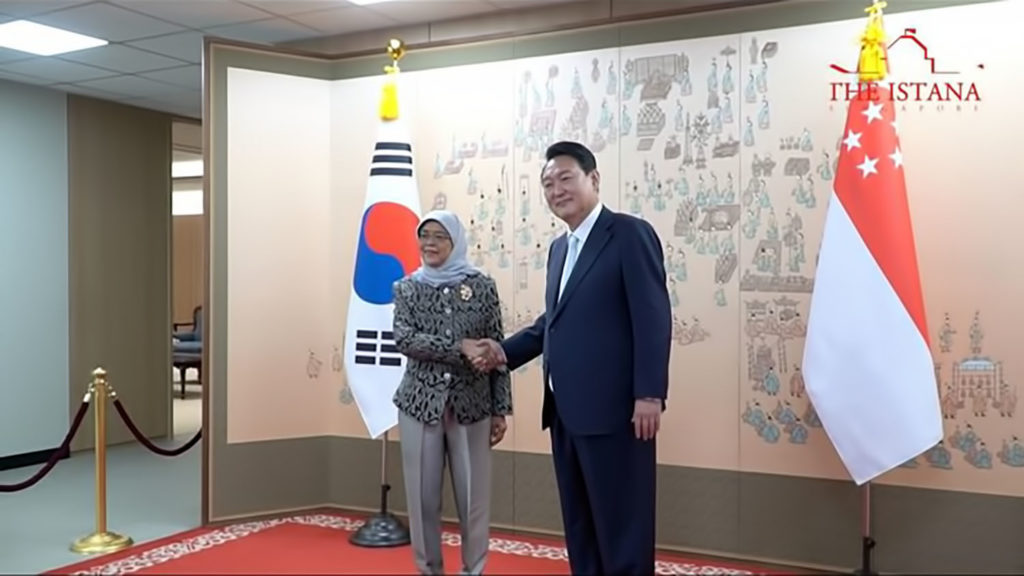 Singapore President Halimah Yacob was invited by President of the Republic of Korea (ROK) Yoon Suk-yeol to attend his inauguration in Seoul
PRESIDENT Halimah Yacob met the new President of the Republic of Korea (ROK) Yoon Suk-yeol Seoul where she attended his inauguration ceremony on 10th May 2022. Both presidents expressed confidence that the warm and friendly relations between Singapore and the ROK will be further strengthened in the coming years. They also identified several areas where bilateral cooperation can be further enhanced, in particular, digitalisation, air connectivity and people-to-people exchanges. President Yoon agreed to look into the possibility of increasing flights between the two countries.
Both leaders welcomed the conclusion of the Korea-Singapore Digital Partnership Agreement, which is the first digital economy agreement between Asian countries, and looked forward to its signing soon.
President Halimah and President Yoon emphasised the importance of strengthening regional economic integration through plurilateral arrangements such as the Regional Comprehensive Economic Partnership. They also discussed the ROK's interest to join the Comprehensive and Progressive Agreement on Trans-Pacific Partnership and the Digital Economy Partnership Agreement.
President Halimah welcomed President Yoon's commitment to expand and broaden cooperation with ASEAN. They discussed the situation in Myanmar, in particular, the humanitarian crisis and the need for the full and expeditious implementation of the ASEAN Five-Point Consensus. On developments on the Korean Peninsula, President Halimah reaffirmed Singapore's commitment to work closely with the ROK and the international community to achieve peace and stability in the region. President Halimah and Mr Mohamed Abdullah Alhabshee attended a banquet dinner hosted by President Yoon this evening. Earlier in the day, they attended President Yoon's inauguration ceremony.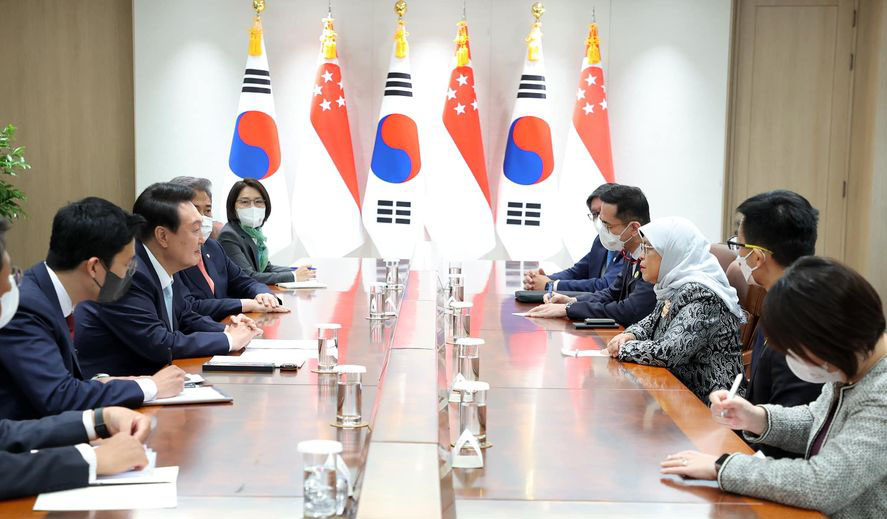 Singapore's Prime Minister Lee Hsien Loong had earlier in March written a congratulatory letter to the newly elected President Yoon. In his note he wrote: "Singapore and the Republic of Korea have deep and long-standing ties, with robust economic links and close cooperation across diverse fields. We face many similar challenges such as an ageing population, the need to restructure our economies, and to equip our people to thrive in the digital age. Despite the COVID-19 pandemic, our countries have worked closely to safeguard supply chain connectivity, deepen cooperation in the digital economy and restore cross-border travel. Singapore and the Republic of Korea are also like-minded partners on regional and international issues, including the importance of a peaceful Korean Peninsula and an open international trading system."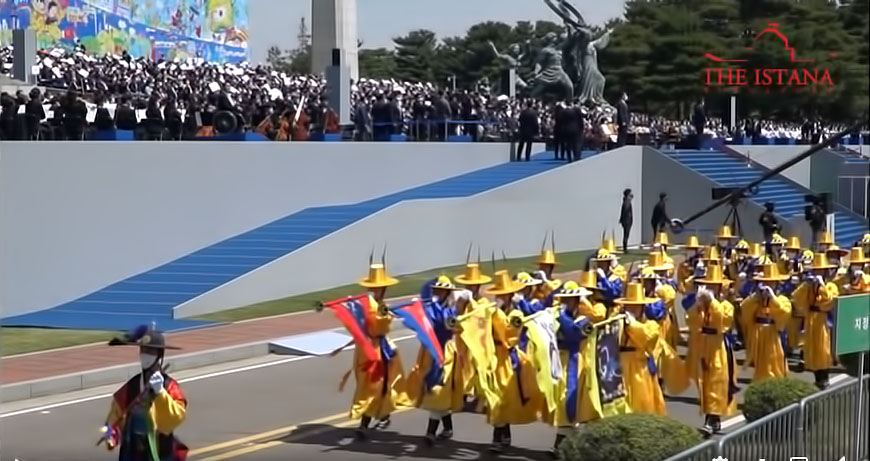 Video Note: The Singapore President's Office The Istana has released a short video clip of the highlights of the visit and inauguration that can be viewed here