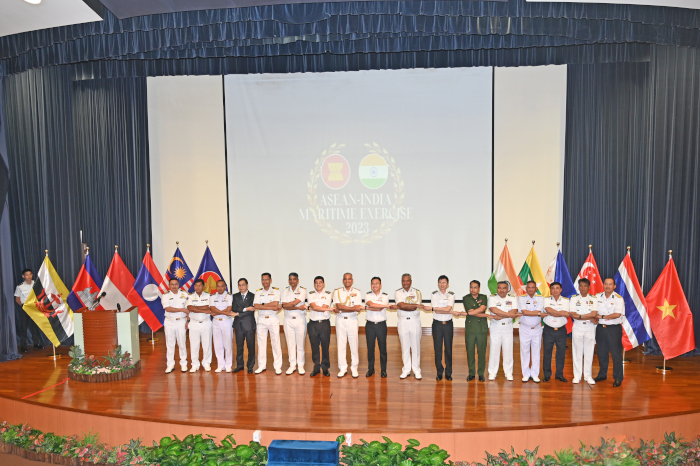 The ASEAN-India Maritime Exercise AIME-23 has begun in Singapore with participation from ships and personnel of other ASEAN countries.
The opening ceremony of the inaugural ASEAN India Maritime Exercise AIME-23 was jointly inaugurated by Admiral R Hari Kumar, the CNS, Indian Navy and Rear Admiral Sean Wat, Chief of Navy, Republic of Singapore Navy on 02 May 2023. The ceremony was attended by senior dignitaries from other ASEAN nations. The exercise is aimed at promoting maritime cooperation and enhancing trust, friendship, and confidence among the ASEAN and Indian navies.
The Harbour Phase of the exercise, scheduled from 02 to 04 May 2023, witnessed a range of professional and social interactions between the participating navies. This included cross-deck visits, Subject Matter Expert Exchanges (SMEE), and planning meetings. The Sea Phase, scheduled from 07 to 08 May 2023, will provide an opportunity for the navies to develop closer links in the coordination and execution of operations in the maritime domain.
India's first indigenously-built destroyer, INS Delhi, and INS Satpura, an indigenously-built guided missile stealth frigate, along with a P81 Maritime Patrol aircraft, will participate in the exercise. These ships form a part of the Indian Navy's Eastern Fleet based at Visakhapatnam and operate under the command of Rear Admiral Gurcharan Singh, the Flag Officer Commanding Eastern Fleet.
AIME-23 reinforces India's commitment to its Indo-Pacific Policy, as enunciated by the Hon'ble Prime Minister of India, Shri Narendra Modi, in his speech at the Shangri La Dialogue in Singapore in 2018. The exercise is expected to enhance the operational interoperability of the participating navies and promote maritime security and stability in the region.
Sourced from Indian Navy