Major Indian Diaspora convention in Singapore identifies areas for cooperation and opportunities in infrastructure, connectivity and the digital realm.
India's Minister of External Affairs, HE Sushma Swaraj, and Singapore's Foreign Minister HE Dr Vivian Balakrishnan spoke on the final day of the ASEAN-India Pravasi Bharatiya Divas (PBD) Convention to about 4,000 members of the global Indian Diaspora comprised of Indian and Singaporean leaders as well as Non-Resident Indians on 7th January 2018. The two-day event coincides with the 25th anniversary of the India and ASEAN Dialogue Partnership. The PBD's theme "Ancient Route, New Journey" neatly encapsulates the main messages of the two top diplomats who were joined by the Chief Minister of the Indian state of Assam, HE Sarbananda Sonowal.
In her welcome address, HE Sushma Swaraj's message highlighted the importance of ASEAN and cited how ASEAN is the anchor of India's Act East Policy and is at the centre of the country's vision for the broader region, "For India, ASEAN leadership and centrality is essential to peace and prosperity for a rapidly changing Indo-Pacific region." She said all the dimensions of this partnership come together in the breadth and scale of the historic ASEAN-India PBD, "It is a forum that will strengthen the ASEAN-India Strategic Partnership in all its dimensions. It is also a platform to deepen Diaspora's connection with their heritage; and, to showcase their extraordinary talent and accomplishments in every walk of life."
Her counterpart, Dr Balakrishnan* said, "The Ancient Route, New Journey theme is very apt. We remember the links that have bound us not just over centuries, but over millennia. We should also look forward to new opportunities to do even more – not just at the bilateral level, but at the regional and global level." He also paid tribute to the contributions made by the Indian Diaspora in Singapore and how their contributions  are not unique to only Singapore, "There are around 6.1 million members of the Indian diaspora in Southeast Asia, all of whom, I'm confident to say, have contributed positively to the strong ASEAN-India relations that we enjoy today."
He also highlighted how there is still great room for growth for India and the region, "ASEAN has a young population of 628 million that is destined to grow. With increasing urbanisation, that will create many opportunities for infrastructure investments. Southeast Asia and India represent one quarter of the world's population, and a combined GDP of more than US$4.5 trillion. The Indian consumer market is expected to become the fifth largest in the world by 2025. And incidentally by 2025, India would be the most populous county in the world, with a population exceeding that of China."
Similarly, he also pointed out the number of middle-class households in Southeast Asia will double between now and 2025. By 2030, ASEAN will be the fourth-largest single market in the world, "Yet today, India only accounts for 2.6 per cent of ASEAN's total trade, and only 3 per cent of the tourist arrivals to the ASEAN region. I cite these figures not to discourage us, but to make the point there is huge potential for growth in trade, tourism, and many other fields."
 The ASEAN India PBD 2018 was an initiative of India's Ministry of External Affairs and was organised by the High Commission of India, Singapore.  The High Commissioner of India to Singapore HE Jawed Ashraf said that there were more than 100 leaders who attended, many from ASEAN and the PBD not only celebrated the Diaspora's accomplishments but was also a platform to, "…advance ASEAN-India ties and invest the huge wealth of Diaspora's expertise and experience for the benefit of India and ASEAN."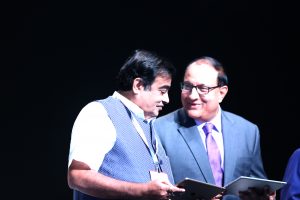 On the first day of the PBD, the opening ceremony and keynote addresses were delivered by (in order of appearance): Mr Gopinath Pillai, Ambassador-at-Large & Chairman of Institute of South Asian Studies, Singapore; Mr S. Iswaran, Singapore's Minister for Trade and Industry (Industry);  Mr N. Chandrababu Naidu, Chief Minister of Andrah Pradesh;  Tun S. Samy Vellu, Malaysia's Special Envoy (Minister Rank) to India and South Asia on Infrastructure at Prime Minister's Office; and, Mr Nitin Gadkari, India's Minister of Road Transport and Highways, Shipping and Water Resources, River Development and Ganga Rejuvenation.
*Speech Note: For the full transcript of Dr Vivian Balakrishnan speech click here: 
https://www.mfa.gov.sg/content/mfa/media_centre/press_room/pr/2017/201712/Press_20180107.html