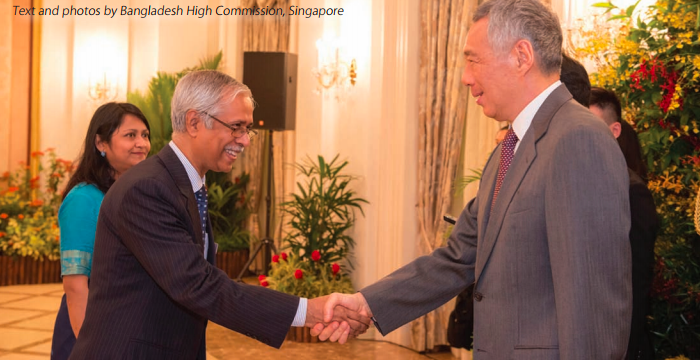 Singapore and Bangladesh have been enjoying warm relations over forty-five years since the establishment of diplomatic ties in February 1972. Bangladesh High Commission attaches high importance to this relation strengthened with interactions and initiatives at various governmental and private levels within the ambit of economic, political and cultural cooperation. To this end, the High Commission organises and facilitates various programs in Singapore all year round including business meetings, cultural performances and exchange of High Level visits.

East Meets East: Culture that Matters
In July 2017, Bangladesh High Commission in Singapore organised a cultural program titled Bangladesh Soiree at Singapore Chinese Cultural Centre. Renowned singers and dancers from Bangladesh performed to an audience of local and foreign guests, offering the audience a taste of Bengali culture and tradition.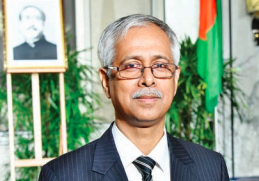 In November 2017, Bangladesh High Commission hosted another enthralling cultural evening titled Rhymes and Rhythm from the Hills by artists from the ethnic minority communities of Bangladesh. Through their dances, the artists beautifully depicted the lifestyle of the ethnic minorities of Bangladesh and their long cultural heritage. Both the events were a highly successful showcase and projection of the rich Bangladeshi culture to a culturally vibrant Singaporean local and foreign audience, and could draw a large audience comprising of diplomats, government officials, representatives of different organizations, business bodies and expatriate Bangladeshis. The audiences deeply appreciated the peaceful and cultural coexistence of the people of different castes, languages and beliefs in Bangladesh, attesting to the social harmony and colourful lifestyle of the people of the country.
Mutual Prosperity Brings Mutual Benefits
With a population of over 160 million and an economy of over US$250 billion, Bangladesh is the third largest major economy after China and India that has hit the 7% GDP growth rate. This country has 100 of its Special Economic Zones on offer for future investors. Bangladesh High Commission in Singapore works to promote trade and investment interests in Bangladesh and by also promoting investments in the Special Economic Zones. Increased contact and interaction between business communities as well as trade and investment promotion organisations of the two countries could play an important role in further enhancing trade and investment. To this end, in March 2017, Bangladesh High Commission in Singapore co-organised a business seminar titled Business Opportunities in Bangladesh, which was attended by more than 100 Singapore companies interested in investing in Bangladesh. Subsequently, the High Commission also facilitated the visit of a strong business delegation from Singapore Business Federation and Bangladesh Business Chamber in Singapore to Bangladesh.
In August 2017 Bangladesh High Commission in Singapore organised Doing Business Meetings and a 'B2B conference' in Singapore. In these events, the relevant government agencies as well as private sector entrepreneurs from Bangladesh showcased the business opportunities on offer and shared the experience in running businesses in Bangladesh. The 'Business Matching' segment of the event facilitated talks related to prospective business cooperation and joint ventures between Bangladeshi and Singaporean businesses.