The new High Commissioner of Malaysia to the Republic of Singapore, H.E. Dato' Zulkifli Adnan presented his credentials to President Halimah Yacob on 25 October 2017. Last November, in conversation with Ms Nomita Dhar, Editor-in Chief IN Diplomacy, he talks about bilateral relations and is optimistic about future interactions between the two nations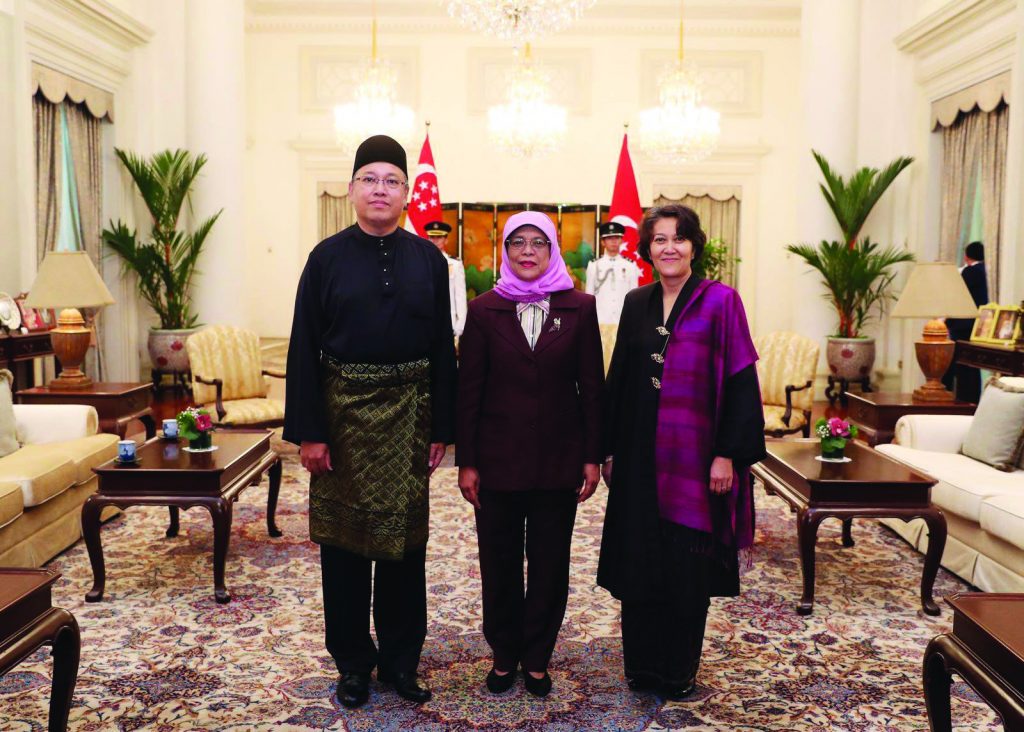 Ambassador! Welcome to Singapore. It's our pleasure to have you here and introduce you to the readers of IN Diplomacy. We are sure you are going to take Malaysia-Singapore ties to even greater heights given your illustrious career. Please share your views on the current state of bilateral relations between the two countries.
I have been here for about a month now. For me it's a very interesting post, very challenging. The relations between our two nations are at their peak at the very highest level. We have to continue to nurture this, given the fact that these ties go back a very long way, given our many commonalities in our history and culture – multi-ethnicity, multi-religious and multi-cultural factors which have come into play to make these bonds so important. Also, when you have relations at a peak at the very highest level it trickles down to senior officials and then down to the people as well.
Although these relations are excellent, I believe there's always room for improvement, given the environment of change and on-going activities that are in place for on-going continuity between the two countries. This can be in terms of the balance of trade between us. Though there is a competitive edge in the field of trade one also looks at how both countries can benefit from it. In terms of infrastructure, Singapore has made an investment of $1.4 billion in Malaysia and Malaysia on its part has made investments to the tune of $1.9 billion so it's a two-way street that is mutually beneficial.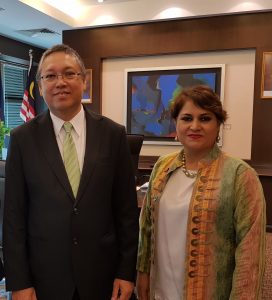 Malaysia achieved 60 years of independence in 2017. For you, what have been the highpoints of nationhood during the last six decades?
In terms of the economy, we first started by focusing on manufacturing, then we concentrated on more capital-intensive industries, followed by services before finally arriving at knowledge-based industries and services as well as IT-related fields. This was the most important way to move forward, to sustain our objective of national growth.
We could not rely on the old ways to achieve our projected growth of 5% per annum. Our infrastructure, as you might be aware, is as good as Europe and the US. This is very important because good infrastructure gives impetus to the growth of industry and services. We value partnership with the private sector whom we collaborate with to build up infrastructure. They make money and we have the infrastructure that will help generate wealth and jobs through industrial growth. It's a arrangement that works. We are also getting investors to enter the infrastructure sector. For us to grow rapidly, we need the infrastructure well in place, whether be it in shipping, ports, rail etc.
For example, one important area we are addressing is seamless travel between Malaysia and Singapore. There is a two-pronged agenda. One, through the development of the Singapore-Kuala-Lumpur High Speed Rail (HSR) that would reduce travel time between Singapore and Kuala Lumpur to 90 minutes (compared to more than four hours by car). Secondly, the Singapore – Johor Bahru Rapid Transit System Link (RTS). This will be a high-volume shuttle service connecting Singapore and Johor Bahru, Malaysia. The Singapore terminus is at Woodlands North station, and the Malaysian terminus at Bukit Chagar near JB Sentral.
What are the latest timelines for these two projects?
I'm given to understand that for the HSR it is 2024 and for the RTS it's 2026. I would love to be around for these projects to materialize. Between Singapore and Malaysia there will be seven stations along the route and these will transform the areas surrounding them, creating important cities, townships and industries with infrastructure and housing build up in the future and increasing property values along the western coastal regions.
Apart from infrastructure and investments, education, health and tourism development also play a critical role in a country's development. What can be improved in these areas bilaterally?
The possibility of collaboration in these areas were discussed at the last Leaders' Retreat. One of Singapore's major strengths is skill training and education so we expect many opportunities in this economic space. It works both ways; we have enough skilled workers so when Singapore trains and impart these skills to them it will benefit the industries in this region. Tourism too is another area where the two countries can work together. For example, travel packages with itineraries that include Singapore, Malaysia and Bali would be more attractive as travellers can get more out of their holiday.
It's said that this is the Asian Century with Singapore being the 'boutique' destination of ASEAN while other member countries are in various stages of development. Singapore and Malaysia are quite close to each other and share many common traits. How can the two countries leverage on the idea of the 'Asian Century' in terms of growth for themselves?
We have many similarities, but we also have diversity. So when people come here to see the similarities they also come to see the diversity and each of us have our own "brand" and set of attractions as a nation.
Every ambassador has a vision of promoting their country, culturally, politically etc. Do you have a particular aspect to highlight?
As I see it there are all aspects that one should promote. Of course, there is no denying that we all have our favourites. One area I will want to look into is improving people-to-people connectivity through many of the events we organise in different areas of our High Commission. We all have our "target" groups whether it's through business, culture, trade or in a social context or my wife in the ladies group in the Diplomatic and Consular Corps etc. The idea is we must work together, and everyone contribute their bit to the overall effort of promoting the country.
Please share something about your past postings.
I was in Sri Lanka at that time my daughter was just three months old, I was in New York, Denmark and also Bosnia as Ambassador 15 years after the conflict… That was interesting. The Netherlands was an eye opener. People from all walks of life would use bicycles as a main mode of transport. I would see people all suited up for work on cycles… I might see someone with a guitar on a cycle… It was really something to figure out where one could rent a cycle to go to work!
There are several security issues related to terrorism, religious fundamentalism and maritime territorial disputes etc in this part of the world. How can Malaysia and Singapore make it more secure and safe for people here?
ASEAN countries in general have the mechanism in place for security of the region and member countries have their own internal security measures. There are also several forums which monitor such things and look for solutions to threats such as from actual to cyber terrorism attacks through intelligence sharing channels.
As for religious fundamentalism I believe some people are easily swayed by wrong notions if they don't know enough about religion. It is important for parents to educate their children so they don't get confused and fall prey to false teachings.
Do you have a special message for Singaporean investors and Malaysians residing here as you start your tenure?
The High Commission is a window to the whole of Malaysia. Our duty is to promote Malaysia. We have a good set up here and my message would be "Make use of me, not only in the area of diplomacy, but also for face-to-face interactions, which is more personalised than the internet and FaceTime."
Click here for Singapore Ministry of Foreign Affairs biographical summary: https://www.mfa.gov.sg/content/mfa/media_centre/press_room/pr/2017/201710/press_20171026.html