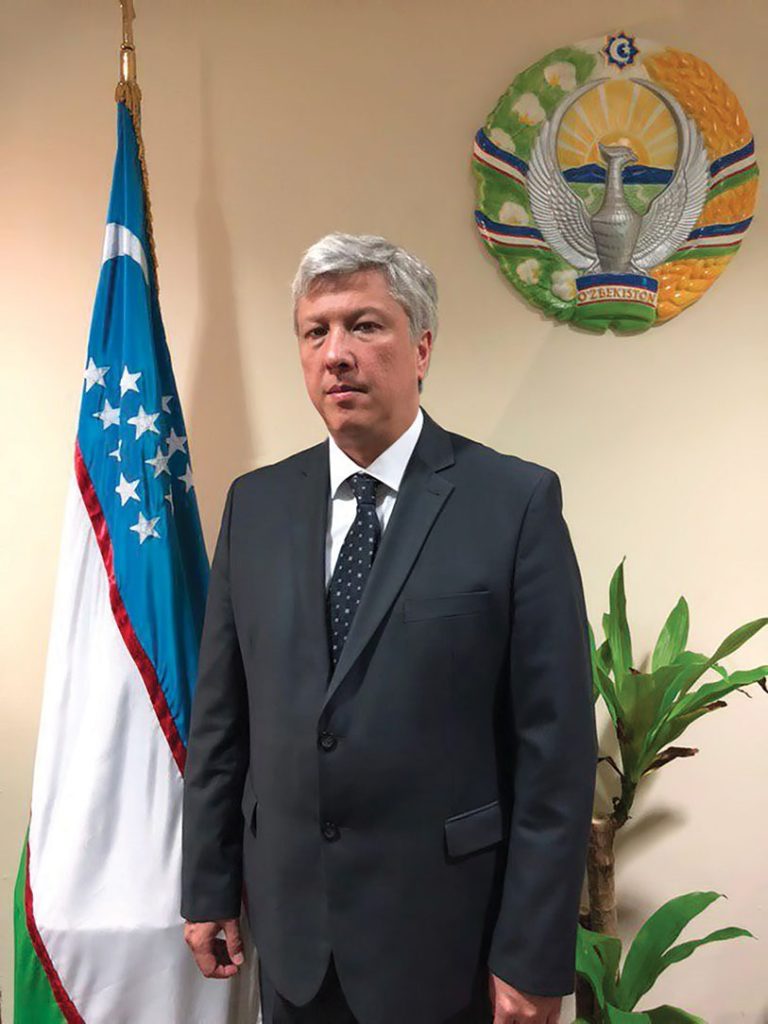 MESSAGE FROM THE AMBASSADOR OF UZBEKISTAN TO SINGAPORE ON THE OCCASION OF THE 31ST ANNIVERSARY OF INDEPENDENCE OF THE REPUBLIC OF UZBEKISTAN
TIME has moved so quickly for us as an independent nation. But we take pause to reflect with a great sense of achievement as we look back on the significant milestones that mark the course of this journey since we first celebrated Independence Day 31 years ago.
In 2016 when President Shavkat Mirziyoyev took the helm of Uzbekistan, Central Asia's most populous country, a shift in foreign policy signalled the opening up of the country to the world and kicked off the mood for engagement in regional cooperation. With the deep reforms he has set in our government has, since then, also simplified or removed up to 200 technical barriers and government regulations to conduct trade and business for local and international investors.
"Independence Day, which returned our national statehood and national pride, our rights and freedoms, which became a solid foundation for all our successes and achievements, will always be the greatest and dearest holiday for us and future generations", shared President Mirziyoyev on the occasion of the 31st anniversary of Uzbekistan's Independence.
Renaissance of Our Times
The anniversary is a milestone in Uzbekistan's 31 years of nation-building, even as the country moves forward to the next stage of development, in what some are calling its 'Third Renaissance.' The First Renaissance dates back to the 9th12th centuries, which witnessed the impact of hundreds of great scientists and famous thinkers, and the governments at the helm easing in the necessary conditions for the country's development. The 'Second Renaissance' or the "Renaissance of the Timurids' took place in the 14th-16th centuries.
Earlier on President Shavkat Mirziyoyev described "New Uzbekistan" as "a state developing in strict compliance with the universally recognised norms in the field of democracy, human rights and freedoms, on the basis of the principles of friendship and cooperation with the international community, the ultimate aim of which is to create a free, comfortable and prosperous life for our people".
Reflecting on this great journey and its developments in recent times he had shared that: "…the fact that our democratic reforms have become irreversible is the most important result we have achieved today." Elaborating further, he said that the country's leadership has admitted "the existence of problems in our lives with forced labour, especially among children, unemployment, poverty, corruption, housing, education and health, and we are addressing them along with our general public."
The "New Uzbekistan" is primarily about the new economic relations, the new economic vision. "The economic system of our country is being completely restructured and even if it is difficult, we have begun to put into practice the market
mechanisms," President Mirziyoyev pointed out.Massive economic and social projects are now underway in cooperation with foreign countries and organizations. Today, we are moving from a period of national revival to a period of national prosperity. We are also implementing the new Strategy of Development of New Uzbekistan for 2022-2026. It has already witnessed the acceleration of moves from foreign investors including from Singapore in an effort to develop our economy, which is being revamped and is now abrim with business opportunities for large companies and small and medium enterprises (SMEs). The most attractive sectors for investment are tourism, textiles, food processing, education, information technology (IT) banking and finance, mineral resources and urban development.
The restructuring and rapid development on multiple fronts has boosted our Gross Domestic Product (GDP), which was able to grow strongly around 7 percent over the past three to four years despite the Covid-19 hit. As a result of the overhaul foreign investment attracted by the country has tripled to US$7-8 billion a year now, from US$3 billion five years ago.
Brighter Investment Scenario
Uzbekistan's investment scenario has brightened with the likes of Singaporean companies, which have invested nearly half a billion US dollars in such sectors as education, food, agriculture, and the chemicals and textile industries. Other areas that Singaporean companies can explore are information technology (IT) such as block chain management and smart banking systems.
The government is also working together with SMCCI for joint efforts. Several trade discussions and business matching conversations have already taken place. Arrangements are being made for a trade mission to visit Uzbekistan and give Singapore executives occasion to explore business opportunities there meet with government agencies and Uzbek traders. As gauged from SMCCI, this should happen in the fourth quarter of this year. Among the Singapore companies that have operations there are the education entities such as: Management Development Institute of Singapore (MDIS) and the TMC Institute that has a campuses
in Tashkent.
A great emphasis is being laid on developing the tourism sector and preserving and developing world heritage sites such as Samarkand, Bukhara and Khiva. The government is working together with the Singapore-Malaysian Chamber of Commerce and Industry (SMCCI) and tourism firms here to attract more tourists.. Before COVID-19, Uzbekistan attracted 7 million tourists and this year, it aims to attract up to 9 million foreign tourists.
Uzbekistan produces over 20 million tonnes of fresh fruits and vegetables annually, out of which products such as apricots, prunes, raisins, melons and cherries have been exported to Singapore. Textiles are amongst one of the big sectors in Uzbekistan and clothing, including silk, is largely exported to Europe. Also rising in numbers are Uzbek companies which are using Singapore as a base to explore the Southeast Asian market. This also gives me a great sense of satisfaction about the progress in strengthening the ties between the two nations.