The new Ambassador of Brazil to Singapore speaks to Editor-in-Chief Ms Nomita Dhar about building on the base established by her predecessors as well as greater emphasis on promoting Brazilian innovation and culture
Which part of Brazil do you hail from?
I was born in Curitiba, the capital of the state of Paraná, in the south of the country. Paraná is among Brazil's main agriculture and livestock producers and exporters. It is well-known for its massive waterfalls, Iguaçu Falls, right on the border with Argentina. We are also home, with neighbouring Paraguay, to the Itaipu power plant, the world's largest in hydroelectric generation. Ecotourism is very popular in the state parks, which are filled with abundant vegetation, large rivers and wild fauna. Paraná's landscapes are uniquely beautiful and should be on everyone's plan when visiting Brazil.

Could you brief our readers about the highlights of your diplomatic career and about your previous postings?
In a career that spans over three decades, I have worked for the Brazilian diplomatic service in many different capacities. I have been posted to several offices abroad, among them the Brazilian Mission to the Organization of American States in Washington, DC; the Brazilian Embassy in Ecuador; and the Brazilian Mission to the European Union in Brussels. Over the past six years, I have been in charge of bilateral relations with Brazil's South American neighbors. As Director for South America in the Brazilian Foreign Ministry, I have been at the head of a 15-strong team of diplomats tasked with accompanying Brazil's everyday political contacts with eleven countries and three regional organisms. It is a challenging but rewarding job.
What was your first reaction when you were asked to serve in Singapore?
I was truly honored to be assigned as the new Brazilian Ambassador to Singapore. Singapore is a particularly exciting place for any Ambassador's assignment abroad. Personally, I'm fascinated by its mix of cultures, the diversity of its people, its rich history, its beautiful architecture, and also the fact that it is heir to both the Western and the Eastern cultural traditions.  It is an inspiration to us all that such a young country has accomplished so much in terms of both social and economic development. I believe there is a lot to learn from Singapore's uniquely successful experience. As an added advantage, Singapore's location at the very core of Southeast Asia's economic boom gives us a privileged standpoint to observe what happens in the region and, I would think, in all of the Asia-Pacific.

Brazil is far in distance, but close to the hearts of Singaporeans. As the two countries celebrate 52 years of bilateral ties, what are your wishes for the near future?
I am very privileged to be able to follow in the footsteps of Ambassador Flávio Damico, an enthusiast of the rich potential of Brazil-Singapore relations, as well as of other very talented predecessors, who have worked hard to bring our two countries closer together. It is my wish to be able to build further on that solid base in all areas: trade, business, political consultations, but also innovation and culture. Our countries have a lot to offer to each other. I intend to work towards an ever stronger presence of Singapore in Brazil and of Brazil in Singapore.

What will be the focus of your work and activities during your term here?
Brazil, as many of you know, is an agricultural powerhouse. It is also an important industrial country. Fewer people know about the very high quality of Brazilian science. I believe we can work to further expand on joint ventures in the agricultural and industrial fields, as well as develop initiatives to boost research and development. Our countries have a lot more in common than initially meets the eye. I am convinced that both Singapore and Brazil have much to benefit from a strong bilateral partnership, including in the field of innovation. I was taking a look at some recent reports on this area and couldn't fail to notice that we seem to have many complementary strengths. It would be a shame not to take advantage of the opportunities this opens up.

Cultural diplomacy has always been a very useful tool to bring people together. How would you like to explore this?
My university major was in literature. I am a strong believer in the role of culture not only to enrich people's lives but also to bring nations closer together. Some could say this is a cliché. In my experience, it is not: I have seen the positive impact of reciprocal exposure to a foreign country's culture to inspire mutual feelings of goodwill and friendship. History abounds in examples of cultural sensitivity helping to strengthen links between nations.
How would you like Singaporeans to experience Brazil through your eyes?
Brazil is the ninth-largest economy in the world, with a nominal GDP of $1.87 trillion U.S. dollars. Its population of 220 million, the world's fifth largest, is a particularly attractive consumer market, both for domestic and foreign goods. At 8.5 million square kilometers, the Brazilian territory is also the world's fifth in size, about twice the area of the European Union. I see Brazil as an extraordinarily resilient country, which has risen from past difficulties, building up strength and important capabilities along the way. As a people, we try to look for answers that are not too obvious and this is an admirable quality. In addition, we are well-known for our creativity, art, culture, music, and food, not to mention our talent in football. I believe Singaporeans have a fondness for all of this, and I hope I'll be able to contribute to create many opportunities for them to enjoy Brazilian culture. But I would also want Singaporeans to get to know more about the other Brazil: a country of hard-working people, full of entrepreneurial spirit, open to the world, and also very active in scientific and technological research.

Since you are just coming from home, please tell us a little bit about youngsters in your country. What do they dream about, what are their hopes for the future? How could the youth of our two countries collaborate?
Brazilian youth, not unlike in Singapore, are very well connected and informed, have wide access to social media and actively discuss the political, economic and social challenges ahead. They are concerned with serious issues at both local and global levels, such as broadening access to health, education and justice and promoting sustainable development. At the same time, we Brazilians like to have fun, practice and watch sports, and listen to music.

Brazilian and Singaporean youngsters can collaborate in planning and thinking about how they want the world to look like in the future and discussing how they can contribute to reaching their goals. Technology is on their side. Communication across the world is incredibly easy and access to information is one click away (when it doesn't pop up on your smartphone screen). I believe that student exchanges and college programs will naturally lead to closer collaboration and the identification of unsuspected affinities.
Is this the right time to invest in Brazil? If so, why?
I have no doubt about that. Large as it is, the Brazilian economy is fast finding its way back to growth, with very positive macroeconomic indicators, the lowest interest rates ever and inflation rates that have been under control for decades. The federal government is committed to a responsible fiscal policy. The higher level of predictability is already increasing investors' confidence and driving new capital inflows. In fact, Brazil and Singapore rank at about the same level as destinations for foreign direct investment; sometimes Brazil is ahead, sometimes Singapore is. There is a vast array of new opportunities for investment in Brazil, mainly in the building of new physical infrastructure and the sustainable exploration of natural resources. Through the Brazilian Investment Partnership Program, roads, railroads, port and airport concessions, as well as mining and oil and gas industries are offered as attractive fields for incoming foreign investment.

This Embassy-supported publication is celebrating its 20th anniversary this year. Would you like to convey a message to our readers?
The magazine "It's time for Brazil in Singapore" has been an important vehicle to communicate with the local community in so many levels: from investors, to businessmen, officials, academics, researchers, diplomats and visitors from abroad. I believe it does justice to the outstanding work carried out by the Embassy's staff. It also sets the bar very high for the year ahead. I hope I'll have plenty of new interesting developments to share with you and your readers for the next edition, at the end of 2020.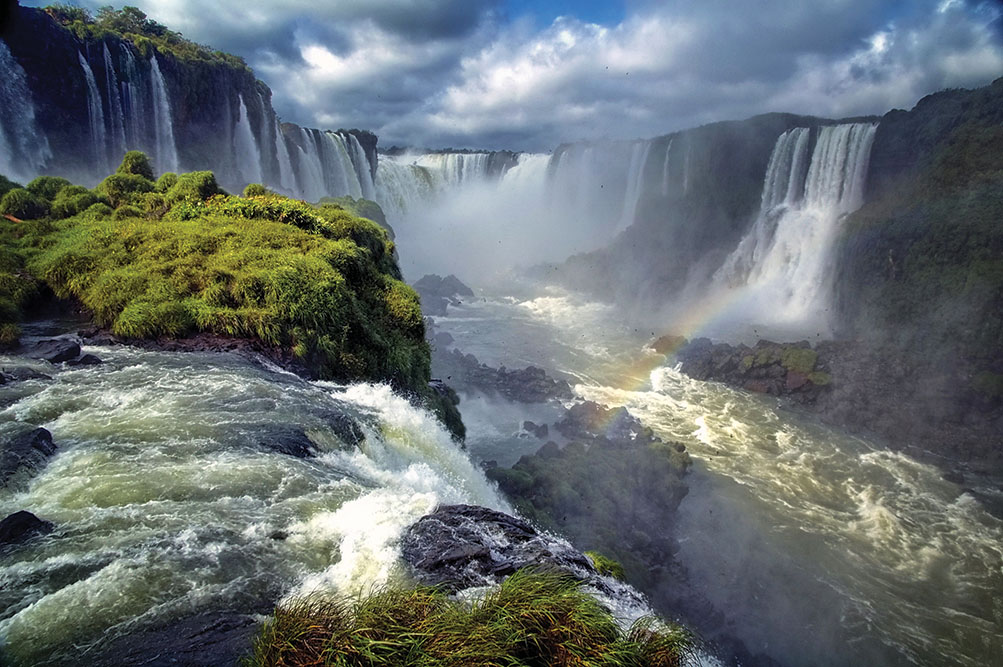 Ambassador Barthelmess hails from Paraná State, well-known for its mas- sive Iguaçu Falls: "Paraná's landscapes are uniquely beautiful and should be on everyone's plan when visiting Brazil."