As she readies to return to her home country, HE Paula Johanna Parviainen, Ambassador of Finland to the Republic of Singapore, shares the highpoints of her four year tenure with
Editor-in-Chief Nomita Dhar
We met last week at your farewell, which had a phenomenal turnout. How do you do it, how do you have such a huge fan following?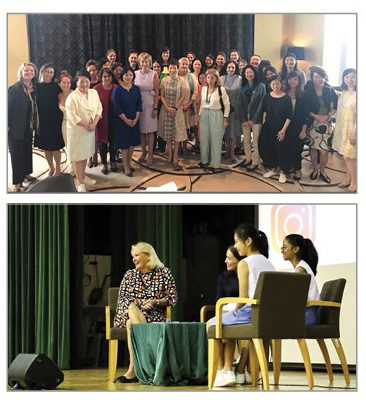 Well that was a real surprise…I didn't do anything for that…It just happened.
I was really shaken and felt very emotional about it and it really was a big surprise as I didn't know that there would be so many friends who wanted to be there. I was really grateful. I get my energy from the people and from the good will generated. I think Singapore is a wonderful place and the concentration of great minds from all over the world here is amazing and the fact that in one's position as ambassador one gets to meet many of these amazing people who would otherwise be out of your reach. So it's going to be very different for me when I return to Finland!
There has been a heigthened pace in the number of bilateral interactions and visits by governmental, business and trade delegations under your tenure. How did you manage to accomplish this?
Thank you for your kind words. I think it was just the momentum—the G-50 meeting was a good starting point and then we had our 100 years centenary celebration of Finland's independence. There are so many similarities between our two countries, and much can be done about bringing us closer together. And when you start thinking about it, it becomes a perfectly natural thing to do. What I'm especially happy about is that now we have delegations visiting both ways. We have also been able to put Singapore on the map of  Finland through the many events we have been organising and also by bringing businesses and Finnish experts here so that they have been able to see what Singapore has to offer and also in terms of our policy making and the implementation of our new polices and ideas. So I think it works better both ways… much better than before. I'm sure this will continue. Our team here is much bigger than when I arrived here. Since I arrived we now have more diplomats to represent us in areas such as trade and innovation matters.
What do you consider to be your biggest success here?
Helping to get Finns here to participate in and organise Finland's centenary celebrations. It was a success and the timing was just right coming relatively soon after the start of my four year tenure here. Altogether we had a year and half to make the preparations for the event with all the ideas and co-creating… there was no template here for us to work from, so everything was from scratch. It involved a lot of brainstorming about what Singapore should know about us; what is there for us to tell them and where should there be the connection. So making this whole thing a reality required a huge effort.
I saw it as a huge success, seeing the Finnish community wanting to work together and to help co-create the 110 events for the 100-year celebration throughout the year with our limited resources. In fact, it was that great team spirit with people wanting to do something for Finland and Singapore which was the great driver for this success. After that it was about seeing which areas were the best for future collaborations.
You have organised events such as the Finnish film festival with the help of volunteers and you do not even charge for admission. In Singapore we like to charge. What is your advice to us about this approach to organising activities?
Actually I feel many Singaporeans do a lot of volunteer work. I see much is being done for the communities here. In fact, this is something I'd like to bring back to Finland. We are most critical about ourselves as a society so when there's talk about our education system or being the happiest nation in the world we are quite critical. I think Singapore does a lot about giving back to society…of giving back some of the goodness. I like this giving back spirit.
So what makes Finnish people the "happiest in the world"?
If you ask them if they are the happiest in the world, they will probably say "No!" No one's going to admit to that, even I am not happy every day! Finland has also been rated as having the best education system the world in 2001 (this was before the Asian nations went beyond us) but we had some misgivings about that survey too and true enough eventually if was discovered there was something wrong in the findings. But this is the second time in a row that the United Nations survey has ranked Finland the happiest nation in the world. So maybe the first time there was some skepticism but getting the title the second time we are thinking "What is it that makes it look like we are so?" I think Finnish government and society are able to provide give the people comprehensive social and material support  when one needs it and there is also gender balance in the country (in the most recent parliamentary elections 45% of Finnish MPs are women).
Would YOU stand for elections?
No! I'm not a politician… and never will be.
This is your second stint in Singapore. What is the main difference you noticed between your two assignments here?
I think Singapore has improved tremendously. I was away for 15 years. Before I returned here I spent four years in Beijing. Singapore has undergone quite a dramatic change in many areas such as its strategic position in this region, its visionary aspirations and commitment to sustainability etc. Much development has taken place and it's going in the right direction. You still have a lot of open spaces here for people to enjoy, more cultural things to do so that it's not just shopping and eating, and of course there's a better business environment to encourage business  and investment. The political system has not changed so much so there's stability in that area.

When you leave is there something you want to bring back from here to Finland?
I would like to bring back the Singapore 'family spirit' to Finland. Our people are very independent from a very young age, around 18 when they finish school. We are one of Europe's leading aging nations. We pay very high taxes so we expect society to come take care of our own elders. In Singapore, the family is first responsible for caring of its members. I'd like to bring back that mentality to Finland.
You are part of a very close knit diplomatic community here. Do you think diplomacy and a diplomat's role if of relevance in these times?
I think diplomacy has changed and it has also become disruptive. Diplomats now pay more attention on business promotions, economic matters etc. But we still need diplomacy to perform its traditional roles and diplomats are still needed to provide analysis of the changing environment and geopolitical changes. The speed of information has accelerated but we don't have the time or resources to put in as much time as we would like to process such a large volume of real time data and information. Today's world requires nations to adapt to multilateral systems, groupings and organisations; so the demands on diplomats are much greater.