CHILE'S Heritage on Tour exhibition is the first in a series of special events commemorating 40 years of diplomatic relations between Chile and Singapore. It showcases a sample of Chile's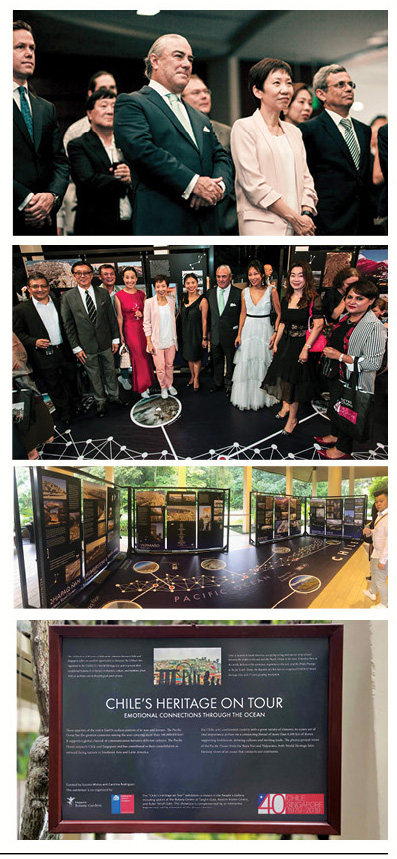 designated UNESCO World Heritage Sites was opened on 30th May by the country's ambassador here, HE James Sinclair. The guest of honour was Ms Grace Fu, Minister of Culture, Community and Youth.
Some of other events include a visit of the tall ship Esmeralda of the Chilean Navy as well as a postal stamp competition in September, a seminar Chile and Asia Pacific in October; a Chile and Singapore co-produced play titled Eloquence by writer and director Manuela Infante in November.
The exhibition at the Green Pavilion at Botanic Gardens showcases Chile as currently the home to six UNESCO World Heritage Sites. All are cultural sites and outstanding examples of architectural ensembles and landscapes which illustrate significant stages of the country's human history. The sites are: • Rapa Nui National Park • Churches of Chiloé • Historic area of the city-port of Valparaíso • Humberstone and Santa Laura Saltpeter Works • Sewell Mining Town • Andean Road System Qhapac Ñan. This year's commemoration of 40 years of diplomatic relations between Chile and Singapore presents an opportunity to exhibit to an international audience the Chilean sites through traditional photographic images as well as modern elements of augmented reality allowing visitors to explore Chile's World Heritage sites in an innovative way. The exhibition is from 31st May to 30th June, open daily 8am – 9pm. Free admission.