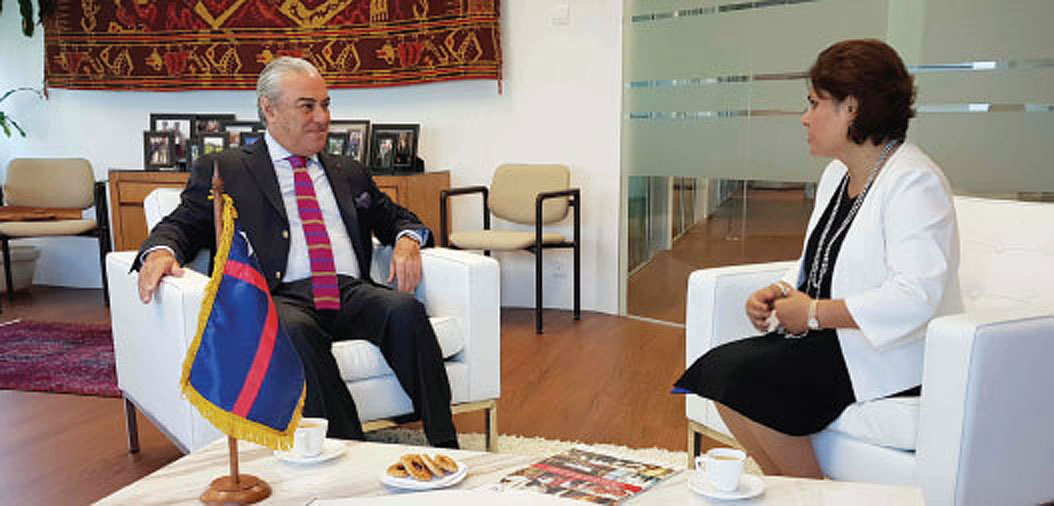 The Ambassador of Chile to the Republic of Singapore HE James Sinclair is the new Dean of the Diplomatic and Consular Corps (DCC) here and intends to carry on the good work started by his predecessors and one might also expect some new initiatives in the area of education
GOOD morning your Excellency. Congratulations on becoming the new Dean in Singapore. Please share with us your views on becoming Dean and your plans for this new role.
It's a great honour which gives me a great opportunity to work with the diplomats of the DCC and also with the government of Singapore. And it is not just interacting with Singapore's senior government officials, but also Singaporean society and communities, whether it's the business or education communities or hi-tech field. I look forward to nourishing these relationships and to get the best out of it, for them and for us, the diplomatic community.
During your term as Dean what should we expect?
I'm going to continue with the very good work which my predecessors have been doing. I arrived here when the Dean was the Spanish ambassador. He and his wife were both very active and very popular in the diplomatic and the Singaporean communites. Ambassadors of Brazil, Costa Rica and Poland were also extremely active and lots of activities were were accomplished during his tenure. Then, followed by the ambassador of Poland who though he was Dean for a short time, he too, along with his wife, did a lot especially like getting more deeply involved with the local community. I would like to, with renewed spirit and on a bigger scale, continue with events such as the Gala Ball, some sports events as the soccer championship between Singapore's Ministry of Foreign Affairs (MFA) and the diplomats; also bowling…as well as some trips abroad organized by the Ministry of Environment. I would also like to touch upon matters related to maybe the universities, academia and the media.
I think those areas are a little untouched…
Yes I would like to further look into that but also not neglect some activities that have already proven to be quite successful in bringing people together.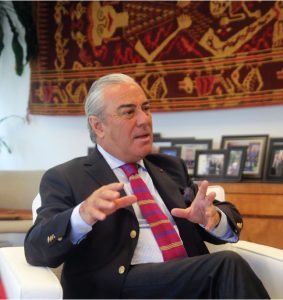 How would you present the voice of the diplomats to MFA? What would you like to change?
I think of the MFA as our partner. Indeed we (the diplomatic community) are partners on many issues with the ministry. We'll be working on the bilateral aspects directly with Director Generals, foreign secretaries and even with the Minister of Foreign Affairs…like we have done with Dr Vivian Balakrishnan, Mr Shanmugam in the past was very proactive. We have always received the best support from them. But we need to further strengthen this relationship and involve and incorporate MFA more into our activities and try to bring the voice of the diplomatic community into this interaction.
My experiences in over 35 years as a career diplomat have given me deep insights into these things. I have served a few times as the Chief of Protocol of the Presidents of Chile (including the one today) and that gives me the inspiration to commit in many tasks. The Chief of Protocol of Singapore is also a good friend. He is professional and a man of immense self-determination and wants to accomplish things. So I'm hoping to commit him in doing things with us and to understand our role here in Singapore as diplomats and as heads of mission in this country. In the case of Chile, Singapore is a major partner and a key player in ASEAN.
You mentioned you have had a very long and illustrious career in diplomacy. Not everyone has a very clear picture what is the job of a diplomat. Could you sum it up for us?
Diplomats are trained in international relations. In the case of Chile you study two years in the diplomats' academy and then serve in the ministry from the lowest position – where you do everything. The best to my knowledge and experience is to start in a big embassy. I had a chance to work in a big and important embassy, Argentina, where I rose from the basic position to become Consul of the embassy. The main reason I was able to achieve this was because I learnt much from the ambassador, from my superiors, the counselors etc. You have to work a lot but you also have a lot to gain, because you can incorporate their experience into your experience.
The most important task is to represent your country in the country that you have been posted to, which for me now is Singapore. We are here to serve the interests of the governments, facilitate in some cases agreements benefiting both governments and look after the interests of the nationals here. In the case of Chile, our community in Singapore is small, about 150 people and most are busy with their own work, duties, or students at the universities; many are also young couples with children. We see them mostly in a very social way. In some other countries, say like Brazil or Argentina who have large communities here there are a higher number of people who might encounter problems in the host country; so of course the mission needs to help them out otherwise they would be on their own.
You mentioned greater engagement with academia. These days high technology is very prevalent and important in every life and there are many technology-related career options available to students. Do you think diplomacy is still a good career choice for students today?
Absolutely! I would encourage them to choose a diplomatic career because I think we need more diplomats, we need more experienced and seasoned diplomats in this profession. We need young people to go to universities for their education and then go on to participate in seminars and conference in areas related to international relations. In the case of Chile we have many students willing to join the services and interact with other countries. In today's world, the connectivity is very easy .It's no longer a big challenge to go and stay, for example in far away countries like China for a couple of years. On the contrary it is a big opportunity, a major demand on your career…and young Chileans are willing to take that option.
I'm sure here in Singapore it's the same. You have the diplomatic academy, which I think is fantastic. We need Singapore to establish more embassies in our countries. In Chile, we have a non-resident ambassador who is great – the CEO of the National Gallery, Ms Chong Siak Ching. She is doing a tremendous job. But I feel it would be better if we have more Singapore embassies established overseas, perhaps at the beginning someone who can represent 3 to 4 countries together.
Singapore is ASEAN Chair this year and there was the recently concluded Trump-Kim summit, so the island is a big hub of diplomatic activities. In your opinion how can all the ambassadors here leverage on their position in Singapore and use it to facilitate greater co-operation between countries that are so far away… countries such as yours?
Singapore in the world is perceived as an efficient city state which has the highest standards of technological advancement— and it's safe. Security and safety are very important factors. And the rule of law function is very efficient here as well. That's one of the main reasons why Singapore has been a preferred venue for important meetings such as that between President Trump and Supreme Leader Kim. Also every year its holds the Shangri-La Dialogue which is attended by the world's top leaders who consider it very important to be present there.
Regarding ASEAN, there are several meets held here but the most important one is the Summit being held this November. My President has accepted an invitation to participate before moving to attend the APEC Summit in PNG.
As the Chilean ambassador here I would say that ASEAN continues to represent our future as it is a very large market with enormous opportunities. Our economic strategy is planned with this in mind. The 10 ASEAN countries are developing as a market and for the countries located along the coast of the South Pacific there is a great potential for Singapore as well. Singapore is considered the gateway to ASEAN and will continue to be very important for us.
Which are your favourite places in Singapore?
I love Singapore. Earlier I was based in Indonesia and used to visit here often. When I came here in 2013 it had transformed completely. Everything was blooming. My children are all grown up now but my wife and I love to go for walks in the Botanic Garden, eat in Chinatown… This place is full of energy and I just love the spirit of this country.