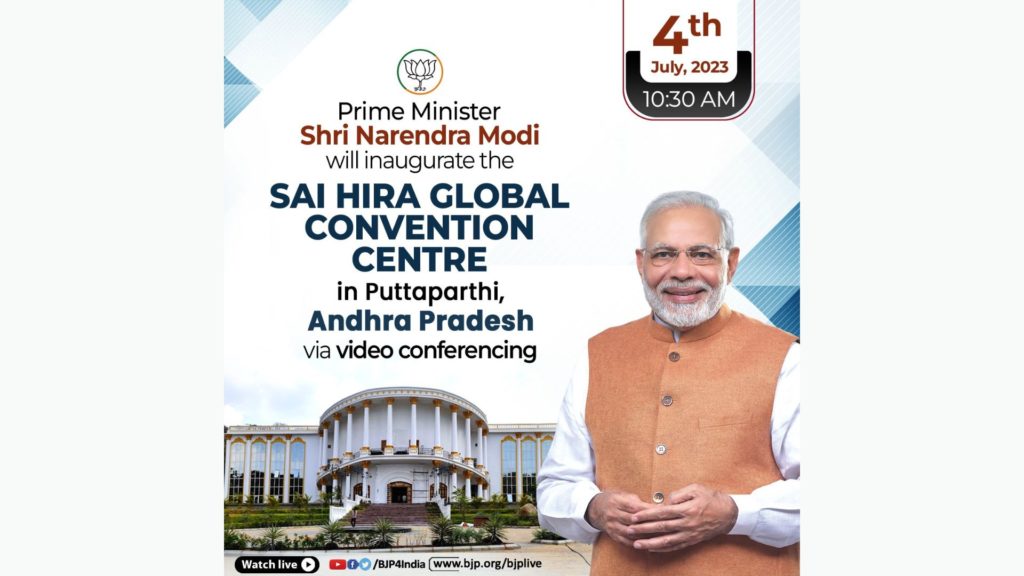 Prime Minister Narendra Modi inaugurates the Sai Hira Global Convention Centre, fostering global harmony and providing a world-class venue for cultural exchange and spiritual exploration in Puttaparthi, Andhra Pradesh.
On the 4th of July, the Sai Hira Global Convention Centre in Puttaparthi, Andhra Pradesh was inaugurated by Prime Minister Shri Narendra Modi through video conferencing. The momentous occasion was graced by the presence of numerous distinguished dignitaries and devoted followers hailing from various corners of the world.
This new facility, constructed by the Sri Sathya Sai Central Trust, holds special significance as it finds its home in Prasanthi Nilayam, the main ashram of the revered spiritual leader, Sri Sathya Sai Baba. The Convention Centre, generously donated by the philanthropist Shri Ryuko Hira, stands as a magnificent testament to the pursuit of cultural exchange, spirituality, and global unity. It embodies the vision of creating a nurturing environment that fosters connections among people from diverse backgrounds and encourages the exploration of Sri Sathya Sai Baba's teachings.
The state-of-the-art Convention Centre boasts world-class amenities and infrastructure, making it an ideal venue for hosting conferences, seminars, and cultural events that aim to foster meaningful dialogues and promote mutual understanding among individuals from all walks of life. With its expansive meditation halls and serene gardens, the facility offers an inviting atmosphere for introspection and spiritual growth.
Moreover, the Convention Centre provides modern accommodation facilities to accommodate guests and attendees comfortably, further enhancing the overall experience of visitors. The center's design and architecture are a fusion of elegance and functionality, exemplifying the idea of creating a space that inspires and uplifts.
The inauguration of the Sai Hira Global Convention Centre marks a moment of pride for both the Sri Sathya Sai Central Trust and the people of Puttaparthi, as it embodies the values of compassion, service, and harmony. This landmark facility is expected to play a pivotal role in promoting intercultural understanding, enriching spiritual experiences, and fostering global cooperation. As devotees and seekers continue to gather at this auspicious location, it is evident that the vision of a world united in love and understanding remains alive, thanks to the enduring legacy of Sri Sathya Sai Baba and the contributions of generous souls like Shri Ryuko Hira.