THE two-day ASEAN-Australia Special Summit that took place in March focussed on security and prosperity which matched ASEAN's priorities to strengthen the regional group's resilience and boost innovation. Prime Minister Lee Hsien Loong returning from Sydney, Australia on 19th March 2018 also highlighted how, "Terrorism is a global threat, so countries must be resilient together. As longtime partners in security matters, ASEAN and Australia are stepping this up with a new focus on cybersecurity."
He was also glad that ASEAN and Australia will work together on building smart cities to improve the livelihoods of all the countries' peoples. He also was glad that ASEAN and Australia also agreed that a free, open and rules-based multilateral trading system is key as, "We all depend on international trade, and enhancing trade ties can only benefit everyone." And expressed his thanks and deep appreciation to Australian PM Malcolm Turnbull for his hospitality to all the ASEAN leaders.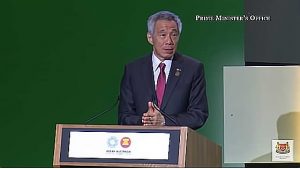 During his official visit to Australia to attend the third Singapore Australia Leaders' Retreat and the ASEAN Australia Special Summit PM Lee also attended the SME Conference at the ASEAN-Australia Business Summit on 16th March 2018 and the next day met 300 Singaporeans and their families in Sydney. He was accompanied by Mrs Lee, Dr Vivian Balakrishnan, the Minister of Foreign Affairs and Singapore's High Commissioner to Australi, Kwok Fook Seng.
To read PM Lee's statement at the ASEAN-Australia Special Summit Joint Press Conference with Australian PM Malcolm Turnbull on 18th March 2018 click here.
To read as well as view (on the PMO's YouTube Channel) PM Lee's opening remarks at the SME Conference at the ASEAN-Australia Business Summit on 16th March 2018 click here