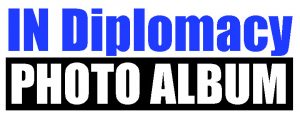 Diplomatic and Consular Corps (DCC) bid goobye to Swiss, Peruvian and Vietnamese Ambassadors
A Farewell Dinner was organised by the Diplomatic and Consular Corps (DCC) in Singapore to honour HE Thomas Kupfer, Ambassador of Switzerland, HE Manuel Gerardo Talavera Espinar, Ambassador of the Republic of Peru and HE Nguyen Tien Minh, Ambassador of the Socialist Republic of Viet Nam on 19th March 2018 at the Fullerton Hotel Ballroom. The DCC's Dean and Ambassador of Poland, Zenon Kosiniak-Kamysz, paid tributes to the three who will be transfered out to other country assignments as they complete their tours of duty here. Each of the three Ambassadors in turn also paid affectionate tribute to the invaluable help they have received from their wives in discharging their duties here and proferred sincere thanks and appreciation for the friendships they have developed with fellow members of the DCC in Singapore.
To view online or download more photos of the event click here.