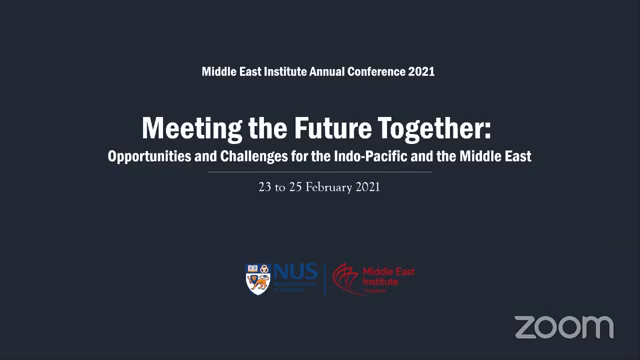 THE National University of Singapore's (NUS) Middle East Institute, the organisers of the 'Meeting the Future Together: Opportunities and Challenges for the Indo-Pacific and the Middle East' virtual conference had Singapore's Foreign Minister Dr Vivian Balakrishnan as one of the key note speakers. He spoke on the topic of The Role of Technology – Building Resilience
through Smart Cities and Cybersecurity.
 Let me begin with a central proposition: COVID-19 has not changed history. But it has exposed the pre-existing defects and has accelerated on-going technological, economic, social and strategic tsunamis sweeping across the world. Let me just briefly offer four points.
Responding to Crisis
Firstly, The world last year demonstrated how digitalisation can enable a more nimble and adaptive response to a crisis. As COVID-19 first emerged, our government engineers quickly developed tools to communicate accurate information to the public, through websites like MaskGoWhere, SupportGoWhere, and FluGoWhere and also messaging platforms like WhatsApp and Telegram. Some of these were developed quite literally overnight or within days, with our engineers working around the clock. The ability to provide crucial information from trusted sources made a pivotal difference for the necessary collective response.
We also developed a digital contract tracing tool called TraceTogether, which collects encrypted proximity data using Bluetooth signals. We know that contact tracing is usually a very manual and resource-intensive task but is absolutely critical in battling a pandemic. An efficient contact tracing system can break the chains of transmission by quickly identifying and isolating close contacts of infected persons. TraceTogether has been able to shorten the average time required for contract tracing from 4 days to less than 1.5 days.
Countries in the Middle East have also rolled out applications to address the COVID-19 challenge in your own sectors. For instance, the UAE's Virtual Doctor for COVID-19 chatbot service. This is an app that helps users deduce if they are at risk of getting the virus. The Saudi Arabia government has launched a digital health passport in January on the mobile app Tawakkalna [ta-wak-kal-na] to indicate an individual's vaccination status. I think my friends in the UAE and Saudi Arabia will agree with me that these innovations have only been possible because of the steady investment in the digital foundation before the crisis hit, in terms of building the right digital infrastructure, developing the modern capabilities, and most importantly – nurturing talent.
Supporting Economic Recovery
Secondly, Even as we battle the pandemic, leveraging digitalisation can facilitate a more robust economic recovery post pandemic. We must never waste a crisis. This is obvious in the potential of the digital economies in Southeast Asia and in the Middle East. ASEAN is expected to become the fourth largest economy in the world by 2030. Our region's digital economy is expected to grow six-fold: from about 31 billion US dollars in 2015, to almost 200 billion US dollars by 2025. In the Middle East and North Africa, the e-commerce market is expected to double in size to 48.6 billion US dollars by 2022.
Both regions are also blessed with a high youth dividend and we know that the young people are digital natives. They are not just digital consumers, but they will also be digital producers. They can drive progress in diverse fields like fintech, education, healthcare, logistics, as well as big data and Artificial Intelligence (AI). And even as we take steps towards economic recovery from the pandemic, we need to intensify our efforts in an inclusive manner to equip all citizens with the right skills, education, and mindsets. This is done in several ways, including by building digital literacy through education; enabling access to devices and services especially for disadvantaged people or for people with disabilities; helping micro, small, and medium enterprises with access and expanding their market reach. In Singapore, we have the Smart Nation Initiative; Saudi Arabia has its National Transformations Plan 2020, and there are many others like Smart Dubai and Qatar's Smart Programme. These strategies will enable us to emerge out of the crisis both stronger and smarter.
Third, Digitalisation needs a safe, secure, and stable cyberspace. As we all go digital and we find ourselves increasingly dependent on ICT networks, we know that we will also be exposed to increased risks and vulnerabilities. Disinformation and conspiracy theories have spawned info-pandemics. Malicious cyber activities will continue to be a clear and present danger, especially if there were a successful attack on Critical Information Infrastructure. Increasingly, ICT infrastructure pervades almost all aspects of our lives: whether in managing smart grids, traffic, civil aviation, utilities, or even our personal devices. Last year, Singapore launched our Safer Cyberspace Masterplan with the aim of going beyond protecting Critical Information Infrastructure, to providing some basic level of cybersecurity for the public. This will ensure that all our citizens have basic awareness of the types of cyber risks, and the sensible measures that we all need to take to better protect themselves. I know Israel has pursued such efforts for quite some time. For instance, it teaches highschoolers encryption tactics and coding under its Gvahim (va-him) programme.
Establishing Common Standards
Fourth, at the international level, we need to establish common standards. There is a need to develop frameworks to promote digital trade across borders. There is an ongoing effort by a group of WTO (World Trade Organisation) members to update global trade rules in order to facilitate this digital trade. Singapore has pursued Digital Economy Agreements with several partners to establish digital trade rules and digital economy collaborations.
In the security sphere, there is a pressing need to build a multilateral, rules-based order in cyberspace. Some good steps have been taken in this direction, to build stronger regional and international frameworks to regulate cybersecurity. For example, the ASEAN Digital Ministers have agreed to establish an ASEAN Computer Emergency Response Team, or CERT information exchange mechanism to foster stronger cooperation among national CERTs. In the Middle East, Oman hosts the ITU-Arab Regional Cybersecurity Center to strengthen regional capacity and to coordinate cybersecurity initiatives in the region. We can build further on this foundation, and even explore inter-regional exchanges of information and best practices, to harden our common defences.
We also need to continue dialogue at the UN to develop international rules and norms for responsible State behaviour in cyberspace. Some progress has already been made through the UN Group of Governmental Experts and Open-Ended Working Group on Cybersecurity. Singapore will continue to support these efforts, including through the Group of Friends on e-Governance and Cybersecurity, and the Group of Friends on Digital Technologies. It is in our common interest to ensure that the full range of Members' views are taken into account, reflecting the international community in all its diversity.
Digital Cooperation, Digital Recovery
My friends, our journey through the COVID-19 pandemic has not been all gloom. We have also seen unprecedented levels of international cooperation in the fight against the virus. For example, China shared the first genome sequences of COVID-19 through the Global Initiative on Sharing All Influenza Data, or GISAID, and they did so early on, which enabled others including Singapore to quickly develop diagnostic test kits and to begin work on treatments and vaccines. As we look forward now towards re-opening safely in the new year, Singapore has also published a digital health certificate utilising blockchain technology. We call this HealthCert to facilitate cross-border verification of COVID-19 test results and vaccine records for international travellers. Several healthcare providers in the region have already adopted this standard, and we hope to work further with other partners to take this forward.
Conclusion
Our journey through COVID-19 has shown that complex, multi-stakeholder partnerships can produce significant results when we are united around a common goal. I believe we can build on this momentum to emerge stronger from the crisis, towards a brighter digital future – because our common digital resilience depends on what each of us does, and how well we work together.