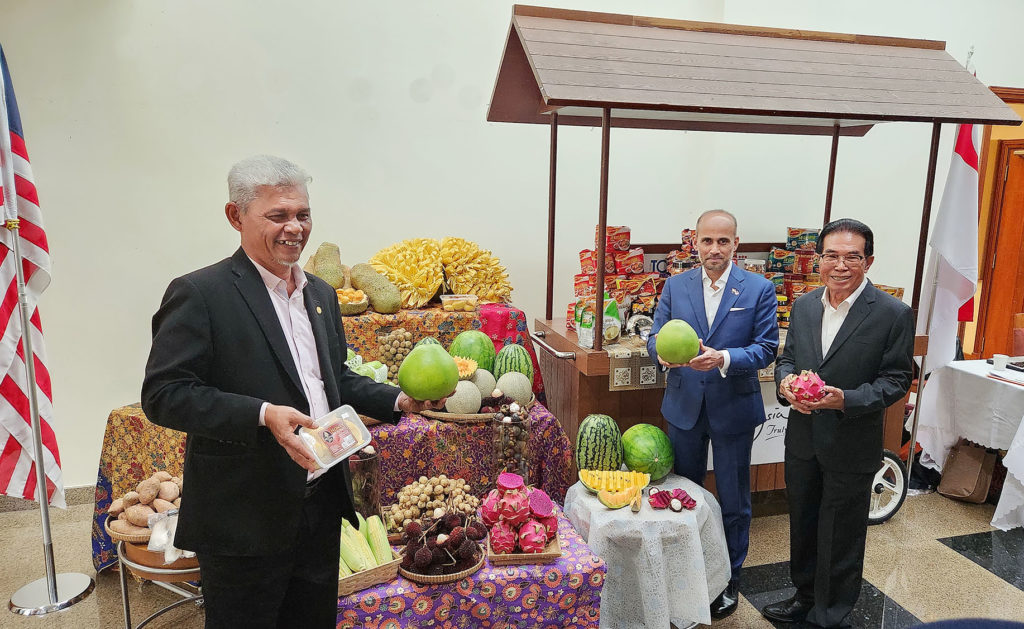 (From left): Mr Aminuddin Zulkipli, the Chairman of FAMA (Malaysia's Federal Agricultural Marketing Authority), Dato' Dr Azfar Mohamad Mustafar Malaysian High Commissioner to Singapore and Mr Hamzah Abdullah, the Managing Director MegaXpress International Pte Ltd
The popular consumer fair that starts from 25th to 30th July 2023 at Singapore Expo will also have Malaysian companies providing business opportunities
THIS year's Malaysia Fest 2023 that will be held from 25th to 30th July at Singapore Expo Convention and Exhibition Centre Hall 5 and will feature more than 270 exhibitors featuring products and services that cover food, fashion, beauty and travel. For the first time, the Fest which is popular here for promoting Malaysian agro-food products and Made-in-Malaysia goods will also feature a business matching component during the first two days of the event.
At the media conference announcing the Fest highlights at the Malaysian High Commission yesterday, Malaysian High Commissioner Dato' Dr Azfar Mohamad Mustafar introduced Mr Aminuddin Zulkipli, the Chairman of FAMA (Malaysia's Federal Agricultural Marketing Authority) and Mr Hamzah Abdullah, the Managing Director of MegaXpress International Pte Ltd. They gave a preview of what businesses and consumers can expect at the event.
This year the number of exhibitors who have signed up has increased by more than 50 for a total of 278 to date. The Malaysian High Commissioner noted that one of the contributing factors for this is the addition of the business matching opportunities introduced this year.
The exhibition will feature a wide range of products and include many Malaysian state pavilions as well as SMEs which are keen to enter and promote their wares in Singapore and the global markets. Apart from FAMA among the strategic partners for the event include Tourism Malaysia as well as Supporting Partners the Malaysian Department of Industrial Development and Research (DDR) Sabah, Terengganu Entrepreneur Development Foundation, the states of Selangor, Negeri Sembilan, Johor Bahru and the Northern Corridor Economic Region (Perlis, Penang, Kedah and Perak).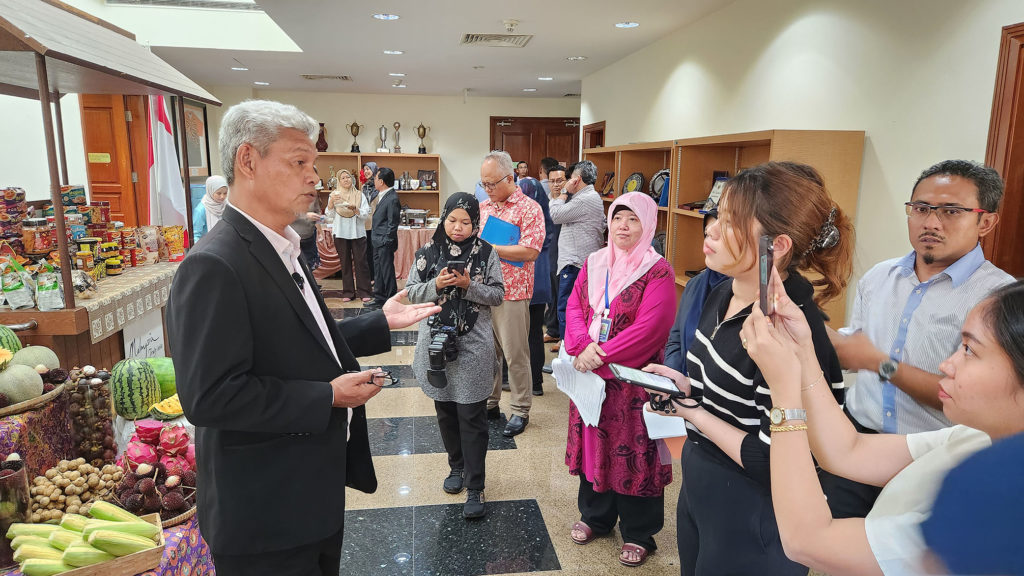 The organisers hope this year's event will attract more than 120,000 people and Mr Aminuddin (pictured above) said that the organisers are targeting to achieve the potential export value of RM25 million and RM10 million in direct sales at Malaysia Fest 2023.

Biz-Matching
The objective of the session is to create a platform for Singapore buyers and Malaysia sellers and distibutors to come together in order to network and establish trade. The sessions will run for 2 days from the 27-28 July at the Opal Conference Room, Singapore Expo. For Biz-Matching Registration and Enquiries please click here
.
For the consumer market, there is a wide range of food products displayed not normally seen everyday on Singapore's supermarket shelves as well as crowd favourites like seasonal fruits and the organisers have also lined up cultural performances and many Malaysian celebrities like Datuk Seri Siti Nurhaliza to keep shoppers entertained while they shop.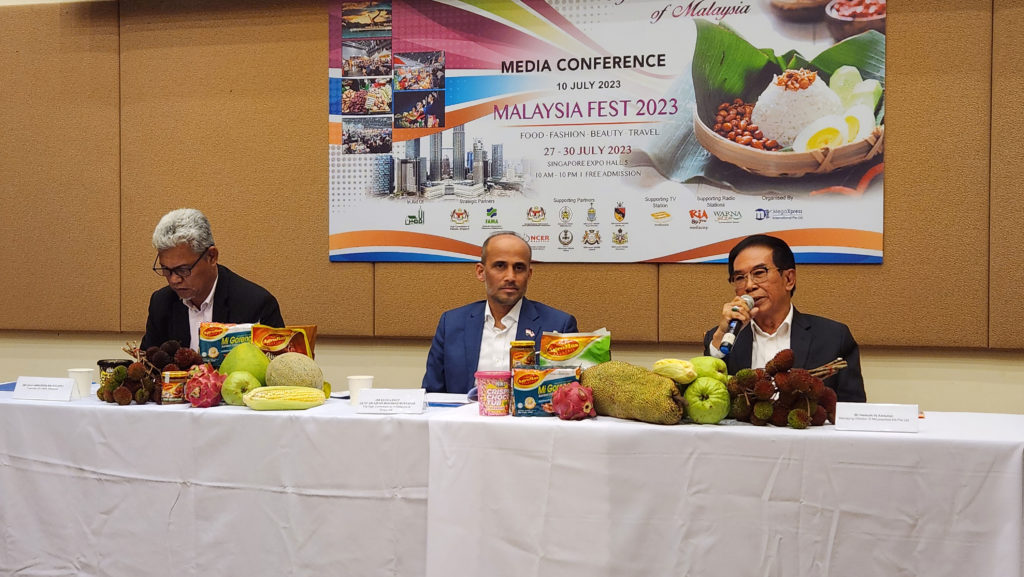 (Far right): On the mike – Mr Hamzah Abdullah, MD of MegaXpress International Pte Ltd also announced there will be an accompanying programme for visitors that include cooking demos, interactive talks /activities hosted by Al-Amin Mosque and entertainment by well-known Malaysian artistes such as Siti Nurhaliza, Ramlah Ram and Siti Nordiana