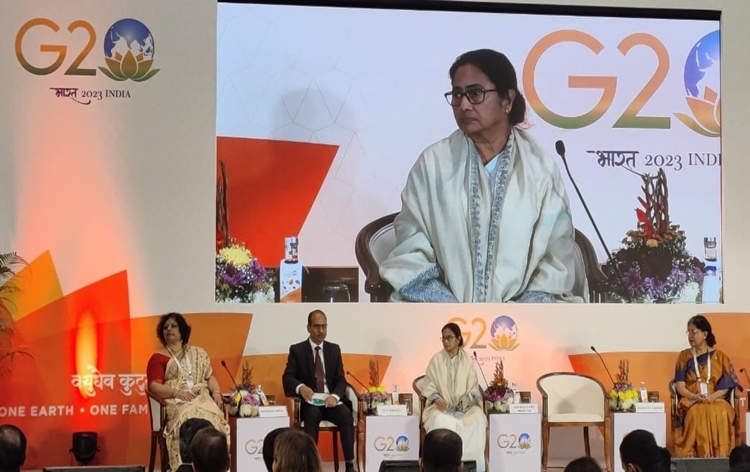 The Global Partnership for Financial Inclusion (GPFI) meeting was held in Kolkata on January 9-11, 2023, as part of the G20 India Presidency. The two-day meeting brought together GPFI member countries, guest countries, and international organizations invited by India to advance discussions on the Finance Inclusion agenda during India's G20 presidency.
The G20 process' central component, the Finance Track, offers a productive forum for discussion of international economic issues and the coordination of policy. Through its meetings with Finance Ministers, Central Bank Governors, their Deputies, and various working group meetings, it discusses international macroeconomic issues. The global economic outlook and monitoring of global economic risks, international taxation, financing high-quality infrastructure, sustainable finance, financial inclusion, financial sector reforms, funding for upcoming health emergencies, and investments in pandemic prevention, preparedness, and response are a few of the major issues covered by the finance track.
Vasudhaiva Kutumbakam, or "One Earth, One Family, One Future," serves as the foundation for India's G20 Presidency and emphasizes the message of fair growth and a shared future for all. Global discourse must be refocused on issues that are focused on people in response to growing challenges in the post-COVID-19 era of the world economy. Thus, financial inclusion is essential to achieving the objectives of reducing poverty and empowering economically vulnerable groups, as it has a positive impact on inclusive and sustainable economic growth.
A symposium on "Unlocking the Potentials of Digital Public Infrastructure for Advancement of Financial Inclusion and Productivity Gains" kicked off the meeting. A related component of this was an exhibition on "Digital Innovations for Financial Inclusion."
The exhibition highlighted India's accomplishments and efforts in advancing digital financial inclusion and creatively displayed the financial system infrastructure, emerging technologies, interactive financial literacy awareness videos, digital identification process flow for individuals, and digital innovations in financial inclusion by various stakeholders such as Public Sector Units, Public Sector Banks, Fintech companies, etc. This was done in conjunction with a Jan Bhagidari (Domestic Outreach) initiative that included a Financial Literacy Seminar on January 10, 2023. This program aimed to educate approximately 1800 high school students about banking, digital payments, insurance, investment, fraud prevention, and grievance redressal.
The G20 High-Level Principles for Digital Financial Inclusion were scheduled to be implemented, as well as discussions on the role of Digital Public Infrastructure (DPI) in advancing financial inclusion, lowering the cost of remittances, evaluating implementation progress, and advancing financing for MSMEs, during the GPFI Plenary sessions on January 10–11, 2023. The G20 Presidency of India is dedicated to advancing an agenda that speaks up for the needs of the most underdeveloped nations and reflects their worries and aspirations. The G20 Finance Track agenda will be guided by the Ministry of Finance and the Reserve Bank of India in a way that is inclusive and geared toward addressing the needs of the current global economy as well as laying the groundwork for a better future.
The attendees gave the meeting positive feedback. Tidhar Wald, Deputy Managing Director of Better than Cash Alliance in Kolkata on Wednesday said that India's presidency has just started but it has already been incredible.
"We like the inclusion, he said at the conclusion of the first Global Partnership for financial inclusion meeting.
"India's presidency has just started but it has already been incredible. We like the inclusion. India has made incredible progress in the last eight years in driving digital financial inclusion. A total of 1.34 billion digital IDs have been provided to the population," Wald said.
Brazil's Mauricio Costa Maura expressed his confidence in India's presidency to deliver on its promises. "We expect good deliverance at the end to prove financial inclusion across the globe," he said.
The delegate from Switzerland Jean Baptiste Deleze said: "We would like to thank the government of India, and the government of West Bengal for the commendable work. The organisation is admirable and the conditions for work are ideal here."
On Wednesday (11/21), the delegates went to the Victoria Memorial in Kolkata. The attendees enjoyed a filling meal while watching a film and light show. The cuisine of India was well received by them.