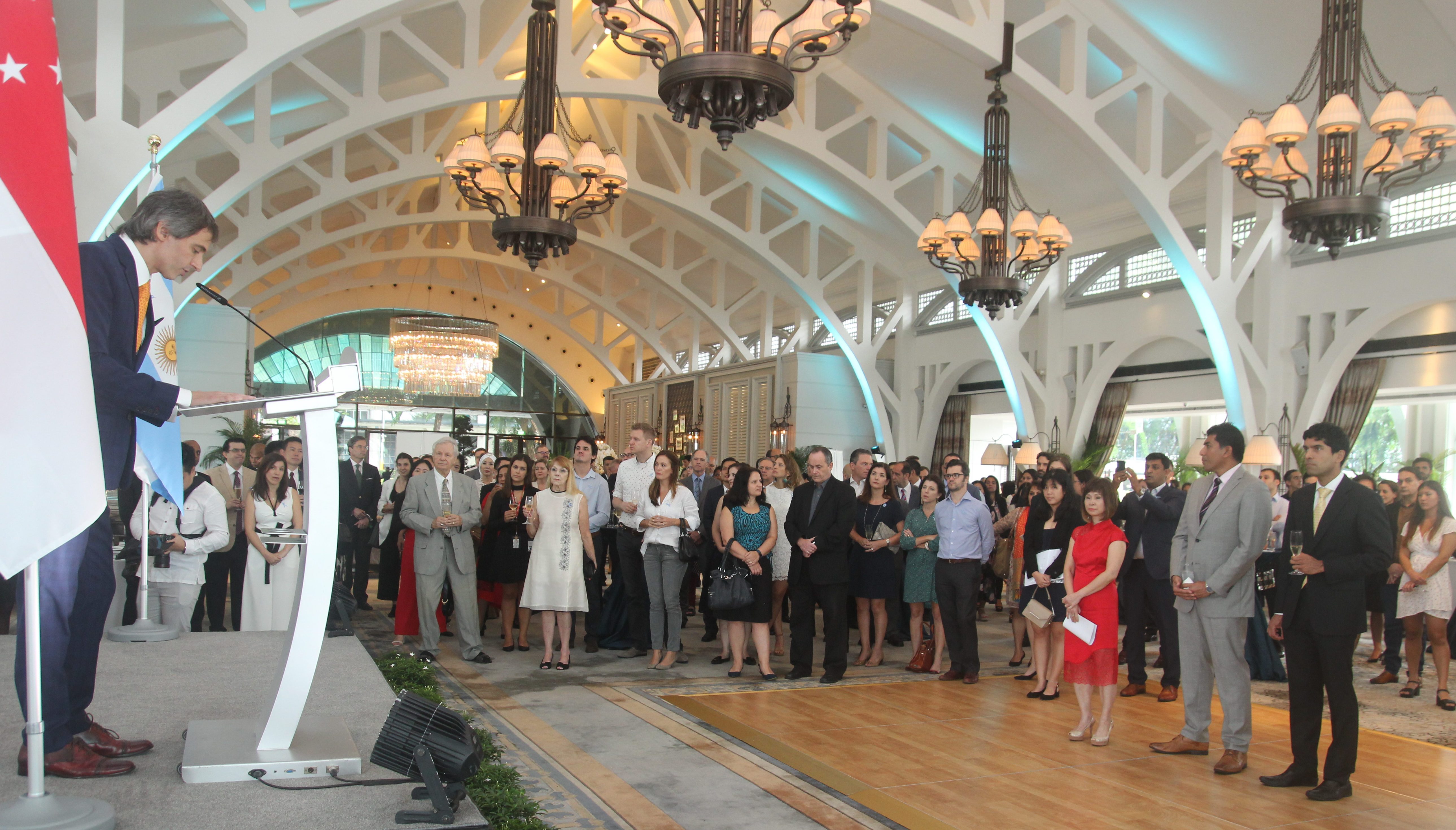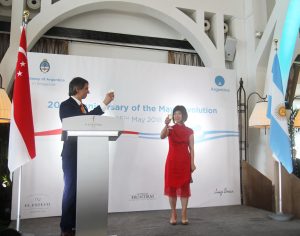 HE Federico Barttfeld and Mrs Adriana Barttfeld held the reception to mark the 208th Anniversary of Argentina's May Revolution on 30th May 2018  at the Clifford Pier at Fullerton Bay with Guest of Honour HE Amy Khor, Senior Minister of State, Ministry of the Environment and Water Resources, gracing the occassion. She was accompanied by Mr Daryl David the Member of Parliament of Ang Mo Kio and Mr Vikram Nair, the Member of Parliament for Sembawang.
In his welcome speech, Ambassador Barttfeld said the re-opening of the Argentine Embassy last September was just one of many milestones in the relationship between Argentina and Singapore. This includes in 2018 when, "Argentina is honoured to be the first South American country to chair the G20 or Group of 20, a forum for the world's major economies." Thanks to its close relationship with ASEAN, Argentina invited ASEAN's Chair, Singapore, to attend this event. He said it was also an honour to receive Singapore's Foreign Minister, Dr Vivian Balakrishnan, last week in Argentina and later in November Prime Minister Lee Hsien Loong to Buenos Aires for the G20 meeting.
The Ambassador looked forward to more trade and more investments between the two countries, "For this reason our two countries are currently negotiating a bilateral investment treaty (BIT) for the promotion and protection of our reciprocal investments." He also announced that, "We are also starting preliminary discussions to start negotiating a double taxation agreement to facilitate investment opportunities. Argentina is able to produce and supply quality food for more than 400 million people and we intend to expand this capability to 600 million in the near future. Singapore is strategically placed to be a natural business partner with Argentina in supplying food and beverages to the region."
In Dr Amy Khor's address, on behalf of the Singapore government, conveyed her warmest congratulations to the people of Argentina on the occasion.  She noted there is scope to do more to facilitate trade and investment links between the countries and regions but that, "First we need to achieve progress on the BIT and commence the negotiations for the avoidance of double taxation agreement (DTA). Second, we can work together to quickly start the formal negotiations on the Singapore – Mercosur Free Trade Agreement in the third quarter of 2018. With the BIT, DTA and Singapore-Mercosur FTA in place more companies will be encouraged to use our countries as regional hubs to access the fast growing markets in ASEAN and Latin America." 
Apart from trade and commerce, Senior Minister Amy Khor, hoped that other facets of the countries' relationship will also be developed. She highlighted three that resonates with Singaporeans: Food, Sports and Travel and hope more will also be done to promote people-to-people exchanges. The reception continued with a vibrant tango performance by award winning tango dancers from Argentina.