Mongolia's Ambassador to Singapore H.E. Tumur Lkhagvadorj on the rapidly evolving situation of the virus outbreak here
THE COVID-19 situation has been evolving rapidly globally and has affected 199 countries across the world. Unfortunately, Mongolia is not an exception. Many Mongolian visitors have been affected by travel restrictions imposed by both the Mongolian and Singapore governments. There were some short-term visitors complying with the 14 days Stay Home Notice, who entered Singapore before 24 March, 2020, prior to the ban of all foreign short-term visitors. The Ambassador approached the ICA Singapore office to get assistance for Mongolian citizens here who needed for short-stay visa extensions due to the travel restrictions and received a very positive response.
In response to how the Mongolian mission was coping with the COVID-19 emergency and steps taken for the safety of those working in the mission, Ambassador Tumur Lkhagvadorj  said, "Our Embassy has been monitoring the situation closely and taking necessary measures to protect the staff and visitors. All visitors have their temperatures taken at the lobby. The staff who come in contact with visitors wear masks to protect themselves; we have also taken precautionary measures like placing hand sanitizers in the common area. Also, we are looking at possible workplace measures, such as implementing shift arrangements and reducing physical interactions.
Special Directives 
All Mongolian diplomatic missions have also received special directives issued by their government and these, said the Ambassador, include: "All Mongolian Diplomatic missions have been instructed to inform and update our citizens living abroad about the COVID-19 situation and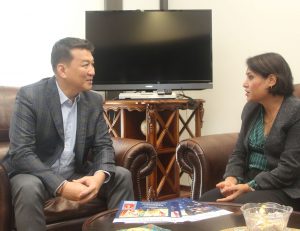 Government regulations of the residing country. Citizens living abroad have been advised to follow the news, follow precautionary measures such as maintaining good personal hygiene to protect themselves and their loved ones. The government is working hard on arranging charter flights to bring back our citizens who are stranded in various countries, but it takes time, so we keep asking for the patience of our citizens until the proper arrangements are made."
The Mongolian mission here is also playing its part and is working with the Singapore government. The Ambassador said, "This year marks the 50th anniversary of diplomatic relations between Mongolia and Singapore. Although we had to make some changes to our commemorative event plans to comply with measures taken due to the current COVID-19 situation, the cooperation and friendship between our two countries is strong as ever. Our Embassy has been working closely with relevant authorities, such as MFA and ICA. Health Ministries of our countries are exchanging their knowledge and experiences directly. Our long-time friends at the Temasek Foundation lent a helping hand to Mongolia during these challenging times and donated 3000 COVID-19 diagnostic kits. Some Singaporean friends are also doing private in-kind donations."