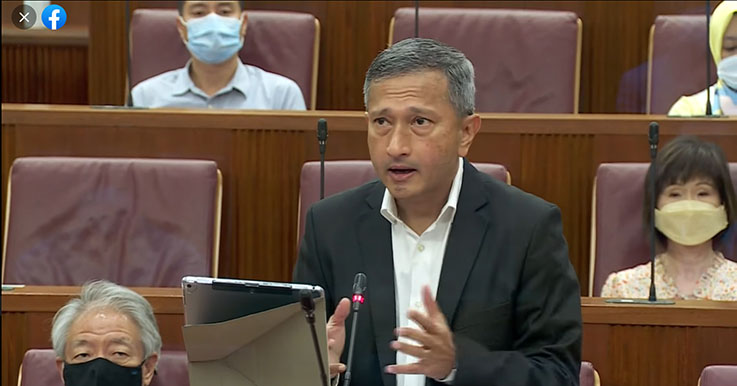 Singapore's Foreign Minister Dr Vivian Balakrishnan outlines Singapore's concerns and the actions the country has taken to "stand up for principles that are the very foundation for the independence and sovereignty of smaller nations, our own right to exist and prosper as a nation…"
ON 28th February 2022 Singapore's Minsster of Foreign Affairs, Dr Vivian Balakrishnan presented a Ministerial Statement on the situation in Ukraine and what are the implications for what he described as the "unprovoked invasion of a sovereign state."
The government expressed grave concern of the economic effects of the war such as rising electricity and petrol prices.
However, the Minister said the principal reason the situation is important to the country is because "The events in Ukraine go to the heart of the fundamental norms of international law and the UN Charter, that prohibit the use of force and acts of aggression against another sovereign State. Russia's invasion of Ukraine is a clear and gross violation of the international norms and a completely unacceptable precedent. This is an existential issue for us. Ukraine is much smaller than Russia, but it is much bigger than Singapore. A world order based on "might is right", or where "the strong do what they can and the weak suffer what they must", such a world order would be profoundly inimical to the security and survival of small states. We cannot accept one country attacking another without justification, arguing that its independence was the result of "historical errors and crazy decisions". Such a rationale would go against the internationally recognised legitimacy and the territorial integrity of many countries, including Singapore."
Foreign Minister Balakrishnan also highlighted that while Singapore values its good relations with Russia and the Russian people, it cannot accept such violitions of sovereignty and territorial integrety of another sovereign state. That is why the Island Republic was one of the 82 co-sponsors of a UN Security Council draft resolution to condemn Russia's aggression against the Ukraine.
He also said, "Singapore has always complied fully with sanctions and decisions of the UN Security Council, but we have rarely acted to impose sanctions on other countries in the absence of binding Security Council decisions or directions. However, given the unprecedented gravity of the Russian attack on Ukraine, and the unsurprising veto by Russia of a draft Security Council resolution, Singapore intends to act in concert with many other like-minded countries to impose appropriate sanctions and restrictions against Russia. In particular, we will impose export controls on items that can be used directly as weapons in Ukraine to inflict harm or to subjugate the Ukrainians. We will also block certain Russian banks and financial transactions connected to Russia."
The Ministerial Statement also outlined several lessons for Singaporeans to draw from the current Ukranian crisis.
For the video as well as transcribed Statement by Dr Vivian Balakrishnan click here.