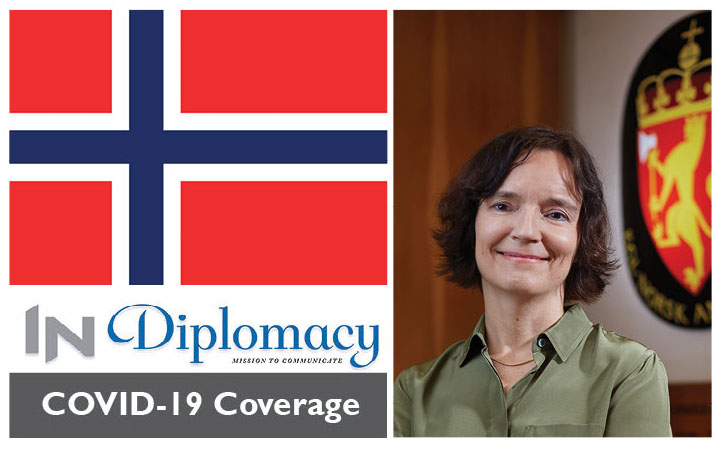 H.E. Anita Nergaard the Ambassador of the Royal Norwegian Embassy in Singapore also advises Norwegian nationals to pay close attention to the latest news and information on the outbreak
AMBASSADOR Nergaard said in order to provide accurate information to the public, "We work closely on information- exchange with the Singaporean Ministry of Foreign Affairs, Ministry of Health, Ministry of Manpower, Immigrations and Checkpoints Authority, as well as the other Nordic and European embassies. We are currently assisting visitors with repatriation on commercial flights still operating from Changi International Airport. The Embassy is also assisting with a wide range of consular matters as needed during COVID-19.
There is a stringent set of measures in place at the Embassy to protect the health of visitors and staff. These include ensuring that all workstations are clean, hygienic and more than one metre apart. The now ubiquitous hand sanitizers and alcohol wipes are readily available for staff use, hand wash is mandatory upon arrival, and there are many posters promoting additional hygiene measures displayed at the Chancery. All external events have been postponed and meetings are conducted online and according to Ambassador Nergaard: "All staff adheres to staggered travel times and lunch breaks. Vulnerable employees work exclusively from home. Further measures might be implemented based on government advice and internal policies."
Presently, the Norwegian Ministry of Foreign Affairs advises against non-essential travel to all countries. This advice, said the Ambassador applies to those who are travelling, i.e. who have no place of residence or permanent accommodation abroad. For Norwegian citizens residing in Singapore and elsewhere, the Ministry encourages everyone to follow closely information from and instructions issued by local authorities, to monitor local news, especially regarding the spread of the virus and related information and advice.
The Ambassador also highlighted how the embassy is in regular contact with the Singapore Government on the latest measures, advisories and travel restrictions, and appreciates the competence of and close cooperation with Singapore during these challenging times.