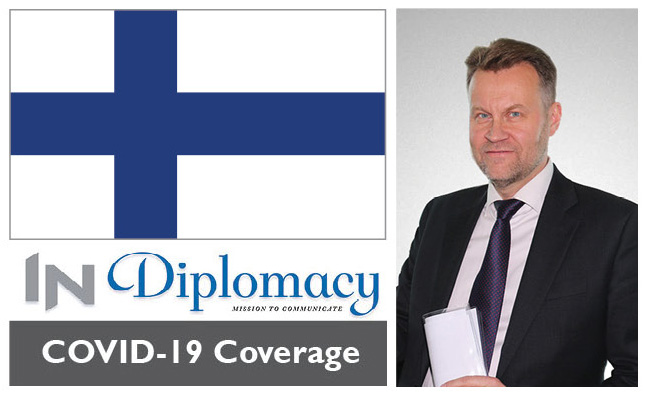 H.E. Antti Tapani Vanska, the Ambassador for the Embassy of the Republic of Finland, shares the plan in place to help its nationals in Singapore and how Finnish initiatives to develop digital services use Singapore as a benchmark
Are any of your visiting citizens affected by the travel restrictions in Singapore? What are the steps your Mission has taken to help them? 
The Embassy of Finland is closely following the situation of Finns in Singapore. The restrictions have certainly affected all of us. We have helped our citizens by sharing support and information on the current COVID-19 situation. As so many flights have been cancelled we try our best to find Finnish travelers alternative routes to Finland.
How is the Mission coping with the COVID-19 emergency and what steps have been taken for the safety of those working in the Mission?
The Finnish Embassy has been following the given instructions of the authorities of Singapore and also from the Foreign Ministry of Finland. All the planned events are postponed or cancelled, meetings are arranged online and we are working from home to avoid social contact. The situation is extremely unusual, but we are prepared for crisis and  do our utmost to keep our staff healthy.
Regarding COVID-19 are there any special directives issued by your government for citizens living in Singapore?
The Finnish government requested all travellers to return to Finland as soon as possible. The Finnish citizens living in Singapore can choose to stay as their home is here, but they can always return to Finland in case needed.
During these challenging times, what role has your Mission played to keep the cooperation between your country and Singapore going?
Singapore has developed highly effective digital services to support people during the crisis, such as the TraceTogether mobile application. Finnish initiatives to develop digital services to help in this crisis have used Singapore as a benchmark for development efforts in Finland.