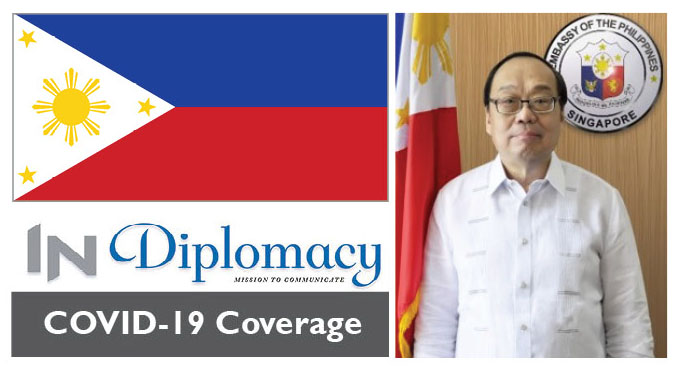 Philippine Embassy geared up to handle any 'stranded ' nationals here and Ambassador H.E. Joseph Del Mar Yap of the Philippines Embassy in Singapore shares contingency measures to protect staff and create two consular teams to provide continuous operations if either team succumbs to infection
VISITING Filipino nationals in Singapore for business meetings or tourism or family visits, were more affected by the disruption of international flights due to the  community quarantine of the National Capital Region (Metro Manila), which took effect on 15th March 2020, and was followed shortly thereafter by the enhanced community quarantine of the entire island of Luzon and other cities.
The Embassy advised visiting Filipinos to return to the Philippines on available commercial flights before they were suspended or else be prepared to remain in Singapore until flights resume. Ambassador Yap said: "I think most of our visiting nationals were able to fly out. Of course, if there are Filipinos that will be stranded here in Singapore, we will do everything we can to assist them."
Imperative Consular Service Continues
The Ambassador also said that: "It is imperative that the Embassy continues to provide consular and labour services to the Filipinos residing in Singapore. On 7th February 2020, we implemented enhanced precautionary measures to minimize COVID-19 transmission within the Chancery. The comprehensive set of measures included:
        Temperature scanning at Embassy entrance. If temperature is greater than 37.5 degrees Celsius, the visitor is denied entry.
        Visitor accomplishment of Health and Travel Declaration form at Embassy entrance. If the visitor ticked flu-like symptoms and/or issuance of Stay Home Notice, visitor is denied entry. If the visitor ticked travel history within the last 14 days to high-risk countries as indicated  by the Singapore Government, the visitor is denied entry.
        Issuance and required wearing of surgical masks and surgical gloves by Embassy frontline personnel.
        Provision of hand sanitizers to personnel and to clients in the customer service areas
        Closing service window openings and use of two-way communication microphones in all transaction points between clients and frontline staff.
        Provision of shuttle service to Embassy personnel to minimize risk of exposure to infection.
        Adopting effective personal hygiene safeguards, i.e. frequent washing of hands with water and soap, sanitizing of hands, not touching face
        Thorough disinfection of customer service area, public toilet and transaction windows at end of each business day.
        Echoing of Singapore Ministry of Health and Philippine Department of Health advisories in the Embassy website and social media channel on a daily basis.
Another insight into the measures in place to ensure the smooth running of the Embassy took place when the Host Government implemented the enhanced social distancing measures. On 23th March 2020, the Embassy implemented on a second phase of the business contingency plan, which was to split the Consular Section into two 8-person teams, which will take turns, on a weekly basis, in providing consular services at the Chancery. The Ambassador Joseph Yap revealed: "The two teams are not allowed to physically socialize or interact with each other, so that the quarantine of one team will not affect the other. Officers and non-consular personnel telecommute. In addition, other further measures were implemented.: The measures included:
        Appointment system for consular services. Clients are required to make an appointment for most consular services (notarials, authentication, travel document, passport renewal, civil registration) before coming to the Chancery.
        The information on the Embassy website has been amended to reflect the requirement to make an appointment for consular services and the hours for these services.
Throughout the duration of the COVID-19 Outbreak the Philippine Embassy continue to maintain its lines of communication with the MFA, MOM and ICA and convey concerns affecting Philippine nationals in Singapore. Ambassador Yap also added: "The Embassy has also worked closely with the Singapore government in facilitating and expediting donations by the MOH and Temasek Foundation to the Philippines of test kits and ventilators in support of the Philippines response to the COVID-19 pandemic.