By Dr. Vivian Balakrishnan, Minister for Foreign Affairs | 27 September 2023 |
Categories: Diplomacy, International Relations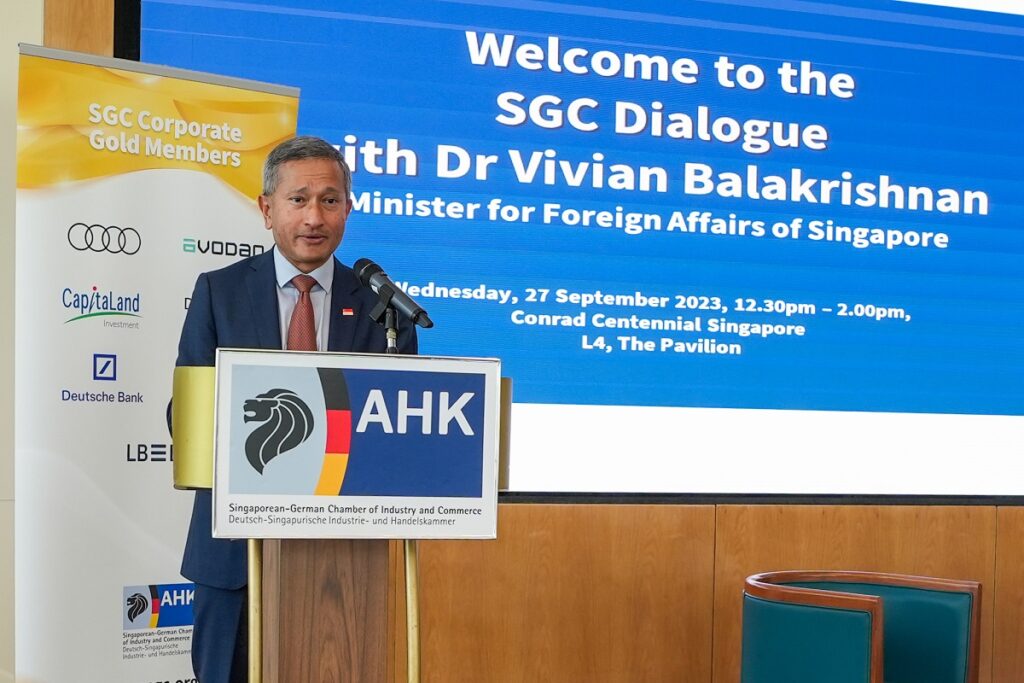 Minister for Foreign Affairs Dr Vivian Balakrishnan's Remarks at the Singaporean-German Chamber of Industry and Commerce Dialogue, 27 September 2023
Photo Credit: Ministry of Foreign Affairs Singapore 
In a dialogue held at the Singaporean-German Chamber of Industry and Commerce, Minister for Foreign Affairs Dr. Vivian Balakrishnan addressed various global challenges and emphasized the significance of the relationship between Germany, Singapore, and the wider European Union (EU). The dialogue took place on 27 September 2023 and brought together prominent figures including Ms. Shirley Qi, President of the Singaporean-German Chamber of Industry and Commerce, Dr. Tim Philippi, Executive Director of SGC, and Ambassador Norbert Riedel.
Germany-Singapore Relations
Dr. Balakrishnan highlighted the resilience and sustainability emphasized in the Joint Declaration between Prime Minister Lee Hsien Loong and Federal Chancellor Olaf Scholz, underscoring the pivotal role played by defense and economic cooperation. The partnership has also ventured into new domains like digitalization and climate change, symbolized by the launch of the Republic of Singapore Navy's submarines in Kiel, Germany.
The economic front witnessed significant progress with the signing of the Germany-Singapore Framework on Sustainability and Innovation (FSI) during the 17th Asia-Pacific Conference on German Business. The FSI aims to promote private sector-led collaboration across key sectors such as advanced manufacturing and green technologies.
EU and ASEAN
Dr. Balakrishnan expressed support for Germany's ambition to enhance its relations in the Asia-Pacific and its role on the global stage. He lauded the Singaporean-German Chamber of Industry and Commerce's report advocating for an EU-ASEAN Free Trade Agreement. ASEAN's potential and commitment to integration in various fields were underscored, with particular emphasis on the region's appeal as a hub for businesses.
Free Trade Agreements emerged as crucial mechanisms to engage with the region, with the EU already having agreements with Singapore and Vietnam. Dr. Balakrishnan encouraged an acceleration of such efforts and urged the pursuit of an ASEAN-EU FTA to bolster economic resilience and deepen engagement in the region.
Despite the complex global landscape, Dr. Balakrishnan conveyed his optimism for Southeast Asia's potential and encouraged increased collaboration between Germany, Singapore, the EU, and ASEAN. He emphasized that despite the challenges, there exists a path forward that holds promise for all parties involved.
In his closing remarks, Dr. Balakrishnan expressed anticipation for a robust and insightful discussion following his address. The dialogue provided a platform for meaningful exchanges on key issues shaping international relations and cooperation.