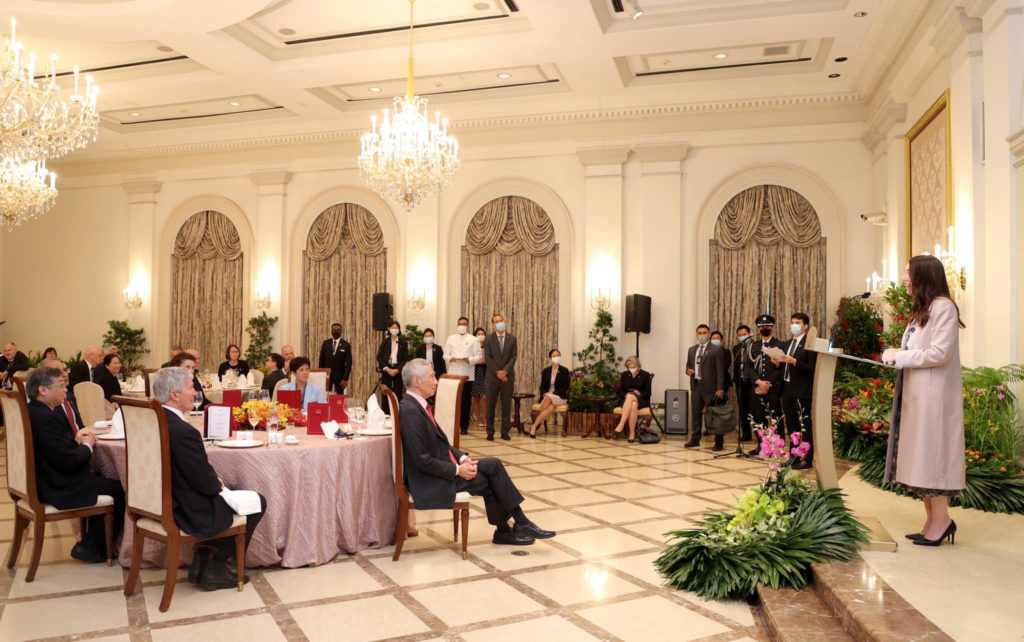 Following the successful visit by the Prime Minister of New Zealand Jacinta Ardern the High Commissioner of New Zealand to Singapore H.E. Jo Tyndall talks to IN Diplomacy Publisher and Editor-in-Chief Ms Nomita Dhar about some of the highlights of the memorable visit and a personal insight into the much admired prime minister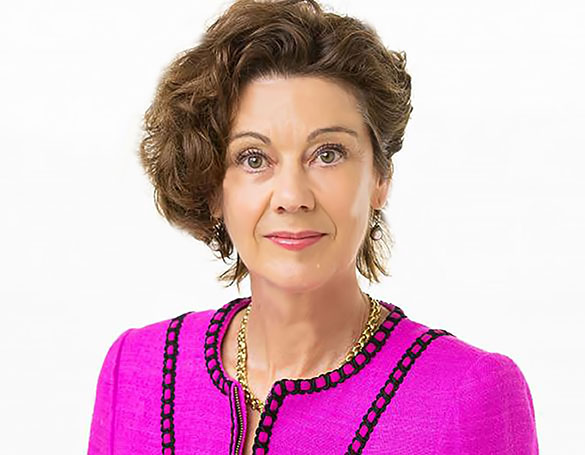 Congratulations on the very successful visit of Prime Minister Jacinda Ardern to Singapore. What in your opinion are the highlights of the visit?
THE fact that PM Ardern made Singapore her first stop speaks to the value New Zealand places on the bilateral relationship between our two countries. She also brought trade minister, Damien O'Connor, and a high-level business delegation. Meeting virtually has helped us get through the pandemic, but nothing beats face-to-face contact, and the PM's visit was a clear signal New Zealand is open for business (and open for travellers from Singapore from 2 May)
● This was her first overseas trip in over two years, so there were many memorable moments, but for me the following really stood out:
● PM Ardern having an orchid named after her – the 'Dendrobium Jacinda Ardern' is a beautiful bright pink. 
● The unveiling of the imposing and jaw-dropping 'kūwaha' (carved doorway). This totara wood piece was created by the New Zealand Māori Arts and Crafts Institute, and now installed at the Gardens By the Bay Cloud Forest.
● The signing of the Sustainable Aviation Arrangement in front of the Jewel Rainfall Vortex at Changi Airport. The presence of CEOs of New Zealand and Singapore airlines and airports, as well as CAAS, underscored the sector's commitment to partnership to find ways to get to "net zero" emissions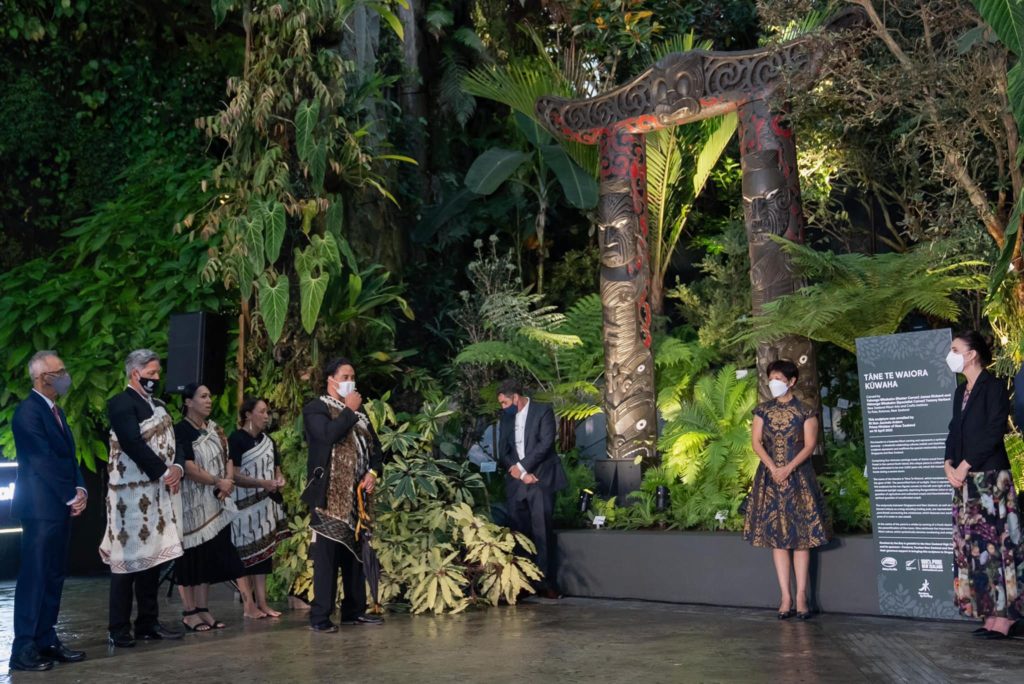 The two leaders announced the establishment of the Climate Change and Green Economy Pillar, what can both countries expect to see as a result of these initiatives?
Adding a 5th Pillar on Green economy to the EP sets up a significant programme of work to cooperate in a number of areas where we have mutual interests and complementary expertise/strengths.
Initiatives under the Climate Change and Green Economy pillar include:
● A Memorandum of Arrangement on Sustainable Aviation;
● A regular climate change policy dialogue between officials of both sides;
● Jointly providing capacity building training on carbon markets to ASEAN countries;
● Information exchange on policy and technology perspectives on low-carbon shipping and de-carbonisation;
● Knowledge-sharing dialogues on waste management technology and strategy
Please provide some examples of the kind of opportunities the Digital Economy Partnership Agreement will bring for businesses on both sides?
DEPA will help establish new rules and practices for digital trade and covers broad areas, from e-invoicing, e-payments to artificial intelligence. It will also promote ongoing discussion on issues like digital inclusion. This particularly important for small and medium enterprises (SMEs) – which makes up the majority of businesses in Singapore and New Zealand.
Earlier this month we hosted a Fintech SME dialogue (a key commitment under DEPA) between officials, business leaders and Fintech Associations in Singapore, Chile and New Zealand – it was an incredibly useful session that highlighted the key areas that we can collaborate in to ensure our SMEs are able to seamlessly operate in the digital economy.
There is a lot that goes into preparation of High Level Visits such as this. Could you share with us some behind the scenes challenges and experiences?
● Visit planning under normal circumstances already entails a complex interplay of ensuring that we deliver on the policy and trade front, while taking care to set up a balanced programme that allows for Ministers and officials to meet their Singaporean counterparts, the local New Zealand community in Singapore, and to experience what Singapore has to offer.
● With a 40 strong delegation compromising Ministers, officials, business delegates and media there is an incredible amount of background planning that goes into ensuring logistical details (like accommodation/vehicle movements) are airtight – but can also cope with the inevitable last-minute changes of plan, or events running over the allotted time.
● In addition to this, each element of the programme required precise planning, particularly because we invite Ministers, officials and other important leaders from the host country to every event.
● COVID adds a layer of complexity to all of this – we have had to have multiple contingency plans, which we were deeply relieved to have in place when 3 of our key team members at the High Commission came down with COVID in final days leading to visit.
We're a small team at the New Zealand High Commission, but we all worked tightly and closely together: everyone from MFAT, NZTE, Defence, Education NZ, Tourism NZ and the NZ Chamber gave it their all. I want to pay tribute to my incredibly competent team, who prepared so well and executed everything perfectly.
As a follow up to the visit, how can the NZ High Commission facilitate collaboration between Singapore companies and those in New Zealand to actualise the full potential of the many initiatives taken up by the leadership?
The High Commission plans a coordinating role, and will follow up on the initiatives by setting up the conversations with key stakeholders across the various the policy areas. Through this we will develop a pipeline of work in consultation with our Singaporean counterparts as well as agencies in New Zealand, and make sure we deliver the specific outcomes under the initiatives.
Prime Minister Ardern has been a great role model for women in leadership; having worked closely with her could you share some of your experience / interactions with her as inspiration for our readers?
Prime Minister Ardern is an incredibly genuine person, who is unfailingly generous with her time. She obliged by having selfies taken with hundreds of people over the course of the visit, and is one of those people who – when she is talking with you – gives you 100% of her attention. She doesn't stand on ceremony, but acts appropriately (formally or informally) on every occasion. Having been Prime Minister since 2017, she's now well on top of all the issues (whether domestic or foreign policy), is very assured, and both engaged and engaging.
RELATED:
■ NZ PM Visit: Expanding Enhanced Partnership with Singapore