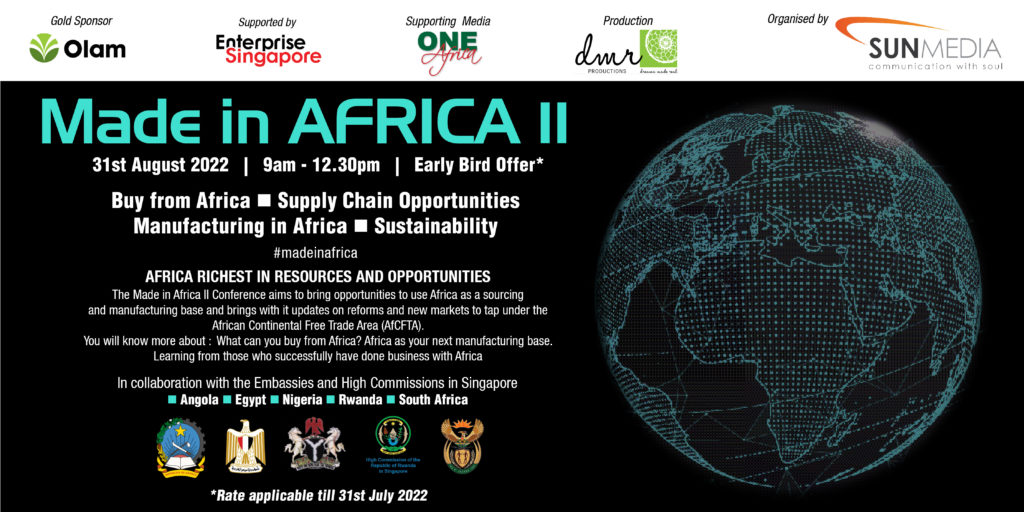 Why Africa and Why Now
Updates from the Experts

IN 2022 the eyes of the world will be fixed on Africa. It's recognised as a rising brand with the global attention fixed this June in Rwanda for the Commonwealth Heads of Government Meeting (CHOGM) and this November in Egypt for the UN Climate Change Conference (COP 27). Against this international backdrop Made in Africa 2 will focus on how:
Africa's population is estimated to reach the 1.7 billion mark by 2030. Find out more about the fastest-urbanizing region in the world with the highest number of youths in the world – All brimming with ideas, creativity and skills, which will make the continent the workshop of choice in the world.
Africa is set to realise its full potential as the continent's recent growth is due to increased levels of foreign direct investment. Find out what are the measures and where are the countries that have implemented most effectively:
Improvements in fiscal policies, governance and regulatory frameworks
Moves to diversify away from Africa's traditional commodities-based economies These developments presented greater opportunities for foreign investors.
Private Investments & Entreprenuers
The world has been shifting its investment focus to Africa and Africa is also seeking investors with a bold vision to see the multiple opportunities that currently exist there. Sectors surveyed and assessed for the best prospects and potential are revealed. Societal and educational developments will need investments in businesses and projects that promote greater socialisation of knowledge and technological innovation!
Building on the Asia and Africa Connection
Trade ties will be increasing beyond natural resource-extractive commodities, agricultural goods and other traditional African exports. Market researchers will be showing where will be the niches and broad areas opening up such as in processed and consumer groups, food and tourism.
There is definitely a case to be made for Singapore being more actively engaged to venture into the African markets to build on the 60 companies that are operating in more than 50 African countries. Singapore business owners and leaders in their respective industry sectors will share their experience "on the ground" to answer questions, and give the best possible picture about operating in Africa.
A Special Look at the AfCFTA
The African Continental Free Trade Area (AfCFTA) is one of the flagship projects of the African Union (AU) that seeks to create a single market covering trade in goods and services. It connects 1.3 billion people with a combined GDP estimated at US$3.4 trillion. Singapore trade experts share about the potential impact of AfCFTA including how it will boost Intra-African trade, manufacturing export, job creation for youth, and poverty alleviation.
To register click here