THE Royal Thai Embassy in Singapore yesterday arranged a specially held concurrent event to view the opening of the 4th Princess Maha Chakri (PMCA) Forum in Bangkok with several members of the diplomatic community in Singapore as the awards were presented to outstanding educators in ASEAN and Timor-Leste. They included from Singapore, Mr Yok Joon Meng from Yu Neng Primary School who was recognized for his contributions in English Language teaching. He effectively integrates technology into lessons to make learning engaging and facilitate the acquisition of essential 21st century competencies.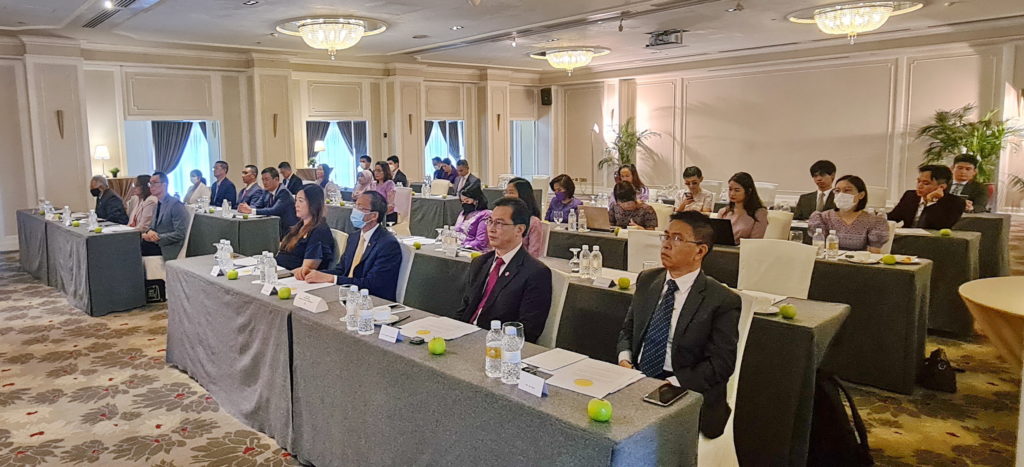 He joined 10 other teachers from ASEAN and Timor-Leste who received the PMC Awards in several categories: Technical Vocational Life Skills, Science Education, General Education and English Language Teaching.The event was broadcast to all the Thai embassies in ASEAN and Timor-Leste with the Singapore venue held at the Goodwood Park Hotel Tudor Room on Monday morning.
One of the highlights of the Opening Ceremony of the PMCA Forum yesterday (which was held over from last year because of COVID) were the presentations by the award-winning teachers who shared what inspired them in their chosen profession, what they have done and what they are continuing to do in the field of education since winning the award in 2021. This year the PMCA Forum was also held in conjunction with the 2nd International Conference on Equitable Education in Bangkok which is also a global hybrid event. The PMCA Forum itself was founded in 2015 to celebrate the 60th birthday anniversary of HRH Princess Maha Chakri Sirindhorn in recognition of her lifelong dedication and commitment as a teacher and champion of equal opportunities in education for everyone. Her work in this area has been recognised with many numerous awards including those from UNESCO and UNICEF.
The Princess during the Opening Ceremony of the Forum congratulated all the awardees and hoped, "The upcoming conference will confirm the need for stronger collaboration among policymakers, educators, and all sectors of society to educate all children, including the disadvantaged and marginalized groups, leaving no one behind, to achieve Goal 4 of the UN Sustainable Development Goals." For more information on the PCMA visit https://www.pmca.or.th/eng/