H.E. Paul Kagame President of the Republic of Rwanda called on Singapore's leaders and delivered the prestigious "Majulah Lecture" at the Nanyang Technological University where he briefed a wide crosssection of Singapore government officials and business leaders as well as academics on Rwanda's progress and how Singapore has influenced and provided inspiration to the African nation to become one of the most economically successful countries in the African continent.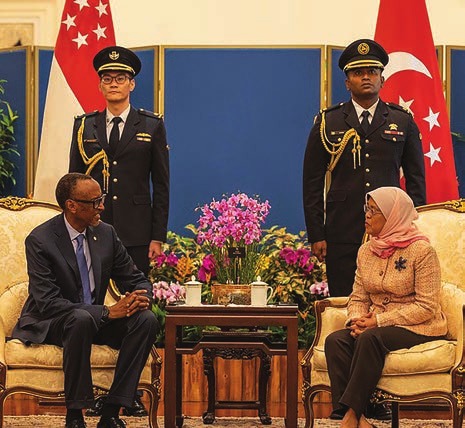 During the course of his Working Visit in Singapore on 30th September 2022, President Kagame called on President Halimah Yacob and Prime Minister Lee Hsien Loong at the Istana.
President Halimah Yacob commented: "Singapore and Rwanda have warm relations and work closely at international fora as fellow small states. We look forward to further deepening our ties, particularly in areas of mutual interest, including innovation and economic cooperation."
President Kagame also met with Prime Minister Lee Hsien Loong at Istana where the two leaders had excellent discussions on the friendly ties between the countries. The focus was also on the need for the two small states to continue working together given the current global and regional developments. In his Facebook post Prime Minister Lee saidvhe was delighted to welcome the Rwandan President and be able to reciprocate his warm hospitality during PM Lee's visit to Kigali in June.
On their discussions PM Lee commented: "Singapore and Rwanda, though far apart on the globe, share interesting similarities. We had fruitful discussions on our friendly relations, including areas of mutual interest and ideas to further strengthen our ties. We also reaffirmed the need to continue working together as fellow small states, given current global and regional developments."
Majulah Lecture
Earlier on, President Kagame delivered the prestigious Majulah Lecture at the Nanyang Technological University. The public dialogue on developments in Rwanda was moderated by Prof Subra Suresh, President of NTU Singapore. Speakers of great eminence are regularly invited to share their insights on global topics that are relevant to Singapore at the flagship NTU Majulah Lecture series.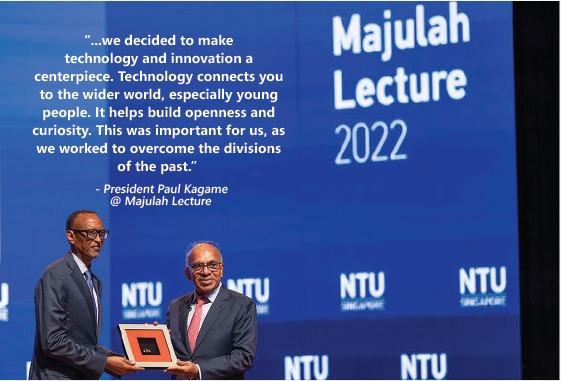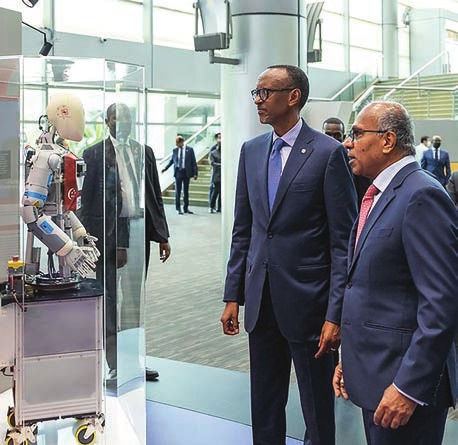 President Kagame spoke about how Singapore's investment in people, prudent policy choices, and adoption of innovative methods has been highly inspirational in Rwanda's success today. It's also the reason why Singapore's narrative of building a successful nation is still relevant to Rwanda, he elucidated further on the influencing power of the island -nation.
Mr Kagame was quick to point out that Rwanda's development was not something that can be take for granted; rather, its progress is an example for other nations that they too can achieve this standing regardless of where it all begins.
Recovery from Pandemic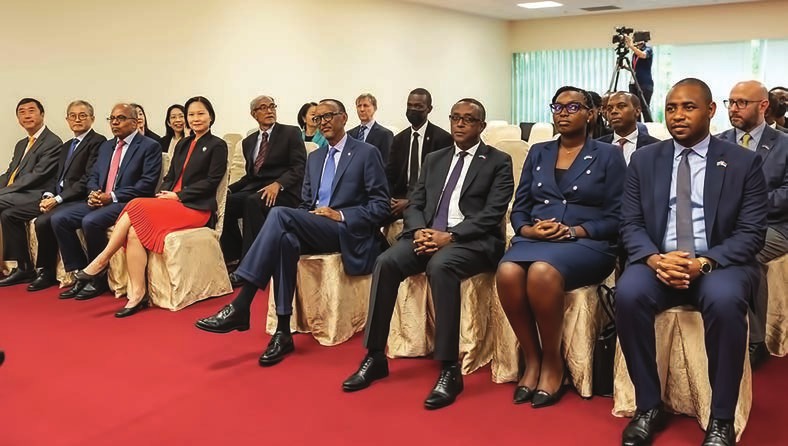 Referring to the impact of the pandemic the President Kagame spoke of how Rwanda, like Singapore, has been working on a vaccine and medicine manufacturing hub. The first mRNA vaccine facility will be launched by German pharmaceutical company BioNTech in Kigali in 2023, as revealed by him. This will also be, on completion, Africa's the first mRNA vaccine plant.
Dipping into the annals of Rwanda's painful past, the Rwandan President spoke of how hard it had been for the country and its people to arrive at the place where they stand today. He shared how, with a population of 12 million people Rwanda is holding its own on this transformative journey on which it can boast of a robust economy, a general sense of order and safety, intolerance for corruption and abundance of green cover.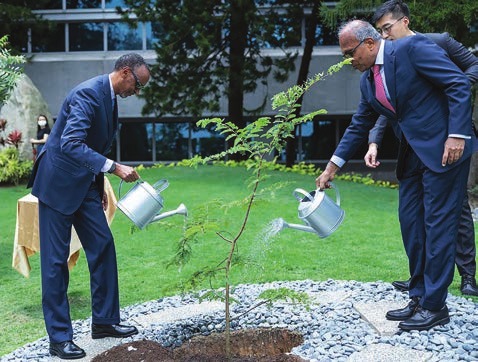 The Rwandan President ascribed these results to three factors: innovation around national unity and social cohesion, inclusive citizen-oriented governance and prioritising technology.
Mention was made of the importance of partnerships with foreign establishments with special reference to the MoU signed with NTU in June 2021. The MoU was aimed at culling many aspects of Singapore's experience in education, innovation, digital transformation, human resource development and capacity building to enhance the workings of Rwanda's educational space.
Looking to join the Singaporean companies that have put down roots in Rwanda, KinderWorld International Group, a private education company in Singapore, is hoping to make inroads in Rwanda with an international school in Kagarama, a village in Kigali, by 2030. The group currently has 20 schools across Vietnam and Thailand.