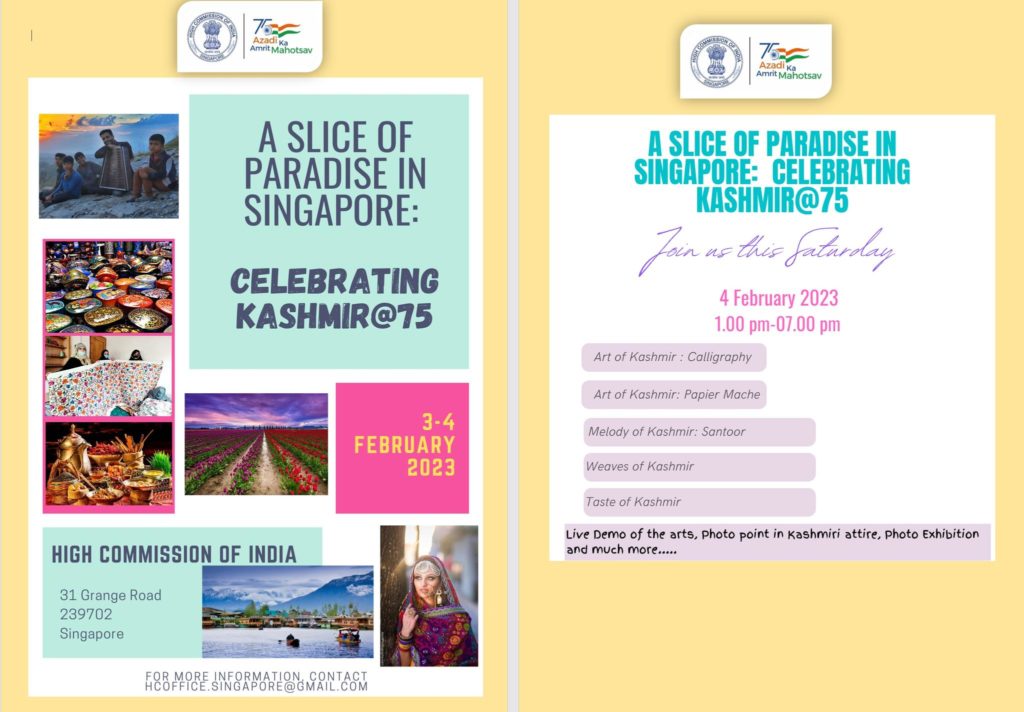 On February 3–4, 2023, the Indian High Commission in Singapore will host "A SLICE OF PARADISE IN SINGAPORE: CELEBRATING KASHMIR@75" as part of the #AzadiKaAmritMahotsav events.
A SLICE OF PARADISE: CELEBRATING KASHMIR@75 will be held as part of the Azadi Ka Amrit Mahotsav events on February 3-4, 2023 at the High Commission of India in Singapore building.
Azadi Ka Amrit Mahotsav is a government-sponsored celebration and memorial for India's 75th anniversary of independence as well as the illustrious past of its people, culture, and accomplishments.
Mahotsav is dedicated to the people of India who have not only contributed to the advancement of India along its evolutionary path, but who also possess the strength and capacity to realize Prime Minister Narendra Modi's vision of bringing about India 2.0, powered by the spirit of Aatmanirbhar Bharat.
This event aims to introduce Singaporeans and the Indian diaspora to Kashmiri arts and culture. The audience will have the chance to learn about Kashmiri calligraphy and papier-mâché, enjoy Kashmiri music, and sample Kashmiri cuisine.
You can also enjoy a Kashmiri photo exhibition, watch a live demonstration of Kashmiri art, take pictures while wearing Kashmiri clothing, and many more! The event will take place on February 3-4 from 1 PM to 7 PM. Don't miss it!