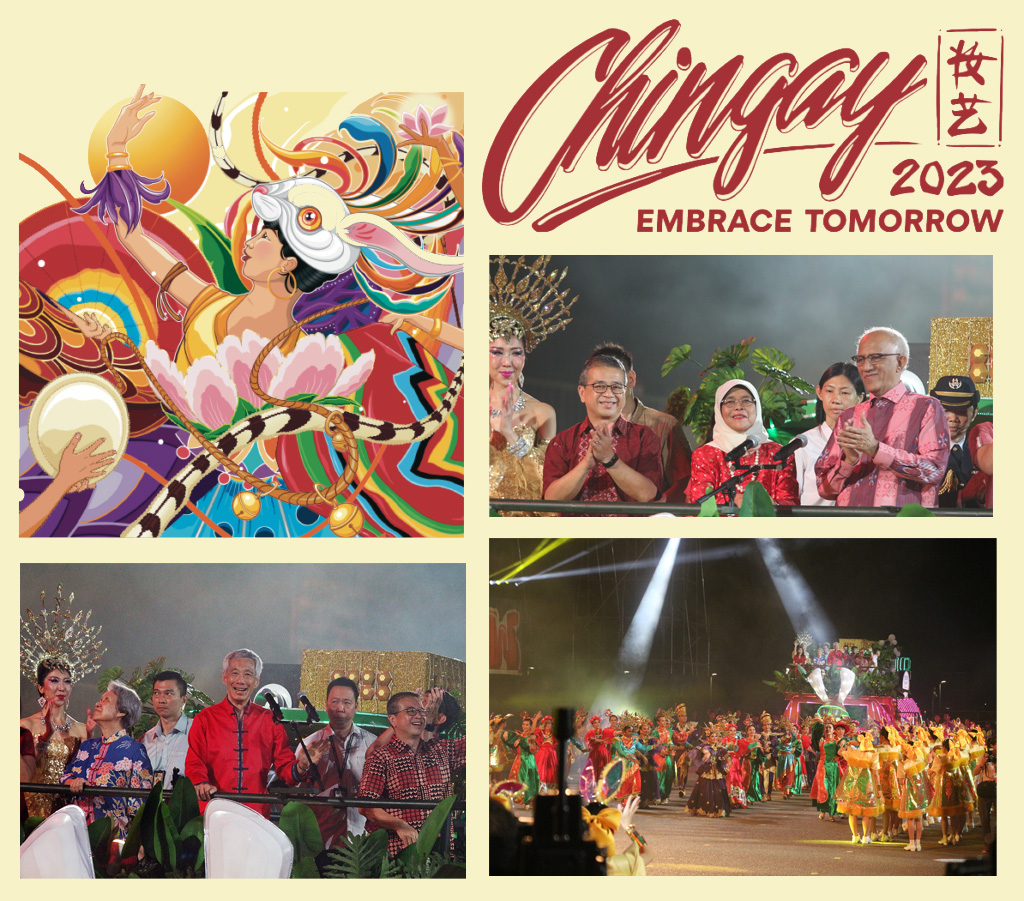 The Chingay Parade 2023 which took place on 3rd and 4th February 2023 returned to the F1 Pit Building after after two years of digital and hybrid showcases no thanks to COVID. The pent up demand saw huge crowds in long queues braving the drizzle on the first night! Visitors were treated to a non-stop programme of music, dances and plenty of pyrotechnics!
CHINGAY 2023 was truly a sensory extravaganza that celebrated diversity and sense of community while also showcasing community co-creation with the general public. Cultural and contemporary beats accompanied by fireworks by a diverse collection of local performers such as the NUS Angklung and the Happy Bikers Group at Bukit Gombak were invited to perform and international performances by the Japanese Association, tri-national Cambodia, India and Thailand music and dance troupes as well as a 'MexSing" performance gave an international flavour to the event.
Revolving around the theme, "Embrace Tomorrow", Chingay 2023 called on Singaporeans to treasure the present, create new possibilities, and embrace future opportunities together as a community with hope, dreams and confidence.
The roots of Chingay were not forgotten as the Chinese zodiac symbol the Rabbit also played a prominent role in the costumes, backgrounds and talented lead performers Hossan Leong, Siti Khadijah and Dwayne Lau at the 'Bunny Moon Party'. Neighborhood communities had came together to build miniature floats that were displayed at the end of the parade. Altogether more than 3,000 young people came together for Chingay 2023 to perform and collaborate on community art projects like the Container Art Installation and the Rabbits ART-Venture Installation.
With the help of more than 3,000 on-site performers from various groups, The People's Parade will enthrall spectators with special effects, audience participation, and show elements that are all original.
The Chingay Spirit, which drives the nation forward as a whole with hopes, dreams, and resilience, is perfectly captured in the theme song for Chingay 2023. The song, "Embrace Tomorrow," was written by music director Ting Si Hao and singer/composer Amni Musfirah. They were motivated by the challenges the country had faced lately and how it has overcome them as a united Singapore. Authentic musical instruments from different cultures were used in the composition, including the Chinese Guzheng, the Angklung, and the Indian Bansuri.
A delayed broadcast will also be available on MediaCorp Channels 5 and 8 on 19 February, 2023 at 7.30 p.m.