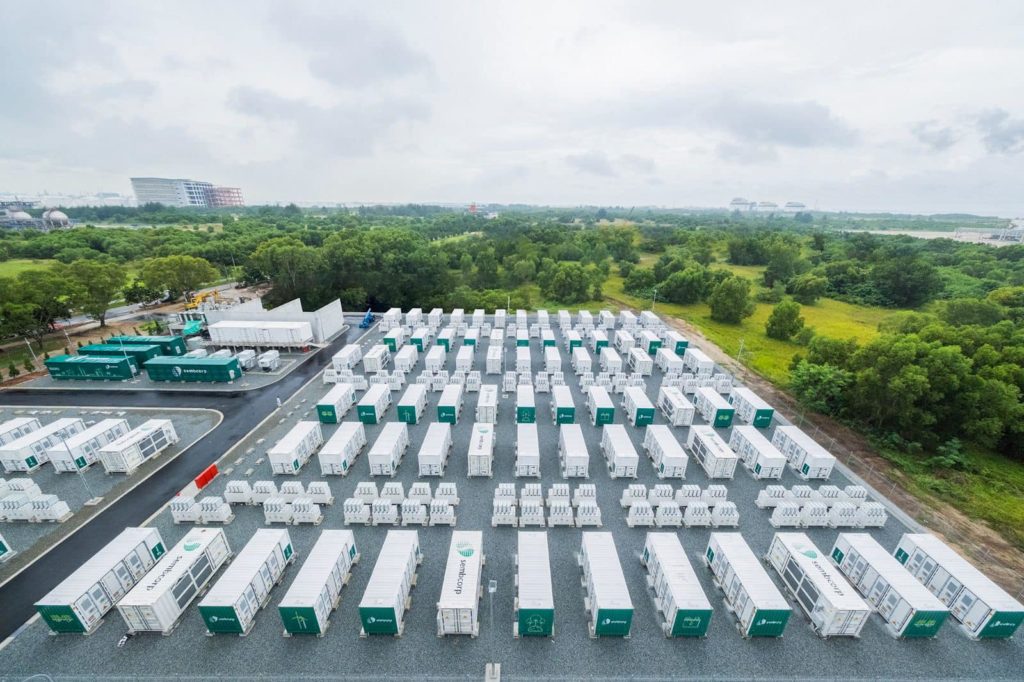 On February 2, 2023, Sembcorp Industries (Sembcorp) and the Energy Market Authority (EMA) officially opened the Sembcorp Energy Storage System (ESS), Southeast Asia's largest and the fastest of its size.
The Sembcorp ESS, which occupies two hectares of land in the Banyan and Sakra area of Jurong Island, is the largest ESS in Southeast Asia. The facility was completed in six months and was, in terms of execution, the world's fastest of its size when operations began in December 2022.
The ceremony was officiated by the guest of honor, Dr. Tan See Leng, Minister for Manpower and Second Minister for Trade and Industry, as well as Mr. Ngiam Shih Chun, Chief Executive of EMA, and Mr. Koh Chiap Khiong, CEO, Singapore & Southeast Asia of Sembcorp Industries.
A single discharge from the utility-scale ESS's maximum storage capacity of 285 megawatt hours (MWh) can supply enough electricity for about 24,000 4-room HDB households for an entire day. Its quick response time, which allows it to store and supply power in milliseconds, is crucial for reducing solar intermittency brought on by the changing weather in Singapore's tropical climate. It can also provide reserves to the power grid, freeing up power generation plants to generate more electricity to meet demand when needed.
Mr Ngiam Shih Chun, Chief Executive of the Energy Market Authority, said: "Energy Storage Systems (ESS) such as the Sembcorp ESS will play a significant part in supporting Singapore's transition towards cleaner energy sources. This large-scale ESS marks the achievement of Singapore's 200MWh energy storage target ahead of time. It will complement our efforts to maximise solar adoption by storing and delivering energy given the intermittent nature of solar power. The ESS will also enhance our power grid stability and resilience by managing mismatches between electricity demand and supply."
On this occasion, Mr. Wong Kim Yin, Group President & CEO of Sembcorp Industries, also shared that "ESS is rapidly growing in demand to support power system reliability, especially for the integration of intermittent renewable energy." Sembcorp already operates one of the largest fleets of ESS in the UK. This 285 MW ESS is the largest in Southeast Asia. "With 709 MWh, Sembcorp is now one of Asia's largest and fastest-growing ESS operators with strong technical capabilities."
Fast Response Batteries To Maintain Grid Reliability
The Sembcorp ESS is an integrated system made up of over 800 large-scale battery units. It maximizes energy storage by utilizing lithium iron phosphate batteries with high energy density, fast response time, and high round-trip efficiency, making them suitable for maintaining grid stability. The charge and discharge cycles of the batteries are managed centrally in accordance with supply and demand on the grid. The liquid cooling systems or built-in air conditioning systems are also a part of the integrated system, which helps to maintain the proper operating temperatures. To guarantee safe, dependable, and optimal performance, extensive use of intelligent sensors, security cameras, and dashboards monitor the key performance indicators in real-time.
Sourced from Sembcorp official website