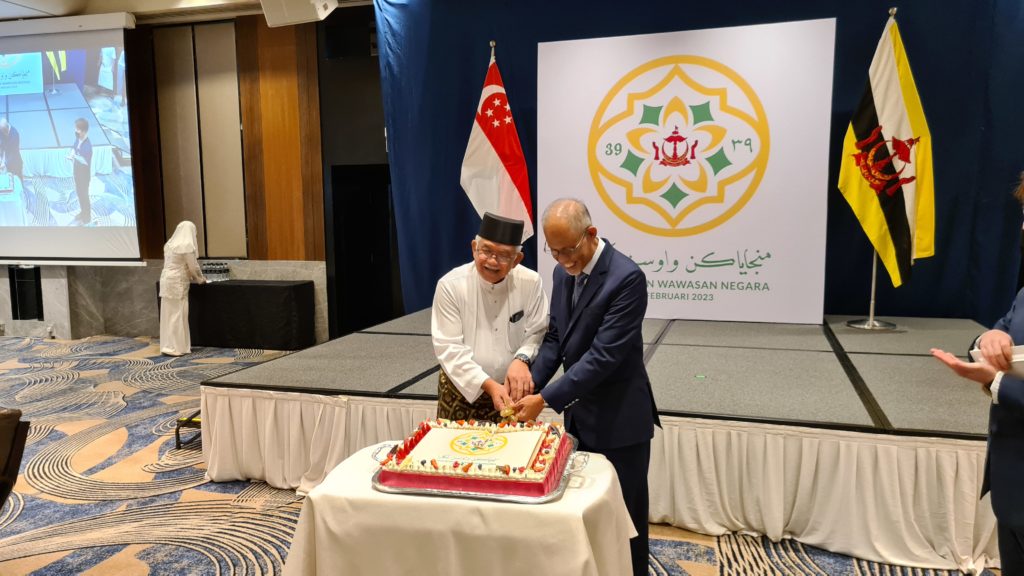 The 39th National Day of Brunei Darussalam was celebrated in a simple and dignified ceremony amidst warm hospitality, ambience of friendship and well wishes
THERE was the solemn playing of the Brunei national anthem Allah Peliharakan Sultan (God Bless the Sultan) and host nation's Singapore's national anthem Majullah Singapura followed by a cake cutting ceremony but otherwise the 39th National Day reception of Brunei departed from the usual protocol dispensing with the speeches. Instead the evening's programme concentrated on the friendly interaction of guests, friends and camaraderie of the diplomatic community in Singapore to make this year's post COVID event a memorable and meaningful one.
The close and friendly ties between Singapore and Brunei was there and open for all to see as after the cake cutting High Commissioner of Brunei Darussalam H.E. Dato Paduka Haji Sidek bin Ali invited Singapore's representative for the reception, Minister for Social and Family Development and Second Minister of Health as well as Minister-in-Charge of Muslim Affairs, Mr Masagos Zulkifli, was invited to sit for a close and relaxed dinner as well as friendly banter with all the guests.
The reception was held at the Grand Ballroom of Voco Hotel (the former Hilton) on Orchard Road on 24th February 2023.