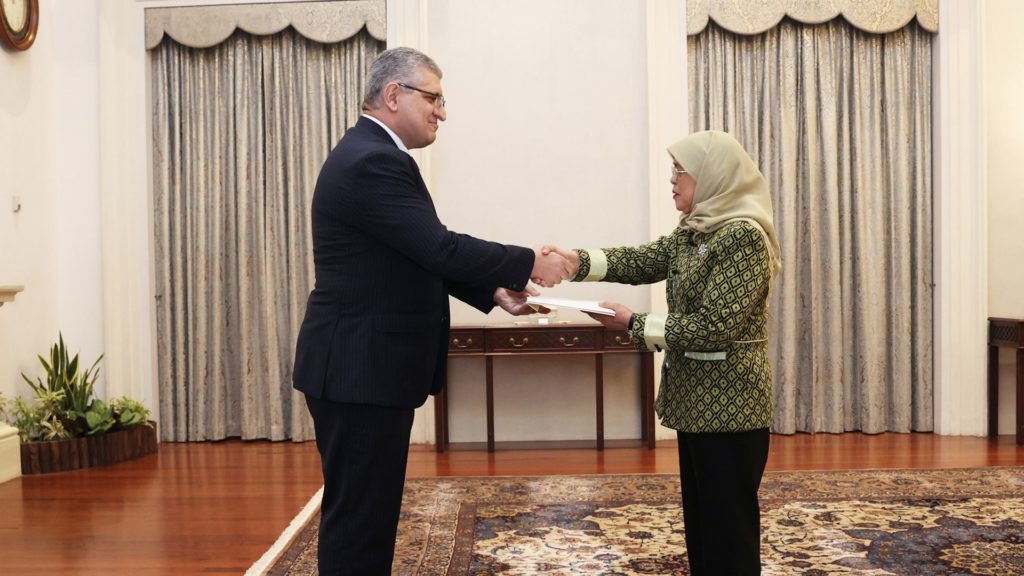 His Excellency Serob Bejanyan, a seasoned career diplomat, presents credentials as Armenia's Ambassador to Singapore, promising closer collaboration and strengthened ties between the two nations.
His Excellency Serob Bejanyan, the newly appointed Ambassador of the Republic of Armenia to Singapore, presented his credentials to President Halimah Yacob on 27 June, marking the beginning of his diplomatic mission in the Southeast Asian nation. A seasoned career diplomat, Ambassador Bejanyan brings a wealth of experience to his new role. Prior to his appointment in Singapore, he served as the Ambassador of Armenia to Indonesia, with concurrent accreditation to Singapore and the Association of Southeast Asian Nations (ASEAN).
With an impressive background in international relations, Ambassador Bejanyan has held various positions within the Ministry of Foreign Affairs of Armenia since joining in 1998. Notably, he served as the Director of the Media and Public Diplomacy Department, where he played a crucial role in shaping Armenia's public image and strengthening its diplomatic ties with other countries. Additionally, he served as the Counsellor of the Embassy in Athens, Greece, and as the Deputy Chief of Mission at the Mission of Armenia to NATO in Brussels.
Ambassador Bejanyan's academic achievements are equally noteworthy, having earned a Master of Arts degree in International Relations from the esteemed Yerevan State University. This educational background undoubtedly contributes to his profound understanding of international affairs and his ability to navigate the complex dynamics of diplomatic relations.
Beyond his professional accomplishments, Ambassador Bejanyan is a devoted family man. He is married and has two children, and his strong support system undoubtedly plays a vital role in his ability to fulfill his diplomatic responsibilities with dedication and commitment.
As Armenia's representative to Singapore, Ambassador Bejanyan will be tasked with further strengthening the bilateral ties between the two nations. The appointment comes at an opportune time, as both countries seek to expand their cooperation in various fields, including trade, investment, and cultural exchanges. With his extensive experience and diplomatic acumen, Ambassador Bejanyan is well-positioned to foster closer collaboration between Armenia and Singapore, opening up new avenues for mutually beneficial partnerships.
As the Ambassador of the Republic of Armenia to Singapore, Ambassador Serob Bejanyan brings a wealth of expertise and a distinguished career in diplomacy. His diplomatic mission holds promise for enhancing the relationship between the two nations and facilitating fruitful collaborations across various sectors. Singapore eagerly awaits the positive contributions Ambassador Bejanyan will undoubtedly make during his tenure, and his presence will undoubtedly further strengthen the enduring friendship between Armenia and Singapore.