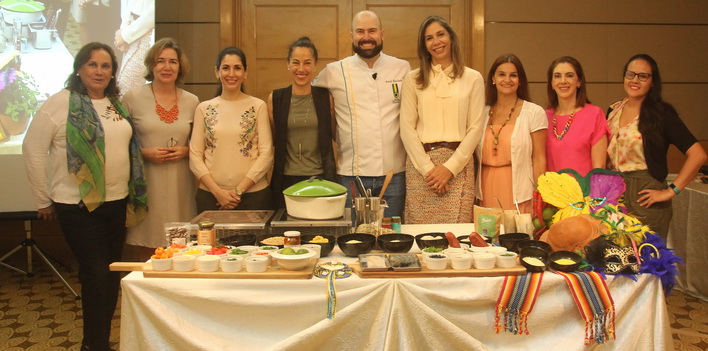 MRS Rosa Maria Campos Damico, the wife of the Brazilian Ambassador in Singapore, HE Flavio Soares Damico, welcomed Chef Paulo Machado on 5 April 2018 at the Fullerton Hotel where he conducted a MasterClass for several diplomats' wives. He shared many interesting insights on South American cuisine as well as how to cook some Brazilian dishes: Caldinho de Feijao and Moqueca as well as a the romantically inspired guava-based dessert called Romeu E Julieta.
He was brought to Singapore by the Brazilian Embassy and The Fullerton Hotel to kick off Fullerton's More Than Just Acai and Churrasco Brazilian food promotion from 9 to 15 April 2018. According to The Fullerton, Brazilian food has been riding the wave as the next big thing and Chef Paulo, who is also the owner of the Brazilian Food Research and member of the Slow Food Movement showed the ladies why his native ingredients are shaking up the cuisine scene.
The wives of the heads of misisons from Argentina, Colombia, Egypt, Peru, Poland, Portugal, Turkey and Ukraine along with members of the media received cooking tips by the articulate chef (he was first trained as a lawyer).
To taste for yourself these new food sensations Fullerton offers dinner buffets at its Town Restaurant before culminating in a superfoods brunch on Sunday, 15 April 2018.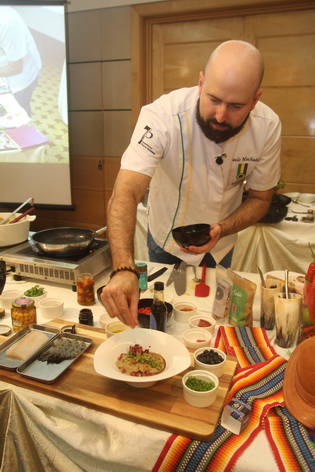 Exclusive Cooking Class
Chef Paulo is also holding an Exclusive Cooking Class at Fullerton's The Lighthouse Restaurant on Saturday, 14 April 2018 that is inclusive of a three-course lunch (from
11am to 2pm.
For more details on all of the above click here.
For a short video clip message from Chef Paulo Machado click here