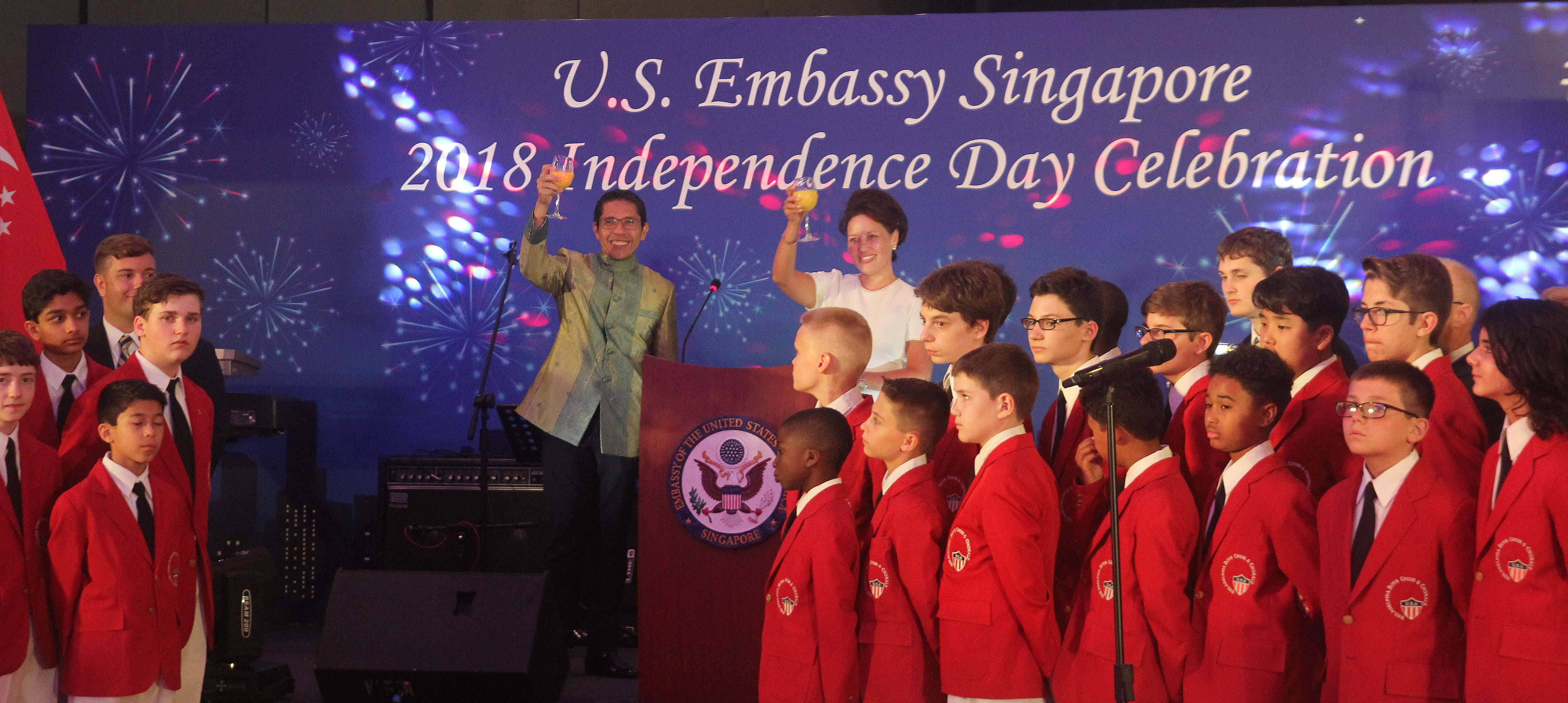 THE U.S. Embassy in Singapore celebrated the country's 242nd Independence Day amidst a sea of flowers at Gardens By The Bay with about 1,000 guests who included representatives from the Singapore government, members of the Diplomatic Corps, American citizens and friends of the U.S. The guests' list was as diverse as the beautiful gardens surrounding Flower Field Hall with this year's theme "Great American Cities".
One of the highlights included uplifting performances of the American and Singapore national anthems by the world-renowned Philadelphia Boys Choir. To reflect the "Great American Cities" theme, guests enjoyed cuisine from all corners of the U.S., which included bagels and lox (pictured here), gumbo, pulled pork, tacos, hot dogs, fried Oreos, and much more.
Mdm Stephanie Syptak-Ramnath, the Embassy's Chargé d'Affaires welcomed Guest of Honour Dr. Mohamad Maliki bin Osman, Senior Minister of State at the Ministry of Defence and Ministry of Foreign Affairs who was accompanied by two of his parliamentary colleagues: Members of Parliament Ms. Jessica Tan and Mr. Teo Ser Luck.
In her welcome speech, Mdm Syptak-Ramnath paid tribute to the island nation saying the occasion was not only to celebrate U.S. history but to also acknowledge the country is stronger as a nation with Singapore as its partner and friend. She cited the recent U.S.-North Korea summit held here as an example and said, "We all know that the choice of a setting, whether for a wedding, an Independence Day celebration, or a historic Summit, is key. We needed a place which was accessible and secure. We needed a place which showed the prosperity that exists when leaders make the right choices for their people.  We needed a place where people from around the world can feel welcomed and respected. And we needed a partner that is committed, not just with words but with actions, to leading the region and the world in the right direction. That's why there was simply no better choice for a venue, for a partner, for success than Singapore."
"That's what great cities do around the world.  And that's why, long before the Summit was announced, my colleagues and I chose the theme of "Great American Cities" for tonight's celebration. While we live and work in one of the world's smartest cities, we wanted to invite each of you to experience the United States through our own smart cities.  Cities that are defined not only by their history, their architecture, and their cuisine, but also by their universities, their innovation, and their entrepreneurship." Her address also paid tribute to American businesses and how they have contributed here and to the world: Click here for the text of her speech.
DR MALIKI: SINGAPORE-U.S. STRONG PARTNERS WITH DEEP ECONOMIC LINKAGES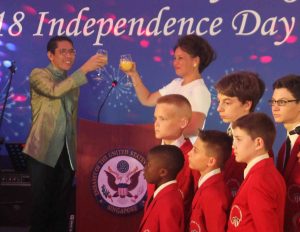 IN his speech, Dr. Mohamad Maliki bin Osman commented on the strong growth of friendship between both nations over the last 52 years. Apart from politics, the relationship is also reflected in "deep economic linkages and robust security and defence cooperation." Dr Maliki also cited the recent U.S.-North Korea Summit as an example of U.S.-Singapore's strong and enduring ties. He said Singapore looked forward to welcoming back President Donald Trump this November for the U.S.-ASEAN Summit and the East Asian Summit. Dr Maliki also said ASEAN currently creates more than 500,000 jobs for Americans through trade in goods and services. With ASEAN set on becoming the fourth largest single market in the world after the EU, U.S. and China by 2030, the opportunities for the U.S. in this region will also increase. He added, "As ASEAN Chair this year, Singapore will work to further deepen ASEAN-U.S. relations particularly in our Chairmanship initiatives in the Smart Cities Network and Cyber Security."
Meanwhile, he described bilateral trade, economic and investments links as good and a strong pillar in their bilateral relations. The U.S. remains Singapore's largest foreign direct investor with S$280 billion. As at end 2015, there were over 4,200 American companies based here contributing to finance, manufacturing and retail trade sectors. The U.S. is also Singapore's top trading partner in services and third largest trading partner in goods. "Notwithstanding our small size, we too have sizeable investment and trades with the U.S. and this continues to grow." Last October Singapore Airlines signed a U.S. $13.8 billion deal for Boeing aircraft, and he said, "Not many know that we are the second largest Asian investor in the U.S. with U.S. $73.6 billion in stock investments in 2016." The U.S.-Singapore Free Trade Agreement now in its 14th year was America's first with an Asian country. Since then bilateral trade has more than doubled to reach U.S. $74 billion in 2017. The U.S. currently enjoys a healthy trade surplus with Singapore amounting to U.S. $20 billion last year. Investments by Singaporean companies in the U.S. together with U.S. exports to Singapore support over 250,000 jobs for Americans.