As all eyes were on the recently signed, European Union – Singapore Free Trade Agreement (EUSFTA), we spoke to Ambassador Barbara Plinkert, the EU Ambassador to Singapore about her views on how this agreement would impact, cooperation and collaboration between ASEAN and EU
MANY eyes are on the just concluded FTA between the European Union and Singapore, your views?
BP: The FTA, together with the IPA, constitutes an important milestone in our already strong and established trade and economic relations. It is the first trade agreement signed between the EU and an ASEAN country and will serve as a reference point for future trade agreements negotiated by the EU in the region. Singapore is the first trading partner of the EU in the ASEAN with trade in goods and services expanding on a yearly basis.
The Partnership and Cooperation Agreement (PCA) renews our commitment to reinforce EU-Singapore ties. The PCA reflects our commitment to reinforce ties between the EU and Singapore and will give the relationship a stronger foundation, which is wider, up to date and more comprehensive. Based on shared principles and values supporting multilateralism, it helps to develop broad-based and mutually-beneficial cooperation in fields such as transport, security, environment and climate change, science and technology. It will improve people-to-people links by facilitating mobility of students and scholars and opens wider avenues to promote cultural exchanges and diversity. (Click here to read EUSFTA  Will Open Doors)
How do you think the FTA will open new opportunities for EU and ASEAN in the future?
BP: It will indeed provide new opportunities for closer EU-ASEAN cooperation. The FTA will reinforce Singapore's position as a gateway for European business to the ASEAN market while at the same time creating new opportunities for Singaporean companies in Europe. The EUSFTA is also a testament of the commitment of the EU and Singapore to free trade and a rules based order. As the first FTA with an ASEAN country, it will provide building blocks for a future EU-ASEAN Trade Agreement. As our economic interconnectivity is growing, the EU and Singapore are standing up for open and fair trade to shape the global trading system.
Recently a 'Study in Europe 2018' higher education fair was held in Singapore and it received excellent visibility, could you share some statistics on Singapore students studying in Europe and why Singapore students should consider EU?
BP: With 7,500 Singaporeans enrolled in European universities, Europe is on the radar for Singaporeans seeking higher education options. Study in Europe is one of our key public diplomacy programmes in Singapore – an expression of growing people-to-people links between the EU and Singapore. This year we closed the fair with an all-time high of 2,000 visitors and we had the strongest participation by 14 European countries. Significantly, with Singapore just having assumed the task of coordinating ASEAN-EU relations on behalf of ASEAN for the next three years, we had also an ASEAN element for the first time in the fair. 2018 marks the fourth year of the ASEAN-EU project Supporting Higher Education in the ASEAN Region or SHARE. Funded by the EU with EUR 10 million, SHARE has already provided 400 scholarships for ASEAN students to study in other ASEAN countries, replicating the Erasmus+ intra-EU scholarship scheme.
What are your views on preserving the multilateral world order? How can EU and Singapore work together for further engagements in business, trade and people to people?
BP: With rising protectionism, the world order and the multilateral system as we know it is being challenged. It is therefore even more important for likeminded partners to work together in support of a global rules based order and free and fair trade. The three significant Agreements just signed between Singapore and the EU reflect our commitment and openness to these principles. The FTA and IPA will open our markets for goods, services, procurement and investment. The PCA will provide a legal structure and framework for deeper cooperation, fostering people-to-people links and stronger connectivity between the EU and Singapore.
What are the major areas of cooperation between EU and Singapore and what are the potential growth areas?
BP: Beyond trade and investment, which constitute the backbone of our relations, we are engaging in very fruitful cooperation in a range of areas that are all covered by the Partnership and Cooperation Agreement. But let me mention particularly two areas where we see the potential of further deepening our ties: security and environment. On security, the EU has advanced its internal capacity as a security actor in recent years which has also translated into strengthening collaboration with external partners. Non-traditional security issues, such as counter-terrorism, cybersecurity and hybrid threats, as well as environmental challenges and climate change are all issues that we face on a global scale and that require joint solutions. As likeminded partners, we are expanding our cooperation with Singapore on these topics.
Singapore has been a home for over a year, do share with us unique discoveries, experiences so far?
BP: Some of my most profound impressions of Singapore have been my visits to the various neighbourhoods that showcase so well the rich diversity of Singapore, such as Geylang Serai, Little India, China Town and Arab Street. Also, reconnecting with nature by visiting the incredibly well kept parks and nature reserves with my family have been unique experiences. I particularly enjoy going to the Sungei Buloh Wetland Reserve, which is Singapore's first ASEAN Heritage Park and spending a day on Pulau Ubin.
Could you highlight some major visits, engagements between Singapore and EU since you arrived and anything major that is in the pipeline?
BP: 2018 is a special year for Singapore-EU relations: not only have we worked towards signing the three very significant Agreements, but the regional dimension of our relations has been underlined by Singapore's ASEAN chairmanship and its assumption of the role of coordinator for ASEAN-EU relations. Consequently, we have had a very busy and productive year with several high-profile visits to Singapore, signalling to the ever-deepening ties between the EU and Singapore. Particular highlights were the visits of Federica Mogherini, High Representative of the European Union for Foreign Affairs and Security Policy in August, and of Cecilia Malmstrom, European Commissioner for Trade in March.
Tell us a bit about your career as a diplomat and what changes have you seen in the world of Diplomacy?
BP: My entire career has been in an international and multi-cultural environment, first with the United Nations, and subsequently starting my diplomatic career with the European Union. I have served in many different countries, in Asia, Central Asia and Africa which have been a fantastic opportunity to discover a wide variety of diverse countries and cultures, to find synergies and deepen cooperation with the EU in many different areas.
Your favourite weekend activities and places to visit in Singapore?
BP: My family and I greatly enjoy outdoors activities and taking in the many facets of Singapore's vibrant arts, culture and heritage scene. What particularly fascinates me is that Singapore has made the arts accessible for all. For instance, through the spectacular night festival the heritage district comes alive with cutting edge art projects, not just from the region but also from Europe.
It has been great to participate in initiatives backed by Singapore and the EU which bring families together. In May this year we were part of the first EU-Singapore cycling rally that gathered 500 Singaporeans and Europeans. The spirit of the event allowed each of us to not just meaningfully spend time with each other and our families, but also to experience Singapore in a whole new way. I will never forget the experience of taking in the sights – from the perspective of a cyclist – from the elegantly restored National Gallery Singapore to the iconic Esplanade, the Marina Bay area, then turning into the modern Central Business District and to the heritage sites of China Town.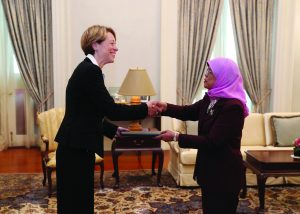 BRIEF BIO
HE Barbara Plinkert began her term as the EU Ambassador to Singapore in 2017 (
pictured left
) – a historically significant year as the EU turned 60 and ASEAN 50; and the EU and ASEAN marked 40 years of ties. This year, her term continues as Singapore's importance as a regional partner is being further emphasized by its simultaneous position as ASEAN chair in 2018 and, as of mid-2018, its three-year role as ASEAN's coordinator for EU relations. Prior to her assignment in Singapore, Ambassador Plinkert was Head of Division responsible for Headquarters Security and EEAS Security Policy at the European External Action Service in Brussels. Before that, she served in various positions in different parts of the world. From 2011-2015, she was based in Addis Ababa as Deputy Head of the EU Delegation to Ethiopia. Prior to that, she has held key positions within the EU with postings in Zimbabwe, Tajikstan and Kazakhstan. Between 1998 and 2003 she worked for the United Nations Office on Drugs and Crime, which took her to Afghanistan. Ambassador Plinkert speaks English, German, French and Chinese. She holds a Masters of Arts degree in Sinology, South-east Asian studies and Linguistics from Free University of Berlin