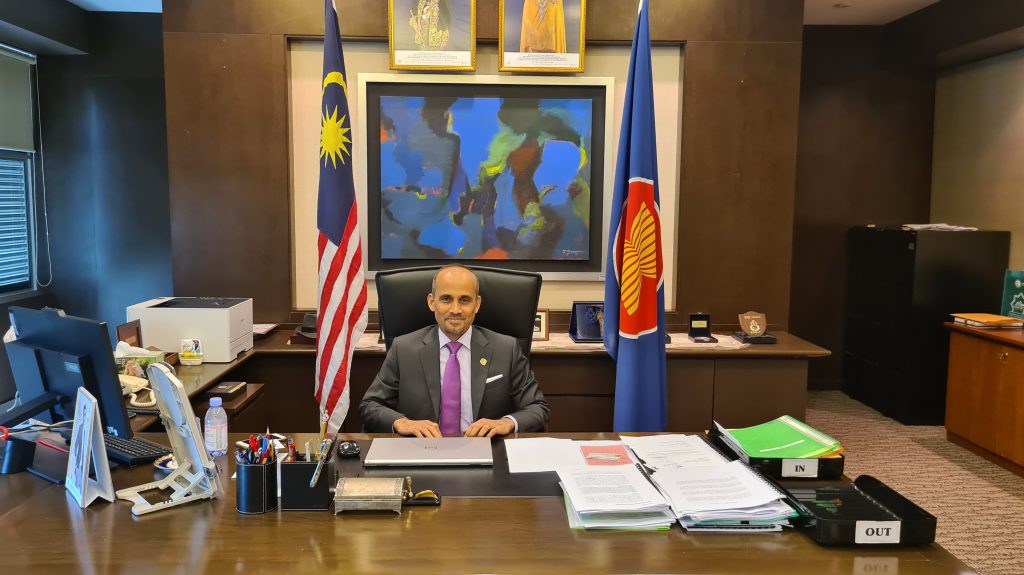 Close cooperation between both neighbours continue and is extending to more sectors despite COVID with new initiatives by Malaysia in the areas of attracting direct investment, promotion of ESG and expansion of its digital economy. The new Malaysian High Commissioner shares with IN Diplomacy's Editor-in-Chief Ms Nomita Dhar more insights of what is happening behind the scenes…
WHAT would be the priority areas for you during your tenure?
Relations between Singapore and Malaysia are deep–rooted, comprehensive and stable. I hope I would be able to further deepen and strengthen the relations for the benefit of both countries and the peoples.
Most immediately and in the short term, the priority will be to work on the re–opening of the border between Johor and Singapore. Re-opening of the border would enable Malaysian workers that used to commute between their homes in Johor and their workplaces in Singapore to once again have that option. At the same time, Singaporeans would be able to go to Johor to visit their relatives, and so on.
In the medium and long term, some of the priorities would include to enhance cooperation in areas of mutual interests and mutual concerns such as cybersecurity, climate change, sustainable economy, etc.
World is struggling with COVID-19, as close neighbours how has Singapore and Malaysia been affected and as neighbours how has the crisis brought us together?
Singapore and Malaysia, like other countries in the world, are adversely affected by COVID-19. No country can outsmart COVID-19 on its own. Working together is imperative.
Malaysia closed the borders in March 2020, and Singapore did the same in April 2020. Borders closure could affect movement of goods, people and services and would have widespread ramifications to the highly integrated and intertwined economies of Singapore and Malaysia.
Both governments acted swiftly, and with the support of the responsive private sectors, in ensuring continued seamless movement of goods between our two countries. On our part, Malaysia does not wait for formal agreement or MoU relating to supply chain continue supplying goods to Singapore.
Moving forward, and as both sides have achieved high vaccination rate, a number of activities could be done, especially in setting a precursor for the gradual reopening.
What are the prime challenges that you are facing in this context and what is going on behind the scenes to keep things moving?
Malaysia and Singapore have been working closely to address any challenges following COVID-19. Malaysia has ensured uninterrupted supply of goods from Malaysia to Singapore.
One good example of the behind-the-scenes activity that keep things moving is how both sides addressed the issue related to truck drivers and workers that need to come into Singapore on a daily basis and without quarantine. We are talking about more than 1,000 trucks from Malaysia to Singapore that deliver daily all sorts of goods including intermediate goods, consumables and essential goods.
Singapore has also extended its vaccination programme to these truck drivers and workers. Both sides have been working closely to ensure stringent health protocols as well as exchanging information and best practices to ensure minimum risk from this arrangement.
Could you brief us on the supply chain collaboration between Singapore and Malaysia and what trends do you see in the area of trade for 2022?
On the supply chain collaboration, given our geographic proximity, both Malaysia and Singapore have been part of the global value chain of manufacturing goods.
Annually, our merchandise trade with Singapore is around US$50 billion, with electrical and electronic which accounts for more than 40% of our bilateral trade statistics. Organically, businesses will institute collaborations to further strengthen the supply chain in the respective sectors.
In terms of investment, there is a good number of investors in Singapore when they first convene their regional operation in Singapore, Malaysia has always been their prime choice when they need to expand their operational arm beyond Singapore for the purpose of manufacturing plants, research facility etc. This is very much due to relatively lower operational cost and availability of talent in Malaysia to cope with their expectations.
Moving forward to further strengthening our bilateral supply chain collaboration, apart from the immediate agenda to revive our both economies from the impact of the pandemic, there is always room to look at collaborations beyond conventional and physical trade, by considering collaborations in the areas like environmental, social and governance (ESG) and digital economy, as both economies are quite alike in these two aspects.
Take for example, Malaysia had launched National Investment Aspiration (NIA), a forward-looking strategy aimed at attracting quality investments driven by innovation, high-technology, green economy and greater inclusion of domestic supply chains.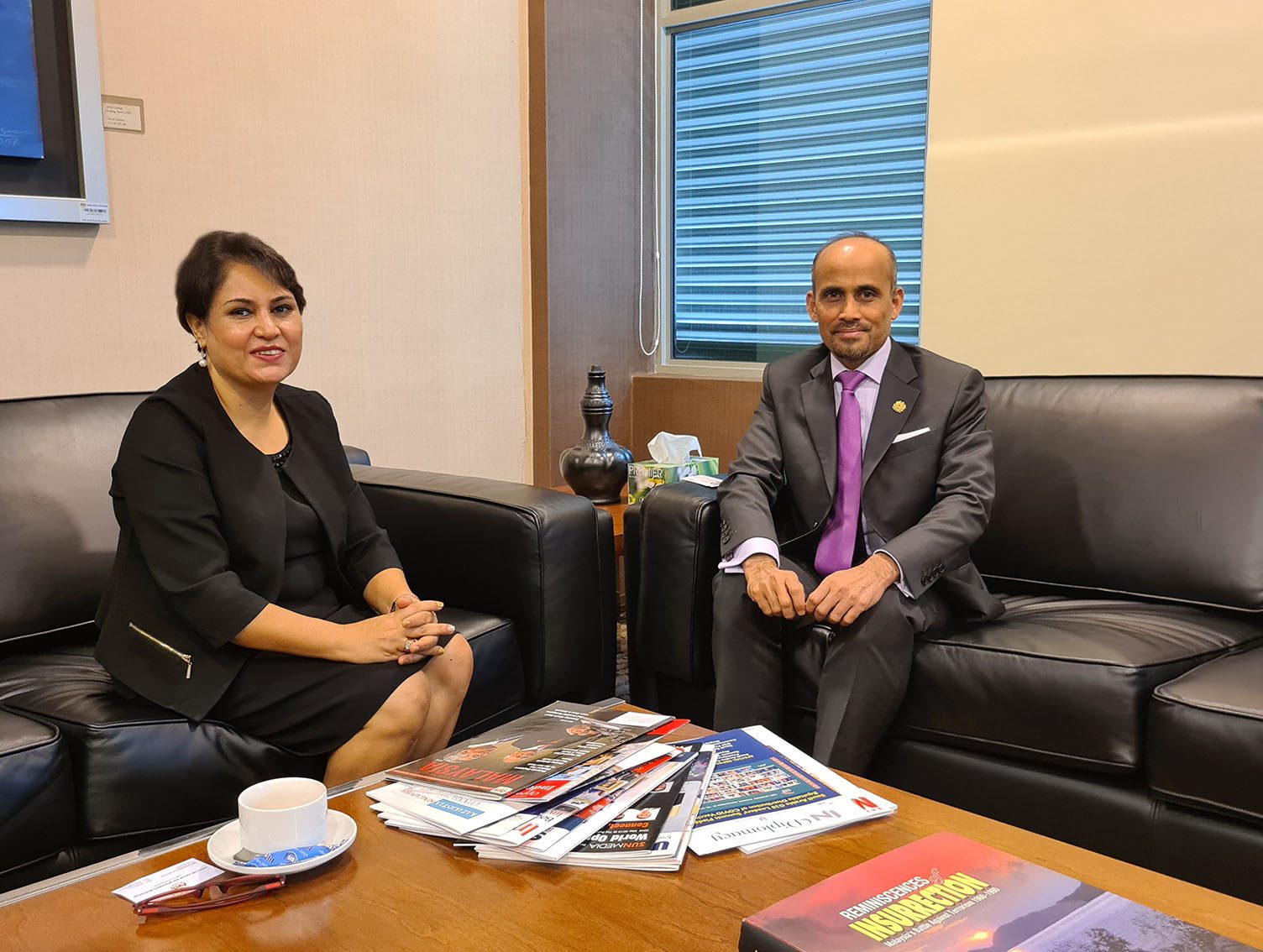 In terms of digital agenda, we had also launched our MyDigital Blueprint as well as Digital Investment Office to spearhead our economy digitalisation agenda in Malaysia.
Malaysia has always been 'first port of call' to many Singapore businesses when they venture beyond this island state, given the ease of access and similarities in consumer market culture. I hope this will navigate the future tie-ups between Malaysia and Singapore.
How have the investment trends been and which are the areas where most movement has been seen?
While COVID-19 has hit the economy hard, Malaysia has recorded an increase in investment. Malaysia's Foreign Direct Investments (FDI) has increased by 223.1 per cent for the first half of 2021 as compared to the first half of 2020, indicating the confidence of foreign investors in the country's stable and conducive economic climate and business ecosystem. The strong performance also demonstrates that Malaysia's strategy of positioning the country as an attractive investment destination of choice and a supply chain hub in ASEAN, particularly for manufacturing operations, is showing positive results.
In terms of total approved investments, Malaysia recorded RM107.5 billion of FDI and domestic direct investments (DDI) in the manufacturing (RM66.9billion), services (RM34.1billion) and primary (RM6.5billion) sectors, chalking up a massive jump of 69.8 per cent compared to the same period last year. The investments involved 2,110 projects and are expected to generate 44,994 job opportunities in the country.
Malaysia continues to attract high value and high-tech investments, bolstered by the country's capacity and capability in providing high-skilled talents and firm readiness in adopting advanced technology for value–added industries.
In line with the National Investment Aspirations (NIA) plan, Malaysia consistently pursues projects that support the development agenda of the nation, consistent with Environmental, Social and Governance (ESG) goals.
Do you see any possibilities of a travel bubble between Johor and Singapore in the near future?
Johor and Singapore must be seen as an inseparable entity. And I hope the border between Johor and Singapore could be opened as soon as possible.
While people-to-people connect has been the most affected, is the High Commission planning any promotion online, hybrid for food and cultural diplomacy to keep hope?
The High Commission is coordinating with the relevant Malaysian agencies including Ministry of Tourism, Arts and Culture (MOTAC), Tourism Malaysia, Ministry of Trade and Industries (MITI), Malaysian Investment Development Authority (MIDA), and other stakeholders including Malaysian companies such as Maybank, and non–profit organisation such as Malaysian Association in Singapore (MASIS), to continuously promote Malaysia.
At the same time, we are reaching out to Malaysian workers to ensure their well–being during this challenging time.
Could you share with our readers briefly about your career and family?
I am a career diplomat, and prior to my posting in Singapore, I served as the Ambassador of Malaysia to France. I am married and have 5 children.
Which part of Malaysia are you from, once the borders open where would you like to invite Singaporeans to?
I was born and brought up in Pahang. As soon as the border is opened, I would like to invite/recommend Singaporeans to the rainforest of the National Park in Pahang, the beaches at Cherating, Rompin and Kemaman, Mount Kinabalu in Sabah, Mulu in Sarawak, as well as the islands of Tioman, Langkawi, and Perhentian.
Which are your favourite places in Singapore and have you tries some of our food, what is your favourite?
I arrived in Singapore at the end of July 2021, and I have visited a few places and tried some of the foods. Unless and until I have covered the whole of Singapore and tried all the foods, I will reserve that title of "favourite" for the time being.
What is your message to the diplomatic community?
I would like meet and exchange views on various matters with as many diplomats as possible. I think diplomatic community is in a unique position, more so during this challenging times. Diplomatic community could share best practices, fostering collaboration and working towards making the world a better place for future generations. Many current challenges such as climate change require collective and collaborative efforts, and diplomatic community could lead by example.
---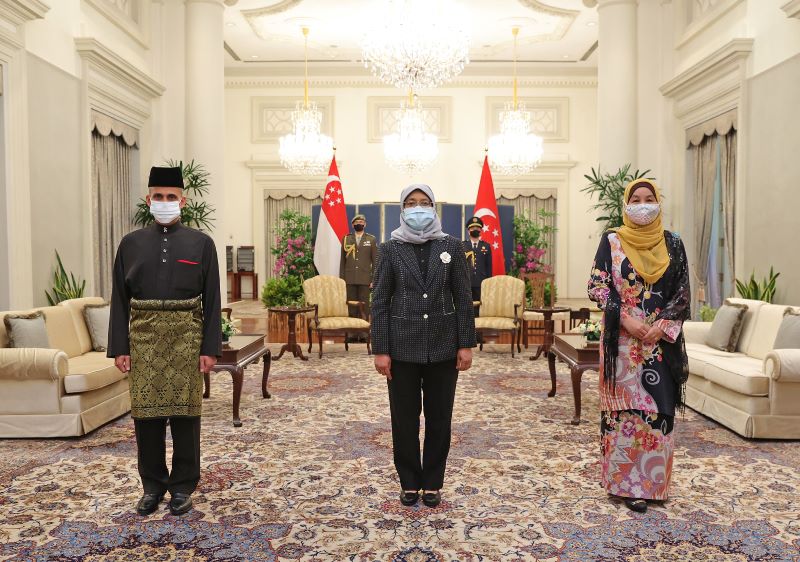 PRIOR to his posting to Singapore, Pahang-born Dr Azfar bin Mohamad Mustafar was an Administrative & Diplomatic Officer in the Malaysian Civil Service and has served in various capacities. Amongst others, his past assignments include service as an Assistant Director, Institute of Diplomacy and Foreign Relations (IDFR), and as an Assistant Director, National Security Council, Prime Minister's Department. He was the Director General, Department of Maritime Affairs, Ministry of Foreign Affairs, Malaysia from 2015–2018. He served as the Ambassador of Malaysia to France, with concurrent accreditation to Portugal and Monaco, from September 2018–May 2021.
He holds a BA (Hons.) in South East Asian Studies from University of Malaya, an MSc in Maritime Administration from the World Maritime University (Sweden), and PhD in Maritime Law from University of Wales (United Kingdom).
---