In a free-ranging conversation with Peru's Ambassador to Singapore HE Carlos Raul Vasquez Corrales with Nomita Dhar, Publisher & Editor-in-Chief of IN Diplomacy, he speaks eloquently and passionately about the potential ahead for developing the relationship between Singapore and Peru.
How has your  experience been since your presentation of credentials to Singapore's President Halimah Yacob last September?
THE diversity of diplomatic events here has made my experience in Singapore a very vibrant and enriching one. Since September, I have met governmental officials from the Ministry of Foreign Affairs, the Minister for Trade and Industry, the Ministry of Defense, the Home Ministry, the Ministry of Culture, the Director of the Central Narcotics Bureau, the Dean of the Lee Kwan Yew School on Public Policy and many others. I have made good friends among my colleagues, the Ambassadors of the Latin American Group, the ASEAN Group and the Ambassadors of all the other regions. It is really a privilege to be an Ambassador in this country.

My initial perception of the island was on my first visit 10 years ago. I was very impressed by the city's cleanliness, greenery, safety and infrastructure of high quality. That first impression is completely ratified now that I am living here. It is very easy place to settle as a diplomat, in fact, for any foreigner.
Singapore is not only a major logistics trade service hub in South East Asia, it is also a very important academic and intellectual hub. It is just amazing how many academic events are organized here every week. I'm often invited to attend these very interesting events and they present excellent opportunities for me to learn and send back to my country very valuable information about the political and economic development of Asia in general. For me it has been an amazing experience.
I have also had tremendous support from my colleagues here at the embassy from the very beginning. I was able to quickly touch base with almost all the key government ministries and officials. In these meetings, it was very clear that Singapore is keenly interested in the Comprehensive and Progressive Agreement for Trans-Pacific Partnership (CPTPP)*. We are partners along with Singapore and another 9  countries in this FTA.
Peru is engaged in the task of ratifying the treaty as soon as possible because it would be a very good signal of the Peruvian commitment with free trade, but there is another mechanism in which Peru and Singapore are interested: the Pacific Alliance. As you know the Pacific Alliance comprises four countries from Latin America – Chile, Mexico, Peru and Colombia – and we are negotiating with four extra-regional countries the possibility for them to become Partner States of this mechanism.  They are Singapore, Canada, Australia and New Zealand.  The four Latin American countries of the Pacific Alliance have decided to enter into a reflection period to further assess among themselves some of the issues posed by the four countries interested in becoming Partner States.  I hope these negotiations can conclude soon.
Peru has also just been admitted as a new State Party of the Treaty of Amity and Co-operation of ASEAN, about a month ago and the signing ceremony will take place in Thailand in the second semester of this year.
All these developments will undoubtedly contribute to the reinforcement of trade and investments links between Peru and Singapore.
What opportunities can be explored between Singapore and Peru during your term?
As I told you, it is highly probable that economic links between us will experience a boost. From 2019 to 2021, the Peruvian Government is actively promoting investments in infrastructure through private-public partnerships and the experience of Singapore is very important in this field.  We are also very interested in establishing co-operation with Singapore in terms of technology and management of water resources as Peru is facing some challenges in this sector.  As a result of climate change, some cities along the coast are being affected by the receding of ice that covers the top of Andean mountains because it is the main source of rivers flowing across the coastal valleys. The possibility to transfer the abundant water from the Amazon jungle to the arid coast is extremely expensive because of the high barrier of the Andean mountains. For that reason, Peru is interested in the Singaporean experience of successful handling of water resources, mainly in desalination plants and wastewater treatment.
The Embassy is also interested in getting Singaporeans to know about Peru's rich and diversified natural and cultural heritage. We are organizing cultural and culinary exhibitions in 2019 to attain this objective.
Other opportunities for cooperation have emerged in defense and security, fighting against drug trafficking and the associated crimes, academic exchange and joint research programs.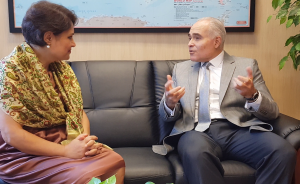 That sounds very promising, with all this happening for you in Singapore, what are the areas you would like to promote during your tenure here?
The first would be trade and investment. Peru was one of the first Latin American countries to negotiate and sign a Free Trade Agreement with Singapore. This FTA has been in force since 2009. Singapore at the time had FTAs with Chile and Panama; Peru is the third country in Latin America to sign such an agreement with Singapore. Since 2009 till 2017 Peruvian trade with Singapore has been rising at the pace of 26 to 27% every year. We have just signed an Agreement on Air Services in the end of 2018 that will contribute to improve connectivity and trade.

That's amazing! What are the main areas of trade?
Currently, trade is in Singapore's favor as Peru imports more than she exports to Singapore, mainly manufacturing goods while we export minerals such as gold, silver, lead and copper. These are traditional exports, but in the last few years we have also been increasing non-traditional exports such as grapes and blueberries!  We also export asparagus, coffee, cocoa and quinoa, which you might be aware is considered a highly nutritious health food.  

I believe Peruvian business has not fully realize the potential of the free trade agreement between our countries and there is great room for growth with potential exports of commodities such as artichokes and avocadoes. In 2017 became the world's third largest exporter of avocadoes! So I think avocadoes, artichokes and some other fruits have good potential for a country like Singapore which is a significant importer of food.  Another field that should be explored is garments that have a great potential here. Perhaps if we work very closely with Peruvian and Singaporean exporters, they can take advantage of the FTA facilities.
In terms of Singaporean investments Peru presently is the second largest (after Mexico) country in Latin America. In accordance with official Singaporean statistics, Peru has received more than US$ 600 million dollars of Singaporean investment, particularly in energy and fisheries sectors, but also in tourism and short-term operations in the Lima Stock Exchange.  Some Singaporean companies like OLAM is in the coffee production and trade in Peru and there are some Singaporean companies to further invest in the agricultural and mining sectors
What about other areas of interest?
The second area of interest is science and technology. There is a governmental entity in Peru in charge of the promotion of science and technology CONCYTEC or the National Council of Science and Technology and Innovation, whose counterpart in Singapore is A*STAR.  Some months ago, we had a video conference between the two to identify some areas of co-operation in terms of biotechnology, biomedicine, tele-medicine, tele-diagnosis, new materials and other issues of great interest to scientists in our countries. We also have some Peruvian students here who are obtaining their doctorates in Singapore.

The third area is education. The most important public universities in Peru which have created an initiative to promote cooperation with universities overseas, are very interested in visiting Singapore this year. The Chancellors of National University of San Marcos (which is over 450 years old), the Engineering University and the Agrarian Sciences University would like to meet their counterparts of NUS, NTU and SMU here in Singapore to explore fresh approaches and identify areas for mutual co-operation.
Another problem in this field is to attain higher levels of education in our public schools.  That's why I have been in touch with the authorities of the education institutions here as Singapore has been very successful in terms of education policies. We need to improve the level of training of our teachers and the level of English language also.
The fourth area, as I told you, is water resources. I have already had a meeting with the Ministry of Environment and Water Resources and soon perhaps there will be a videoconference between the Peruvian authorities and the Ministry here to explore areas of cooperation.  The fifth field is fight against drug trafficking.  I have recently had a meeting with the Director of Singapore's Central Narcotics Bureau and he was very interested in establishing line of co-operation with its counterpart in Peru. Five Peruvian experts in drug trafficking and prevention and rehabilitation of drug consumers, will be coming here to exchange views and ways to counter this menace.
What has been the growth of Peru in the past few years?
Peru had a good growth of 6 to 7% from 2003 to 2011. Because of the financial crisis of 2008 Peru's growth rate started slowing down. From 2013-2014 the rate increased slightly by 3 to 3.5%. In 2016 it again dropped to a low of 2.5%. In 2018, despite the fact that the international market was going through difficult times, the growth went up to 4%.

What about trade and business opportunities?
There are many business opportunities for Singaporean companies in Peru, mainly in sectors such as mining, agriculture and infrastructure. In the past, the United States along with some European countries were our main trading partners. But now Asian countries in general are our main trading partners. Our top five trading partners in 2018 were China, US, Japan, South Korea and India.


And how about tourism? Peru has been on the bucket list of many Singaporeans. How will the Embassy build on this and get more tourists to visit?
I believe we need to do much more for tourism promotion. In 2018 we had a little over 2,000 Singaporeans visiting Peru. Because of the country's distance and expense, people normally take a tour package that includes other Latin American countries along with Peru. But for many Peru is a sort of the jewel among them because of the iconic archeological site of Machu Picchu surrounded by a captivating natural landscape.
Machu Picchu is, of course, the most iconic tourist attraction in Peru by far. It is considered amongst the seven wonders of the modern world. But Peru is not just Machu Picchu. We have a great diversity of tourist attractions and in the 2018 World Travel Awards Peru was considered the leading cultural and culinary destination in the world.
We are promoting the annual Travel Mart Fair in Peru to Singaporean tour operators. We are also encouraging Peruvian companies to participate in the Tourism Fairs here in Singapore, such as last year's ITB Asia Fair in which three companies of my country participated. There is a Peruvian company with headquarters here in Singapore that promotes sailing along the Amazon River and has been very successful.
What would you like Singaporeans to know about your country?
The key word to understand my country is diversity. Like Singapore, Peru is a multicultural society and the Peruvian territory harbors one of the most diversified countries in terms of natural landscapes.   In Peru you can find the beautiful snow-capped Andean mountains, second highest mountain range in the world, the Amazon River and the Amazon Jungle and beautiful beaches on the extreme North of the Peruvian coast.  We have 84 microclimates, the highest rate in the world, as well as 1,857 identified species of birds. In Peru, you can find one of the highest waterfalls in the world, the deepest canyon as well as the highest sand hills in the planet. We also have historical monuments on the UNESCO World Heritage List such as Caral, Machu Picchu, Kuélap, the Nazca Lines, the Chavín Temple and along with another five South American countries, the impressive Inka Trail.
Peru was also recognized as the leading culinary and cultural destination in the World Travels Awards of 2018. According to a UK-based restaurant magazine, Peru is home to three of the 50 Best Restaurants in the World: Central, Maido, Astrid & Gaston, and seven of the top 50 restaurants in Latin America: Maido, Central, Astrid & Gaston, Isolina, Rafael, The Sea, Malabar, Osso, and y Amaz. So there is a very long list of reasons to visit Peru!
*CPTPP recently ratified free trade agreement between Canada and Australia, Brunei, Chile, Japan, Malaysia, Mexico, New Zealand, Peru, Singapore and Vietnam.
PERU: Culturally Speaking…
"In terms of culture we have been the cradle of one of the most important ancient civilizations in Latin America. Since the old citadel of Caral until the Inca culture elapsed a very long historic period of 4,000 years. Caral, which was established 4,500 years ago, is considered the oldest urban area in the Americas. Between Caral and the Incas, several cultures were developed in my country. For that reason, in Peru you can find a great diversity of historic monuments such as the Temple of Chavin, Nazca Lines on the desert, the citadel of Chan Chan and the impressive ruins of Kuelap. The many cultural attractions of Peru have made it the world's leading living cultural destination.
One of the bedrocks or cornerstones of its culture is its cuisine. Peru has experienced something of a boom in the past two decades. In my country we have over 3,000 varieties of potatoes and quinoa, along with some other Andean grains considered to be very nutritious.
If you mix all these native ingredients with strains of Spanish cuisine, whose influence was very strong, the results have been fantastic. Peruvian cuisine also has influences from Arab cuisine which came to us through the Spaniards. After all, the Arabs ruled the Spanish peninsula for almost 700 years. Add to that the culinary strain of the Africans who came in with the Spaniards since the end of the 16th century— it really was a great melting pot. What is even more extraordinary is the Chinese influence. This came about when since the middle of the 19th century, large waves of Chinese decided to migrate in my country to work in plantations or in infrastructure projects. They came mainly from the southern provinces of China. Between 1849-1874, one hundred thousand Chinese migrants arrived in the country! Almost 90% decided to stay on and mixed with the local population. So now you have a lot of Peruvians of Chinese descent, by far the largest Chinese community in Latin America, almost three million people. The Chinese migrants created a Peruvian-Chinese fusion food. It's called Chifa and we have many Chifa restaurants. Then at the end of the 19th century a new wave of migrants arrived in Peru— from Japan. All these migrations have generated a very complex and rich multi-cultural society."