THE Ambassdor of Saudi Arabia in Singapore H E Saad Saleh I. Alsaleh gave a briefing regarding the recent visit of Singapore's Deputy Prime Minister and Coordinating Minister for Economic Policies Tharman Shanmugaratnam to the Kingdom of Saudi Arabia from 19th to 21st January 2019.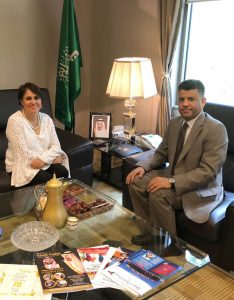 During his visit he met His Royal Highness Prince Mohammed bin Salman bin Abdulaziz, the Crown Prince, Vice President of the Council of Ministers and Minister of Defence. They reviewed the bilateral relations between the two countries and discussed the promising opportunities for developing cooperation between the two sides in various fields, especially the economic aspect, and the desire of the Singapore government to contribute to the programmes and projects to achieve the Kingdom's Vision 2030, in addition to exchanging views on issues of mutual interest.
The meeting was attended by Minister of Commerce and Investment Dr. Majed bin Abdullah Al-Qasabi; Minister of Energy, Industry and Mineral Resources Eng. Khalid bin Abdulaziz Al-Falih; Minister of Education Dr. Hamad bin Mohammed Al Al-Sheikh; Saudi Ambassador to Singapore Saad Al-Saleh; Singaporean Senior Minister of State at the Ministry of Defence and the Ministry of Foreign Affairs Dr Mohamad Maliki bin Osman; Singaporean Ambassador to KSA Lawrence Anderson and Ambassador Umej Bahtia and a number of officials.