RSIS Senior Fellow and former Singapore Ambassador to Saudi Arabia share rare insights into the Singapore diplomatic service and how Singapore engaged with ASEAN and various nations in the past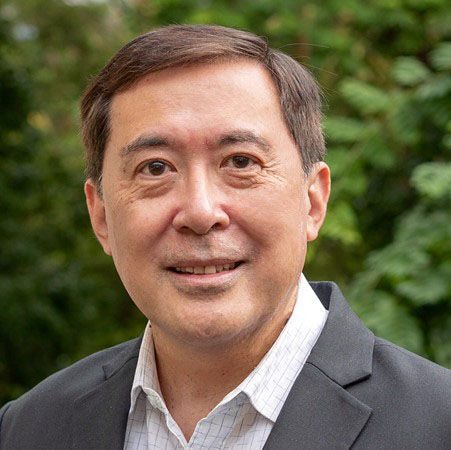 Please take us on a brief journey of your diplomatic career, and your most cherished stint?
IN a 37-year career in the Foreign Service, I have had the privilege to visit close to 60 countries, several on holiday, but almost all for official duties.  In terms of postings, I have been assigned to the Singapore Permanent Mission to the UN in New York, as well as Singapore Embassies in the US, Thailand, Cambodia, and Saudi Arabia. Back home in the Ministry of Foreign Affairs (MFA), at various times, I have held appointments dealing with Singapore's bilateral relations with our Southeast Asian neighbours, regional policy and strategic security issues involving ASEAN and the Dialogue Partners, overseeing Singapore's technical assistance cooperation programmes, and managing Singapore's relations with the EU and other European countries.
There have been so many memorable moments, I find it impossible to name just one. All my posting abroad and assignment back home have left an impression, I could write a book on each of them! I remember the UN because it was my first posting abroad in 1988. Washington, D.C., because so many critical global events that shape the world today – the Fall of the Berlin Wall, Tiananmen, the First Gulf War in 1991 and the demise of the Soviet Union – took place during the time I was there. Closer to home, Bangkok and Phnom Penh, hold special memories not only of events that had a big impact on Singapore and ASEAN, but also because of close friends, many of whom I am in contact with to this day. Cambodia was also my first Ambassadorial appointment, so that too is special.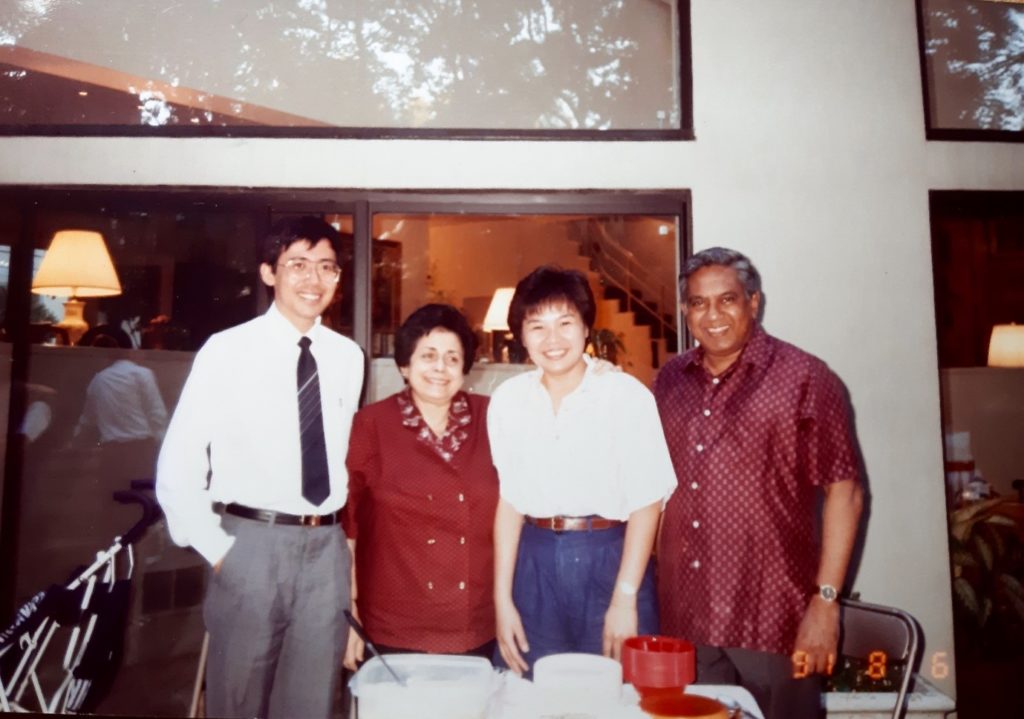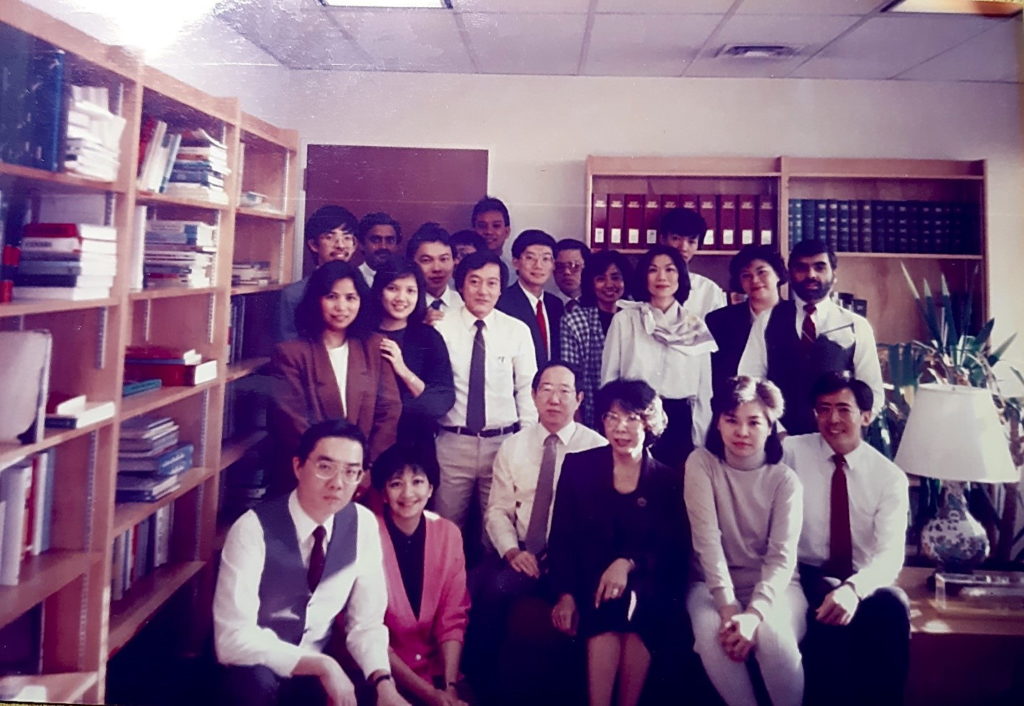 In MFA HQ, heading the Regional Policy section in the ASEAN Directorate was probably the best time because of the several initiatives we managed to shape and achieve, and also because of the unique camaraderie my colleagues and I forged working closely as a team. Finally, I will always have a soft spot for Saudi Arabia because of my many Saudi friends and others, in particular, within the Diplomatic Corps, which was the closest community of diplomats I have ever had the pleasure of knowing in my multiple postings abroad.
How did you choose diplomacy as a career?
When I was at university, I could not decide whether to pursue a career in the Foreign Service or in academia. One of my American professors told me that when he was a student, he had faced the same dilemma, what he called 'having to choose between making policy or writing about it.' He advised me to do what he did – to try both and then decide. He lasted only a year in the State Department, when he realised he was much happier writing about policy events.  I joined MFA straight after graduation and stayed on, because I felt that I was making a difference working with my colleagues to help formulate and shape Singapore's foreign policy, and contribute to its successful implementation.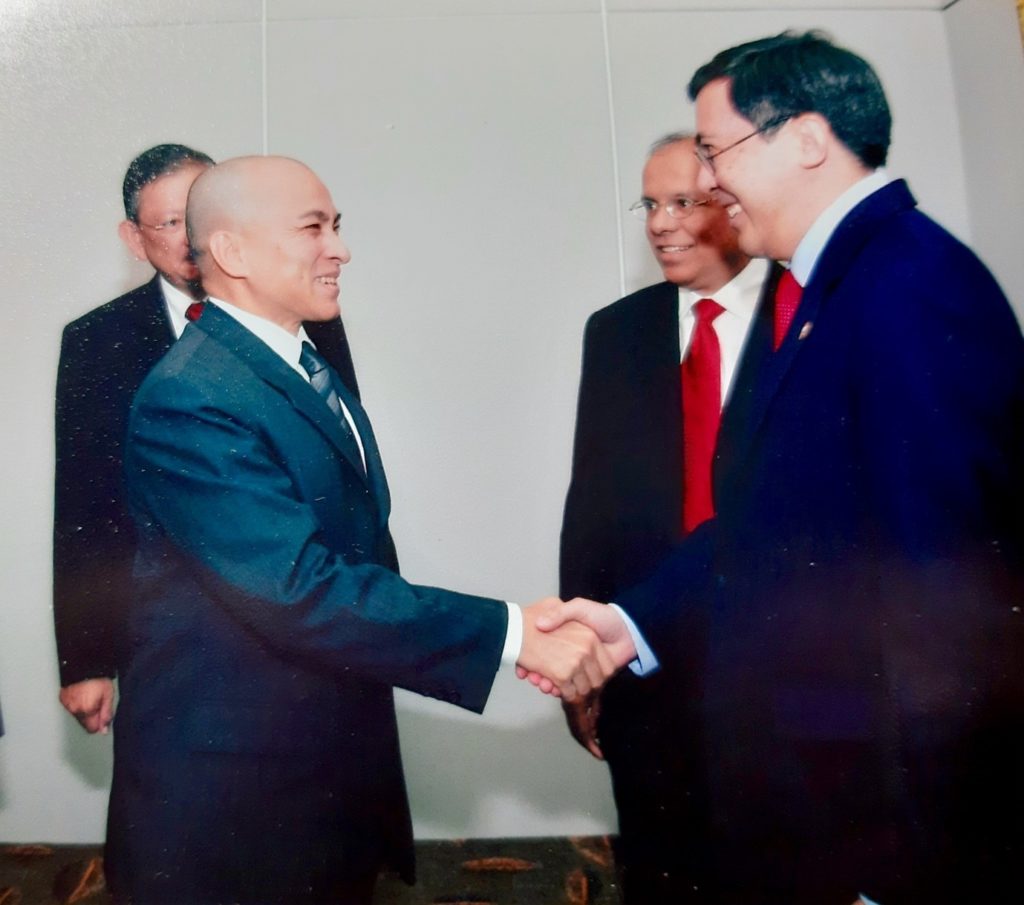 What changes have you experienced in Singapore foreign policy?
The world is a vastly different place now than when I joined MFA in the mid-1980s. Back then, the Cold War was raging and most countries had to choose (though many had the decision thrust upon them) between joining the US orbit of democracy, human rights and free market capitalism OR the Soviet bloc of communism and a centralized economy. 
In Singapore's case, as a very young nation, our foreign policy priorities were at its most basic: political and economic survival. On 9 August 1965, we had independence thrust upon us, with no natural resources except our wits and our people. Hence, we had to simultaneously focus on winning friends abroad and recognition of Singapore as an independent sovereign state, look to our security, defence and economic development needs, and rely on our ability to attract foreign investments, trade, management and technical skills, to help create jobs for Singaporeans. When I joined MFA, Singapore had secured most of these priorities, but I grew up aware of what our government leaders and people together had to work so hard to achieve, all amidst the chaos and conflict raging in Southeast Asia and beyond at the time.
By the end of the Cold War in the early 1990s, our foreign policy priorities became more economic-centric. We forged closer links to friendly states and all the major powers, as well as reached out to the emerging markets of the former Soviet bloc and its allies in developing countries. We did this by concluding close to 30 Free Trade Agreements (FTAs), as well as a host of other economic arrangements. Together with our ASEAN partners, we achieved the vision of ASEAN's founding fathers with the integration of Cambodia, Laos, Myanmar and Vietnam, and milestones such as the ASEAN FTA, ASEAN Community and ASEAN Charter. Singapore took a proactive role in creating or shaping regional architectures like the ASEAN Regional Forum (ARF), the ASEAN+3 process with China, Japan and South Korea, the East Asia Summit (EAS), and the Asia-Europe Meeting (ASEM). Even though Singapore is not a member, we play an active role in the G-20 Summit process, having been invited to most of its meetings.
With globalization, the financial crisis and current pandemic, now it's about dealing with critical transboundary issues, promoting connectivity, sustaining regional and global supply chains, greater resilience of healthcare services, developing eco-friendly green and smart cities, and the judicious use of new technologies such as Artificial Intelligence (AI), Big Data, Cyber-Security. Hence, apart from traditional political and economic priorities, foreign policy nowadays involves looking closely at broader issues that include education, healthcare, job creation and the welfare of our people. As a corollary of this, a key task of Singapore Embassies overseas is to look after the safety and wellbeing of our citizens abroad. Nowadays, the dividing line between foreign policy and domestic policy is as visible as the Greenwich Meridian!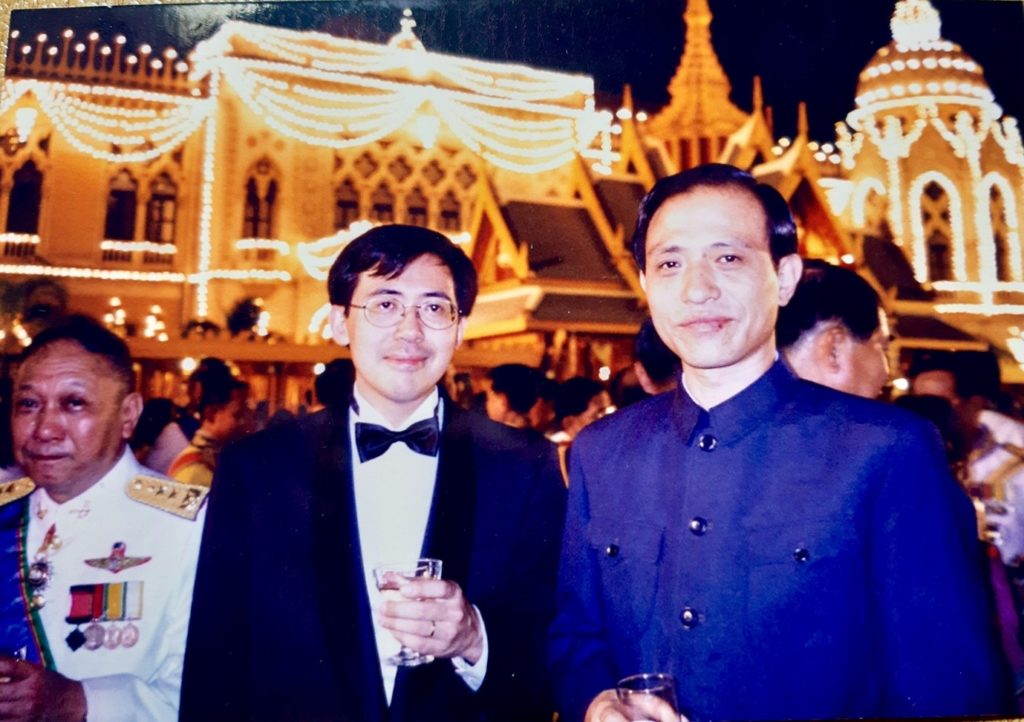 Do you think diplomacy is still relevant, and could you relate some experiences where your role as an ex-ambassador was instrumental in solving a critical issue?
Given the uncertainties facing all of us today, I think diplomacy still has a crucial role to play in keeping the peace and solving many of the world's complex problems. For instance, world leaders are grappling with the difficulties in managing transboundary challenges including climate change, pandemics such as COVID-19, environmental disasters, sharing water and other scarce resources, proliferation of weapons of mass destruction, regional conflicts and proxy wars, all of which are beyond the ability of any one nation, however powerful, to solve on its own. The UN, WTO, WHO and other international fora provide the platforms; diplomacy provides the means.     
COVID-19 has only reinforced my belief in the value of diplomacy. Building trust and friendships, understanding each other's valid concerns and constraints, are necessary steps to move forward in solving problems. Often, they require leaders and officials to spend time and effort in face-to-face meetings and private weekend retreats together. This is true whether it's between the leaders of two countries or a larger group of nations, or between CEOs of multinationals or owners of small and medium-sized enterprises. It cannot be done via Zoom alone. Online meetings are invaluable now when it is unsafe health-wise for people to meet in close proximity, and they will continue to serve a useful purpose after the pandemic is over. But human beings are social animals, and we crave the face-to-face contact and social interactions to build trust, friendships and camaraderie; the stepping stones to great deeds and achievements.
Unlike some of my more able and wise colleagues, I cannot claim to have ever solved a problem of critical importance. But I am proud to have been part of several teams of bright, diligent and dedicated people who collectively have contributed ideas, proposals and strategies to move forward on complicated issues. Let me cite three. First, in the early years after the Cold War, when ASEAN and its Dialogue Partners were looking at how best to discuss sensitive regional security issues, we organized the prototype meeting which eventually became the ARF. Later, we drafted the ARF Concept Paper setting out the Forum's goals, processes and arrangements. Working with our ASEAN partners, we helped shape the discussion on how an East Asian platform would look like, and this eventually led to an expanded membership in the form of the East Asia Summit.
Second, when the Cold War ended, there was a great desire to see more interactions between the countries of Asia and Europe. This prompted then-PM Goh Chok Tong to propose the Asia-Europe Meeting (ASEM), and we helped to develop the strategies and arguments that contributed to its formation. Over a decade later, we came up with the formula to extend ASEM's boundaries to bring in Australia, New Zealand and Russia into the fold.
Third, when ASEAN grew to 10 countries, one of the chief challenges was to narrow the development gap between its members. So, at the 2000 ASEAN Summit in Singapore, we launched the Initiative for ASEAN Integration (IAI). The IAI consisted of several proposals, chief of which involved Singapore setting up training centres in Cambodia, Laos, Myanmar and Vietnam to run human resource development courses in computer, language, management and other skills. This enabled us to train much larger groups than those who went to Singapore. I am proud to say that all the initiatives listed above are still going on to this present day.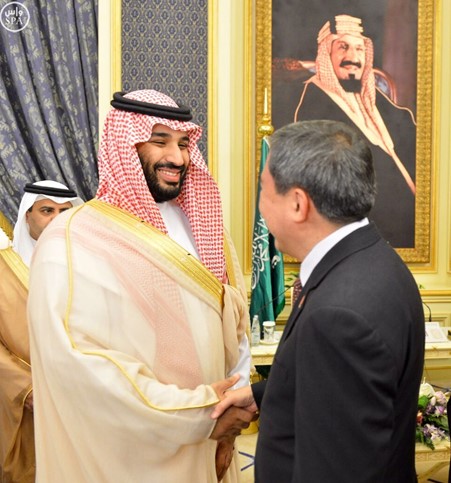 You were in Saudi Arabia for six years, how was your experience and please share with us your recent and current engagements?
Actually, it was for six and a half years, and I was blessed that my posting coincided with the transformation taking place. I started at the tail-end of King Abdullah's reign, so was able to witness and compare the differences between what Saudi Arabia was like before and after the changes brought about by the ambitious Vision 2020 project. It goes beyond the surface changes of glitzy restaurants and malls, women driving and changes to their attire, but also embraces a moderate form of Islam, instilling a more tolerant attitude towards the status of women, guardianship practices, gender mixing and interaction with foreigners. The government has also invested heavily in downstream petro-chemical and petroleum related products, as well as renewables, notably solar, wind and nuclear-power capacity. These are crucial steps to reduce the Kingdom's dependence on fossil fuels in the future.
My colleagues and I at the Riyadh Embassy and our Consulate-General in Jeddah were also busy in strengthening the warm ties between Singapore and Saudi Arabia. Notably, we helped to conclude the Gulf Cooperation Council (GCC)-Singapore Free Trade Agreement (GSFTA), and proud that Singapore was the first non-Middle East country to have an FTA with the GCC. We also secured the Saudi invitation to attend the G20 Summit they hosted in November 2020.
Now, 13% of Singapore's population are Muslims and close to 10,000 make their Hajj or Umrah pilgrimages annually. One of my top responsibilities was accompanying our Ministers responsible for Muslim Affairs and MUIS officials to meet their Saudi counterparts to discuss amongst other matters, persuading them to raise our Hajj quota, so that more Singaporeans would have the chance to make the pilgrimage. Our Consulate-General staff also helped to extricate to safety several Singaporean families trapped in Yemen when war broke out in 2015.
Thanks to my Saudi friends and the Kingdom's justifiably famous hospitality, I was able to explore its many wonders. There are few better ways to forge friendships than spending a day or two together racing over towering sand-dunes, chatting in a desert tent in winter beside a raging fire, or watching Saudis proudly take their prized falcons through their paces and discussing the merits of their noble Arabian horses and beauty contest-winning camels. In addition, Saudi MFA flew the diplomatic corps and our spouses on several trips to see the wonderous delights of Mada'in Saleh – the historic archeological site of the Nabataen Kingdom of the 1st century A.D. – and the Neom mega-project, a tourist resort that will incorporate smart city technologies in northwestern Saudi Arabia. I would very much like to go back once the pandemic is over, to see dear friends again and the latest developments in this 21st century ultra-modern, desert oasis.
Following my return to Singapore in late September 2019, I was seconded to the Asia-Europe Foundation (ASEF) for a two-year assignment. There, the team I led managed to take advantage of the pandemic restrictions to create a digital eco-system for the organization. This enabled ASEF very early on to run hybrid and fully online events. Our team also conceptualized, curated and ran several ASEF webinars on the Regional Comprehensive Economic Partnership (RCEP), the use and distribution of the COVID-19 vaccines, ensuring the reliability of global supply chains, connectivity, and the green and digital economies. When I retired from government service last October, I joined the S Rajaratnam School of International Studies (RSIS) as a Senior Fellow, where my focus is on ASEAN strategic security and foreign policy issues. So, I have gone full circle, back to what I was doing in MFA, but now on the think-tank or Track II circuit. You could say, on the other side of the fence, so to speak!