While the Ambassador of Netherlands is passionate about her country's achievements, she is also committed to be fully engaged with Singapore's social and civic scenes especially those related to women's causes. She shares with Publisher and Editor-in-Chief of IN Diplomacy, Mrs Nomita Dhar, there is more to the Netherlands than just windmills and tulips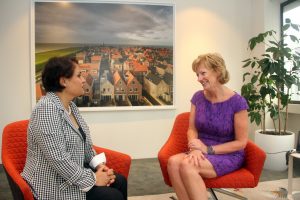 Your Excellency, good morning! How long have you been in Singapore?
From August 2017. In fact, I arrived here just before Singapore's National Day and that was my first public event that I attended.
What was your impression when you witnessed the National Day celebrations?
It reminded me of our own National Day celebrations. In the Netherlands, everyone is always dressed in orange. Here in Singapore everyone is dressed in the national colours white and red. I have excellent local staff, so I asked them for advice before going to the celebrations. They informed me that the ministers would be sporting national colours while on the floating platform and it would be great if I did so too. So this year I asked many of my ambassador colleagues to dress in white and red for the event as well. It was a beautiful sight with everyon dressed in Singapore's national colours.
Since then what has kept you busy in moving the Netherlands and Singapore ties moving forward?
We are old friends; In fact, the Netherlands was one of the first countries to acknowledge Singapore when it became independent. Promoting innovation is most important to both Netherlands and Singapore. Both are small countries that depend on trade and strive to be number one. So they have to innovate. The late Albert Winsemius, who was the economic advisor to the Singapore government, was a friend of Prime Minister Lee Kuan Yew and for 22 years was his prime economic advisor on the development of Singapore. Many Singaporeans still remember the contributions of the Dutch economist and are grateful for his advice, which has underpinned Singapore's growth. During my tenure, I was privileged to witness the first ever state visit of the President of the Republic of Singapore, HE Halimah Yacob, outside the Asian region last November.
Excellent. Please tell us more about the visit and any interesting behind- the -scenes episodes.
President Halimah wanted to learn more about our Triple Helix Model of Innovation that we use in business, education and governance. But there was so much more to share! We first thought it would take a day and a half, then it became two, three… in the end the President was in the Netherlands for five days! She went around the country paying visits to our universities and polytechnics, seeing tulips in bloom, tasting Dutch ice cream (it's the best!) as well as attending official functions. There was a state banquet at the Palace with the King and Queen and a government dinner hosted by the government also attended by the King and Queen. There was so much going on where both the Netherlands and Singapore learned so much from each other. I think that's what I like best about the visit and my work here. My being here is about give-and-take. We have a lot to offer from the Netherlands and, equally, we have a lot to learn from Singapore.
Your economy is doing very well. Please tell us about the state of trade and investments between our two countries.
We have a significant Dutch community in Singapore of over 10,000 people. More than 1680 Dutch companies are present here, from start-ups to banks. In fact, the first foreign bank set up in Singapore was a Dutch bank in 1853. So we have a long history of investment and mutual collaboration. Our total bilateral trade last year was an impressive S$15 billion, with the trade balance heavily skewed in favour of Singaporean exports to Netherlands. Our trade consists of very high tech goods, not just commodities, such as shipping, aircraft, turbojets, helicopter engines, marine propulsions, engines…  We are also the second largest agricultural exporter worldwide, after the US. Even though we are a relatively tiny country, last year we exported S$90 billion worth of vegetables, fruits, plants and tulips.
Those are impressive figures of an economic success story. What else would you like Singapore to know about the Netherlands?
Firstly, I would like Singapore to know that we are not just a country of tulips and windmills or experts in water, as most Singaporeans know us. Our ambition is to be seen as partners for cutting-edge multi-disciplinary solutions that can build a better future for all. Therefore, we think it is more about co-creating and pioneering solutions for global challenges. We do not think it is just about narrow national interests; we think global and we want to be a partner. We find Singapore very open to this and wants to be number one in a very positive way. I like that attitude. Another thing I admire here is the quick pace of implementation once a decision is taken. That is something that is really unique to Singapore and we can learn a lot from. I think both countries see themselves as 'Smart Nations' and we can collaborate in areas ranging from self-driving car systems to the recycling of urban waste. One example that we are now actually doing  here, where the Netherlands is collaborating with Singapore to set up an urban farm in the middle of the city on 15 floors and getting organic greens to the public. This is an entirely new way of doing things.
That sounds very futuristic. The island republic's constraints in terms of size and can benefit greatly from such projects.
That's why I believe the President also visited the Netherlands to seek some new ideas, and we are now setting up partnerships with Dutch firms to try some things out. Singapore is often seen as a testing ground for the rest of the world in areas, for example, related to water management and smart cities solutions. That is another reason why many Dutch companies are here, because they see that Singapore is the gateway to ASEAN and it's a sort of hub to create new innovative solutions. We diplomats try to help by arranging visits such as the first ever blockchain mission from the Netherlands to Singapore two years ago and more recently, we were working with SGInnovate related to Artificial Intelligence. That's the way forward.
It feels quite an innovative and futuristic agenda ahead for the Netherland's mission here. You have been a diplomat for some time now. Tell us about your journey.
In the early 90s, I embarked on a yearlong diplomatic training course. I was actually working for an executive search company and my boss said to me "You are used to living abroad and you are fluent in many languages, why don't you just apply for the diplomatic internship?" I replied that I thought it was very difficult. He told me he would help me as he thought I would be more suitable in the diplomatic field.
I was chosen out of 4,000 applicants for 10 available positions so I was very proud of myself and I was the youngest one at the time! I have never regretted it for one day, as I feel more proud of my country when I am not living there. I cherish the freedom of my country, and simple things such as cycling in Holland, which is truly a unique experience there. I also feel very privileged that I can share my country with other countries.
I started in the UN in New York and also worked a lot with the European Union. I was twice posted in Brussels and in Washington DC where I learnt to work with Congress, which is quite different from the way it works in the Netherlands or Europe. I wanted to be a diplomat who is open to business. That is why I applied to my ministry to do a Masters of Business Association course, which they granted me. I enrolled at the Rotterdam School of Management. I was there for two years after which I had options to join the business sector. However, I chose to remain in the service of my country as I felt I could make a difference in the world through diplomacy.
For example, one of the causes I champion, apart from innovation, is sustainability. I think the Netherland is very aware of the challenges ahead because of climate change. My country, like Singapore, is a low-lying one and what I'd like to do is to help develop sustainable solutions for the environment for my daughter, who is now 13, and all the other young people in Singapore and the world; to contribute in leading the way in this area.
Is today a good time to be a woman diplomat or does it pose more challenges?
At first I found it mostly a challenge as I felt most of my predecessors were male. Once it even happened in the past that when I first arrived in the office, some staff thought I was the new secretary rather than a diplomat. I had to fight to be taken seriously. That was more than a decade ago. Nowadays though, I find it a plus. For one, as a female ambassador you can make more statements with your clothes. My male colleagues can wear various ties but women have more options. For example, I like to wear the cheongsams made by Singaporean designers in the Netherlands to showcase that Singapore is very cool and the choice of clothes can also sometimes influence people who will find it easier to relate to me. Dresses that say I am an open person but also very professional. For the past year, I have also been learning to speak Mandarin. Minister Grace Fu was very kind enough to invite me to attend an event in her district. There were about 1,000 Singaporeans there and I noticed that some of the elderly amongst them were more fluent in Mandarin than English. So I gave my first speech in Mandarin at this event.
Well I also have local staff who speak Mandarin in the office so I get some practice. Now I get better deals in the wet market (laughs). In addition, I feel very privileged that I have gotten to know Singapore so well. The people are very open and I like that Singapore is multi-racial and multi-religious – a country where everybody is able to have his or her own open space. I really appreciate this about living here.
With times being so challenging in many parts of the world, in your opinion, how relevant is diplomacy today?
It is more and more relevant. Also in my country our citizens realise we live in a globally connected world. One needs to not only protect one's own interest, but also listen to others and understand them. I find that is an important part of my job and not just tell others about what the Netherlands can do. It is part of our DNA and I think that is one of the reasons why Singapore and the Netherlands have been such close and trusted friends. There were many MOUs signed following President Halimah visit but it is not about the signing, it is more about the attitude that was shared – the mutual trust and respect- that was displayed during the state visit.
Now going forward for the rest of the year 2019, what can we expect? What are your plans?
We have in the latter half of the year a large Dutch delegation centered on Smart mobility. At the ministerial level both our Prime Ministers have stated that they want to work closely together on development of the digital economy, which is of mutual interest. This will include Fintech and cyber security matters. We will be involved in the Shangri La Dialogue and security in the region is also very important. I am looking forward to the 25th April for our National Day celebrations that is a big event for the Dutch community and our friends here. One of our favourite highlights is Tulip Mania at Gardens By the Bay. I have seen the preview and it features a Dutch landscape that is really cool, truly like my memories of the Netherlands, it is as if you have come to Holland!
On a personal level, I am so proud that we have so many young and energetic kids here. The biggest Dutch primary school outside of the Netherlands in located here in Singapore. Most people do not know that. About 450 kids go to the school here and learn in Dutch and English as well. Every year I ask them to draw pictures of cycling in Singapore and the winners of a contest come to the Residence, have pancakes and play hide and seek in my garden!
I am also very proud of my Residence. After seven months, we have completed renovating it and in June there will be an Open House for the diplomatic corps here. We were very lucky to have acquired the place near the Dempsey area when it was still affordable (in the past) on a huge plot and lovely location. It's a heritage arts and crafts building built by respected Singapore-based architect Frank W. Brewer in 1934. We have many pictures from the 30s and 40s from the war era and later periods – it's almost a history of Singapore.
Singapore is famous as a culinary destination. Have you found your favourite food spot?
Yes, I have found my favourite food indulgence here – Martin Zwerts Potato Daddy at Holland Village.  It has Dutch fries. Lots of carbs …but that's what the Dutch like. I always go there after cycling or swimming. It is founded by a Singaporean businessman who studied in the Netherlands who also wanted to have them in Singapore. There is one branch in the Netherlands and the other one is here.  The fries are served with Dutch mayonnaise and also some Oriental sauces. I also like laksa. We have Friday laksa lunch here at the embassy!
Is there something else you would like to share about Singapore?
I think for a foreigner living in Singapore what is best is the people. You feel very welcomed here.  I have a personal experience to share. My daughter was around 11 when she came here and she really missed her friends and playing water polo, which she used to play at home. Therefore, we Googled for some options and discovered a place where she could play water polo here. It was just 2km away. She was the only foreigner in the group and the only girl. She was very shy but she soon made friends with them and feels they are like family now. She is now going to train with the Singapore women selection and she is now also a better player for it. I also like going there and meet the other parents. There are very nice and when I first went there, the parents asked me whether they should call me 'Your Excellency' and I tell them "No, I'm just a parent like you. Call me by my name." I feel really grateful to be able to feel like an ambassador here as well as a mum.