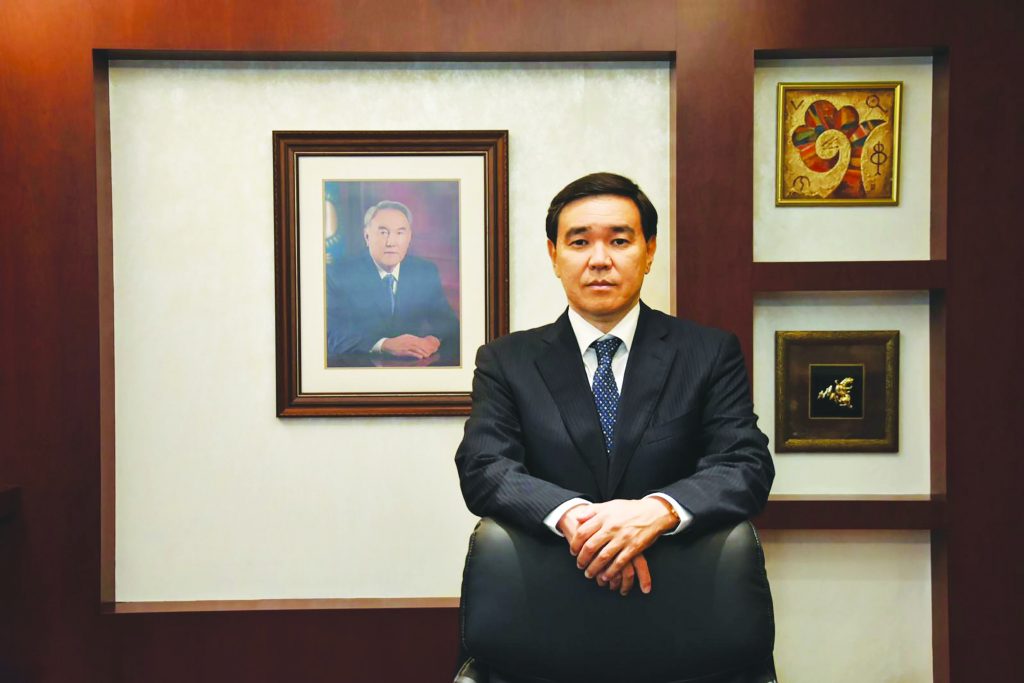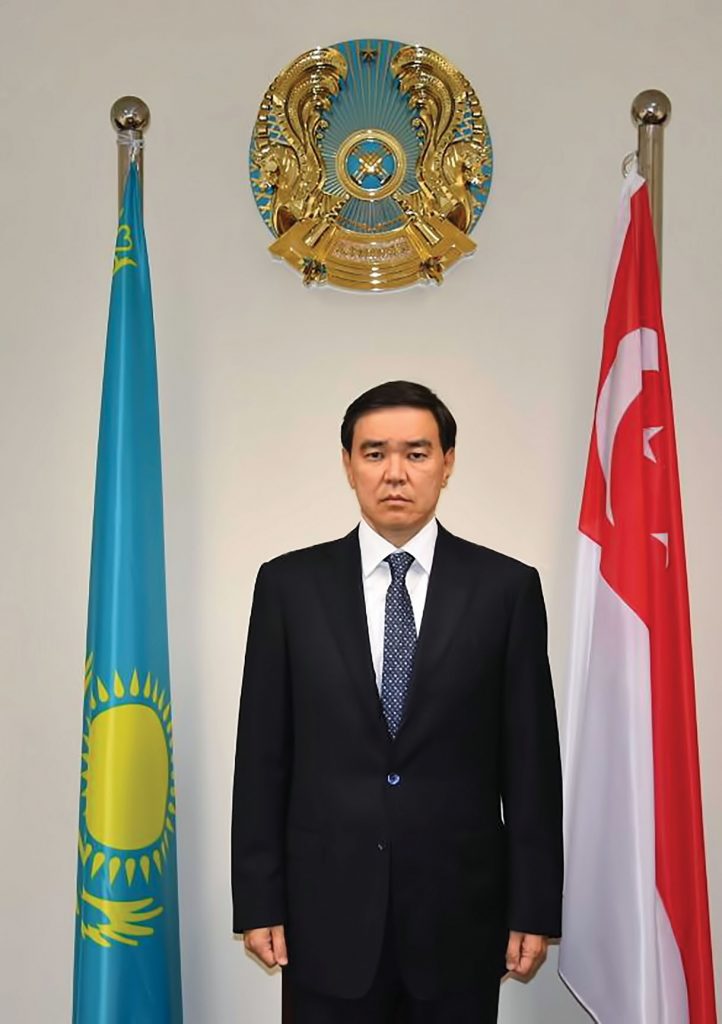 KAZAKHSTAN attaches great importance to the continuous development of fruitful and long-term relations with the Republic of Singapore in the entire spectrum of bilateral cooperation.
The friendship started in 1991 when the late Prime Minister Lee Kuan Yew visited Kazakhstan and met First President Nursultan Nazarbayev in Almaty.
During these years there had been an intensive period of the sharing of the most effective expereince in nation building, economy development, and social transformation.
Religious and ethnic differences have torn many societies apart, but not our two countries as we see them as diversities instead of differences.
Singapore is a rare, precious example of a harmonious multi-racial, multi-lingual and multi-religious society where people live harmoniously together – as PM Lee once wrote. Singapore has worked hard to make this happen.
In Kazakhstan its been the same – its active role in promoting a global dialogue among civilizations is based on its experience of preserving peace and harmony in a multi-ethnic and multi-religious country with more than 140 ethnic groups living in the country, representing 46 confessions, each having its own cultural codes and traditions.
In the age of political turbulence, its people have stood by each other, deepening political dialogue at all levels. Both countries share common objectives and understanding that has allowed them to reach mutual agreements on support during elections to many international fora.
Kazakhstan and Singapore also share common approaches to a number of issues of a global agenda including international security and fight with terrorism and extremism. Therefore, Kazakhstan looks forward to Singapore's joining of the Conference on Interaction and Confidence-Building Measures in Asia (CICA) in the capacity as observer state. The country is also interested in taking part in the IISS Asia Security Summit "The Shangri-La Dialogue" (SLD).
The meeting of President Kassym-Jomart Tokayev and Prime Minister Lee Hsien Loong last year gave additional impetus to continued cooperation at all levels.
In January 2020, the Port of Singapore Authority (PSA) visited Kazakhstan to study the potential of developing business related to Horgos port on the border with China.
This February, Senior Minister of State, Ministry of Trade and Industry of the Republic of Singapore Dr. Koh Poh Koon visited Kazakhstan to discuss a wide range of bilateral issues including trade, finance, infrastructure and innovation development.
Both countries are looking forward to finalise the negotiations on the Free Trade Agreement in the field of investments and services next year.
We continue our cooperation with the representatives of Surbana Jurong Group. They are working together with the Caspian Group on developing Masterplan for G4 City – a unique urban project on the Northern border of Almaty, that will attract billions of dollars of investments and create one million jobs in the region.
Collaboration in the start-up industry is developing successfully. A corresponding agreement on the participation of the QazTech Ventures in the Singapore venture fund Quest Ventures Asia Fund II (QVAF II) with a total amount of 50 million USD was signed in Nur-Sultan. QazTech Ventures with a capital of US$10 million will enter this fund as an anchor investor. According to the terms of the agreement, the joint fund will consider and finance promising start-up projects in Kazakhstan and Central Asia in the next
three years.
Within the framework of this agreement, a three-year acceleration program will be held in start-up projects called "Kazakhstan Digital Accelerator" with a representative office in Nur-Sultan. This program will contribute to the development and promotion of start-up projects and digital ecosystem in Kazakhstan. Thanks to the acceleration program, start-up projects will be able to gain knowledge from leading international experts, test the product in real conditions and attract investment, which in turn will contribute to the development and scaling of the project, both in local and foreign markets.
The work in the field of scientific and technological cooperation also deserves attention. With its own unique model of economic development based on innovations, Singapore makes significant financial investments in this area. The efforts of recent years have created a powerful infrastructure of research institutions.
In this regard, the scientific potential accumulated by Kazakhstan in the field of fundamental research is of high interest for joint implementation of projects and technologies that are in demand on the world market.
Within this project the Embassy of Kazakhstan in Singapore has established contacts with 33 leading research organizations of Kazakhstan since 2019. The outcome from this exercise includes 194 promising innovations, covering a wide range of areas, including energy, production of new materials, geology, chemical and food industries, construction, agriculture, information technology, and medicine. We could combine the experience of Singapore in the field of commercialization of promising R&D products and innovations of Kazakh scientists, by creating a number of new joint projects, as well as construction of production facilities in both countries.
Fruitful cooperation continues within the framework of the cultural and humanitarian track.
Visits of the Kazakhstan representatives to Singapore for the purpose of experience exchange, advanced training courses and internships which cover a wide range of topics in the fields of public administration, economic development, and digital technologies, have become traditional.
Every year, about 100 Kazakhstan students receive education at universities in Singapore, including the National University of Singapore, Nanyang Technological University, James Cook University, MDIS, Kaplan University Singapore.
Since 2012, a long-term cooperation agreement between Nazarbayev University and Lee Kuan Yew School of Public Policy has been in force. The School of Public Policy has the status of a strategic partner of Nazarbayev University.
Singapore's advanced experience in the area of professional-technical education is being actively implemented. For example, Nanyang Polytechnic, that is of top standards in professional training for the 4.0 era industry, will train 115 Kazakhstani teachers in 2020-2021.
The Embassy is also planning to hold the Days of Culture of Kazakhstan in Singapore as soon as international travel is opened up. Meanwhile there are online exhibitions and concerts.
S.Rajanatnam School of International Studies (RSIS) has been a partner of the Embassy for several years with Kazakhstan representatives giving lectures to introduce Kazakhstan and the Central Asian region for the Singaporean public at large.
A MOU on cooperation in the construction of continuing education centers based on the Kindergarten – School – College – University model in the сapital city of Nur-Sultan, was signed between "Kazakh Invest" National Company and "Kinder World International" Group in 2018.
In the age of digital revolution, our approaches to future development become even closer.
Kazakhstan commends the vision of Prime Minister Lee Hsien Loong that countries need to embrace changes of the global economy caused by technological advances, adapt to new technologies and market conditions and the country also steadily support the concept of free trade based on international rules.
Kazakhstan showed this stance by signing the Singapore convention on mediation. Our Minister of Justice M. Beketayev visited Singapore last August to sign this document. We are committed to this approach by hosting the WTO Ministerial meeting in Kazakhstan which has been postponed due to the COVID pandemic.
Kazakhstan looks forward to maintaining the bridge between Central Asia and South East Asia by promoting trade and tourism. The implementation of agreements that are to be part of the Road Map of cooperation will help to establish stable communication and become a viable part of one big interconnected Eurasia.
This year COVID-19 has caused a massive upheaval in the lives of all countries. The year 2020 started with the news of a coronavirus outbreak, which still continues to date. The health toll is heavy with major consequences to the world economy. Kazakhstan rapidly took actions to keep its people safe as the first priority and was taking actions to minimize business disruption at the same time.
Certainly, these extreme conditions pose many challenges. Everyone had to adapt to this new life with daily interruptions, changing scenes and new measures to be taken based on what the current situation dictates.
Kazakhstan applauds the quick response of the Singapore government to keep the nation and its residents safe. And we highly appreciate the attention and responsiveness of Singapore towards its friends, even if they are on distant shores.
We would like to express our special gratitude to Temasek Foundation for the humanitarian aid offered to Kazakhstan in the form of tests, masks and oxygen tanks. A friend in need is a friend indeed. We deeply value our true friendship. And distance is not a hindrance to our friendship.
With the spirit of keeping calm despite a very challenging environment, several key projects are progressing in the meantime.
Today, Singapore has become one of the most important trade and economic partners of Kazakhstan in Southeast Asia. There are more than 100 joint ventures in the manufacturing industry, trade, ICT, construction and finance.
Kazakhstan also considers Singapore as one of the world's most successful models of wise and responsible management of natural resources.
We are very grateful to our Singaporean friends for sharing their experiences and expertise – whether it is technical education or energy efficiency. There is still a lot to learn from Singapore and we also believe that there is an enormous potential for Singaporean companies to trade and invest in Kazakhstan.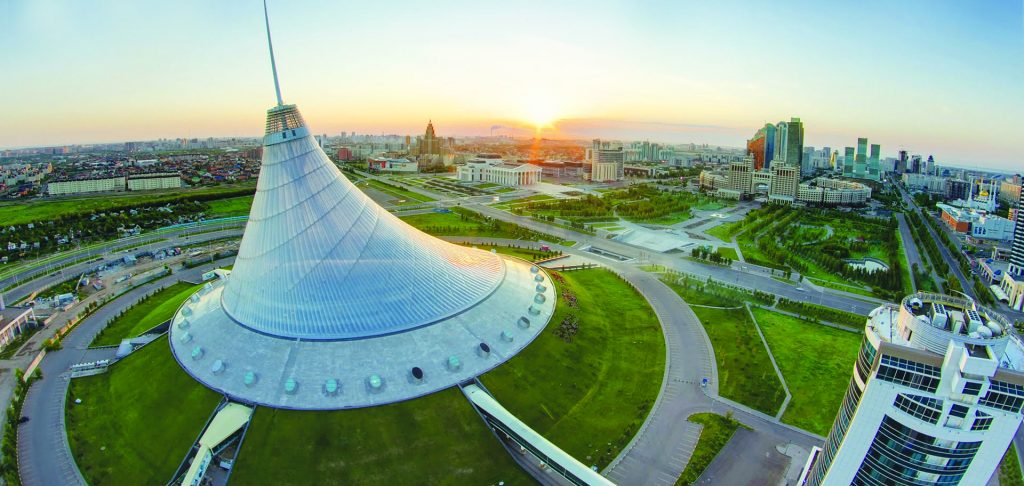 FIND OUT MORE –

KAZAKHSTAN – SINGAPORE CONNECTIVITY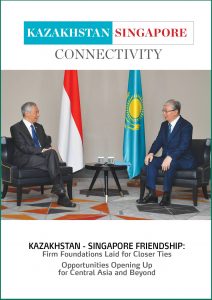 Kazakhstan is attracting interest from many nations including Singapore. The inaugural edition of KAZAKHSTAN – SINGAPORE CONNECTIVITY commemorates the ties between both nations and describes the tremendous strides the country has made as the leading economy in Central Asia. It is available to view or download at
PDF: http://www.sunmediaonline.com/magazine/kazakhstan/kazakhstan20.pdf
FlipBook: http://www.sunmediaonline.com/magazine/kazakhstan/kazakhstan20_flip/index.html