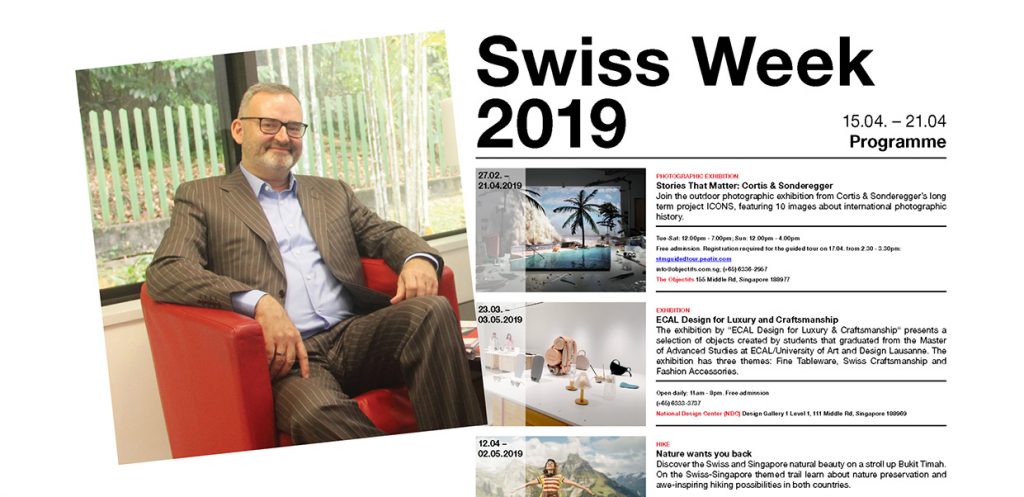 Interview with HE Fabrice Filliez, the Swiss Ambassador to Singapore who shares some of the highlights of the week-long event organised by the embassy here to showcase Swiss excellence on many fronts from food, furniture to design!
Let's start with the most topical issue! Your Excellence, could you share with our readers about the upcoming Swiss Week from April 15 to 21, 2019? What should we expect?
The Swiss Embassy is pleased to organise its first Swiss Week in April 2019! This week-long festival will focus on showcasing Swiss excellence in design, architecture, handcraft, and food. Participants will have the unique opportunity to take part in Swiss cooking classes, tasting of Swiss wines, as well as hands-on sewing workshops! We also have exciting events coming up. For example, a master class of Swiss renowned contemporary architect Mario Botta (SUTD, 15 April); the exhibition "Design for Luxury and Craftmanship" by the ECAL – the acclaimed University of Art and Design in Lausanne, and a talk by its director Alexis Georgacopoulos (National Design Centre, 18 April); a Swiss-Singapore-themed trail about nature preservation at Bukit Timah Nature Reserve (12 April – 2 May). Please visit our embassy's Facebook page (@SwissEmbassySingapore) for more information on #SwissWeek19. We are happy to see all!
This is quite an interesting project aimed at awareness raising about your country. But if you had to summarize, what would you like younger generation of Singaporeans to know about Switzerland?
Switzerland is known for its scenic landscape, cheese, chocolate and exclusive watches. But we also like young people to discover the diversity and modernity of Switzerland, based on its longstanding values.
Switzerland is also known as a nation of solidarity. One of its most famous cities, Geneva, is known for peace-making and neutrality, for its deep-rooted tradition of hosting international organisations, and for its pivotal role at the forefront of multilateral diplomacy. Moreover, Switzerland is also known as an outstanding research and innovation center for start-ups and an ideal destination to pursue higher education!
Click here for Full Programme of the upcoming Swiss Week
NUMBER OF SWISS VISITS & ACTIVITIES SHOW TIES ARE MULTI-DIMENSIONAL AND GROWING
Could you highlight key engagements between Switzerland and Singapore since you arrived?
My mission here started 10 months ago. Just after my arrival I had the privilege to accompany the Swiss Federal Defence Minister, Federal Councilor H.E. Guy Parmelin, to the Shangri-La Dialogue. The yearly conference aims at cultivating a sense of community among the most important policymakers in the defence and security domain in the region and beyond. In August, we welcomed Swiss State Secretary Mrs Pascale Baeriswyl. As Secretary of State for Foreign Affairs, Mrs Baeriswyl is the Swiss Foreign Ministry's second highest official after our Federal Councilor and Minister for Foreign Affairs H.E. Ignazio Cassis. During the ASEAN Foreign Minister's Meeting in Singapore, Mrs Baeriswyl represented Switzerland at bi- and trilateral meetings with ASEAN and a number of its member States. She was greeted with great enthusiasm, demonstrating that the relationship between Switzerland and ASEAN as well as Singapore is thriving. Mrs Baeriswyl also joined the Swiss community for the Swiss National Day celebrations at the Swiss Club on 4 August. She took the opportunity to address the Swiss community in Singapore with a National Day speech pointing out many similarities and constructive engagements between Switzerland and Singapore. Another milestone was the FinTech Festival last year, which brought together nearly 45,000 participants. The Swiss Pavilion hosted 16 innovative Swiss firms with representatives coming from all segments of fintech. Mr Jörg Gasser, the Swiss State Secretary for International Finance at the Swiss Federal Department of Finance (FDF), visited the festival and spoke about Switzerland's regulatory approach in the fintech area. The festival served to expose the growing footprint of Swiss fintech companies in Singapore. With the visit to the festival, State Secretary Gasser underlined the great significance of Switzerland's fintech ecosystem. In the realm of tourism, Switzerland Tourism launched the Winter Promotion 18/19, as well as the new Switzerland Stopover Program, paving the path for the first visit to Singapore by Switzerland Tourism's new CEO Martin Nydegger and Singapore's top travel agencies. However, I would like to emphasize that the already vibrant multidimensional ties between Singapore and Switzerland (largely based on similar values and challenges) continue to show potential for further strengthening. This is being observed in all sectors of mutual interest such as political, economic, academic, cultural and financial matters as well as science and innovation.