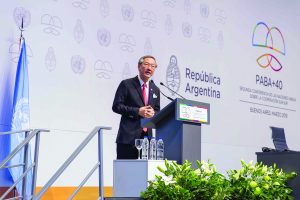 Ministry of Foreign Affairs and Minister of Statenistry of Social and Family Development, (MOS) Sam Tan visited Buenos Aires, Argentina, from 20 to 22 March 2019 for the Second High-Level United Nations Conference on South-South Cooperation (BAPA+40).
The main theme for BAPA+40 is the "Role of South-South cooperation and the implementation of the 2030 Agenda for Sustainable Development: Challenges and Opportunities". MOS Tan (pictured above) in his address at the conference said, "We live in an age of great uncertainty. The world is becoming "more risky" in a sense. Studies have shown that geopolitical and security threats have increased over the past four years, while risks from economic shocks, climate change, and pandemics continue to cast a shadow over the global community.
It is therefore timely that the 2030 Agenda for Sustainable Development was adopted in 2015 to set out a development road map for the future for many countries."
He said that the challenges ahead are "enormous but not impossible" and "With this purpose in mind, Singapore has re-aligned the Singapore Cooperation Programme's objectives to better support the successful implementation of the 2030 Agenda. For example, we have developed technical assistance programmes that draw on Singapore's experience in water and sanitation, sustainable urbanisation and public institutions, to support progress on SDGs 6, 11 and 16. We have also put together a special Climate Action Package to help developing countries mitigate and adapt to climate change – this is really a serious threat which small island developing countries like Singapore are currently facing."
Paraguay Visit
Before Argentina the Minister visited Paraguay on 19th March 2019 for bilateral meetings with key Paraguayan leaders. He he met the Minister of Foreign Affairs Luis Castiglioni and Minister of Industry and Commerce Liz Cramer was hosted to lunch by Vice Minister of Foreign Affairs Hugo Saguier Caballero, and attended a business presentation by the Industrial Union of Paraguay. They discussed ongoing efforts to promote greater cooperation between Latin America and Southeast Asia, and welcomed the upcoming first round of negotiations on the MERCOSUR-Singapore Free Trade Agreement (MSFTA) in April 2019.