IN DIPLOMACY SPECIAL Maldives Supplement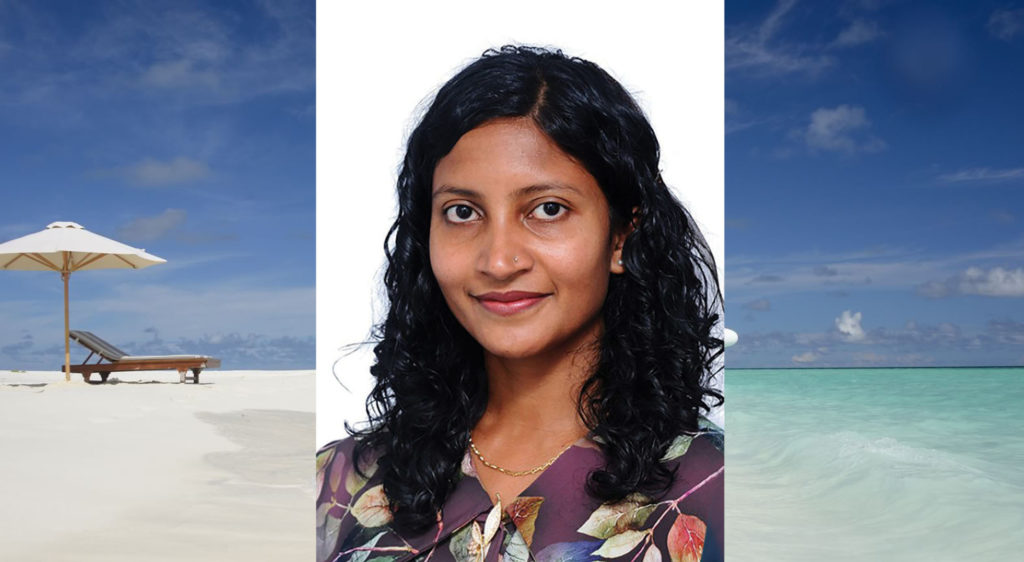 Ms Khadeeja Naseem, the Minister of State for Environment, Climate Change and Technology, said Maldives is a frontline state in the fight against Climate Change and is preparing for a war that it does not intend to lose. She outlines the steps taken by the nation to prepare, mitigate and adapt to the new realities
1. How is the Maldives addressing the challenges posed by climate change?
Maldives as one of the most low-lying nations, is on the very frontline of the climate crisis, and climate change is an existential threat to us. For us, the climate crisis is not looming in the distant future, it is already an everyday lived reality. Across the archipelago we are experiencing coastal erosion, increasing severity in storm surges; and disrupted rainfall patterns, making it unpredictable to forecast. Rising sea levels have salinized and depleted the freshwater aquifers in countless islands. All of this is at the current 1.1 degrees of warming, and as the IPCC has warned us, countries like ours cannot adapt past 1.5 degrees. As H.E. President Ibrahim Mohamed Solih stated at the UN General Assembly in 2021: "…the difference between 1.5 degrees and 2 degrees is a death sentence for the Maldives."
The Maldives is working to address climate crisis on many fronts. We are spending lots of resources to build resilience of our communities and islands, as such programmes and projects are ongoing to climate-proof our vital infrastructure by better planning and developing necessary standards and regulation, and relocating this infrastructure to more inland areas. In addition, we are investing on addressing water insecurity, increasing food security, strengthening early warning capacity, providing coastal defences to protect the islands against erosion and storm surges, and protecting the fragile ecosystems of our islands and coral reefs. As such, we have introduced polices to reduce and phase-out single-use plastics; we have also initiated programmes to increase conservation of significant species and natural habitats and contribute to the livelihoods and well-being of local communities by protection of at least one island, one reef, and one wetland from each atoll. We have been able to establish 79 protected areas, which legally protect all biodiversity hotpots across Maldives. The three atolls, Baa Atoll, Addu and Fuvahmulah have been designated as UNESCO MAN and Biosphere Reserves.
The energy sector accounts for nearly half of our fuel imports, so efforts made to reduce fuel consumption are essential steps in our green recovery. We are also working on facilitating private investment in renewable energy. We have a near-negligible contribution to climate change at a mere 0.0035% of global emissions, and yet, we want to do our part to limit global emissions to achieve the 1.5-degree temperature goal of the Paris Agreement.
We are also investing a lot on increasing renewables in our energy mix; as such, various programmes are underway to install solar PVs, home solar programmes, energy labelling programmes and also net metering initiates are well in place. This is to reduce our emissions and increase energy security by reducing the dependency on fossil fuels.
That is why we have made a very ambitious pledge to achieve Net Zero by 2030, if we get the necessary support and finance from donors. That's because we strive to lead by example even in the climate change mitigation space.
2. It would be great to hear about some successful initiatives in the Maldives that promote climate action. Could you provide an overview of those?
It's difficult to make a specific example with one particular case, but the programmes that we implement to increase the resilience of our islands such as coastal protection, conservation of our marine ecosystems and provision of safe water and climate-proofing of our vital infrastructure, are important initiatives from which we could draw lessons. While implementing these projects, we try our best to protect our fragile ecosystems and maintain the aesthetic and uniqueness of our islands.
3. In terms of global efforts to combat climate change, how do you envision the role of the Maldives? Are there collaborations or partnerships you are currently pursuing with Singapore?
Maldives actively participates in international climate change negotiations to strongly advocate for countries like ours. Last year at COP27, Maldives was among the countries that most strongly advocated for the establishment of a Loss and Damage fund.
The decision to establish this fund was a major victory for countries like ours. We also prioritize strengthening mitigation ambition in these negotiations to limit temperature rise to 1.5 degrees.
Maldives worked with Ecuador, Gabon and the UK to formulate the 10 Point Plan for Financing Biodiversity. We are also a member of the Global Ocean Alliance (GOA) and we are working GOA for the implementation of the Kunming-Montreal Global Biodiversity Framework, specifically on ocean related issues. Maldives is also a member of the High Ambition Coalition for Nature and People and Maldives sits on the International Steering Committee for the High Ambition Coalition for Nature and People 2.0. We were able to celebrate the inclusion of a historic target to conserve at least 30% of the planet's land and ocean by 2030 (30×30) in the United Nations Kunming-Montreal Global Biodiversity Framework approved today at the 15th Conference of the Parties (COP15) to the UN Convention on Biological Diversity.
Maldives and Singapore are active members of AOSIS since its inception, and we have worked hard to bring the issues of importance for the low-lying island nations to the international arena, especially the vulnerabilities and special circumstances of SIDS. We may continue this work in the future as well.
4. The Maldives is well-known for its pristine beaches and marine biodiversity. How is the government promoting sustainable tourism to ensure the protection of the environment while maximizing the benefits of tourism?
We have policies and regulations in palace to ensure, sustainable environmental management of the resorts such a polices related to waste management, beach replenishment, reef protection and infrastructure development. Prior to resort development, the developer has to prepare EIAs as per the government regulations to ensure minimum damages are done while constructing the resorts and also operating the island. The planning regulations and permits also play an important role to maintain the natural beauty of the island and also regulates the build-up areas of the resorts.
In recent years, we have seen major investments from resort owners on green infrastructure and renewables as well. As such, Solar PVs and energy efficiency has been a key component of many islands now.
5. The tourism industry in the Maldives is thriving. Are there any investment opportunities in this sector, especially for Singaporean investors? And how is the government supporting and attracting investors?
Maldives is open to investments. We have many investment opportunities in the tourism sector. Such as for new resorts, hotels and other facilities. The Tourism Master Plan has identified our vision for expending and developing the tourism sector by attracting more investors and business. We are also working hard to develop enabling legal frameworks to strengthen the investments laws and also reduce the bureaucracy and red tape to attract more investors. Our investment office, i.e. Ministry of Economic Development may guide the investors on available opportunities in the tourism and other sectors.
6. Apart from tourism, what other investment opportunities exist in sectors such as fisheries, agriculture, and efficient energy? Can you shed some light on how these sectors are being promoted and developed?
We have opportunities in the fisheries sector for investments such as building partnerships with existing fisheries companies such MIFCO and also with private sector to process and export fish products. The agriculture sector related activities could also be explored since government has leased some islands to private parties to increase agricultural production. However, some of these parties are seeking investors to develop these islands as agricultural islands and increase its production. In terms of energy, we are seeking investors to attract more renewables in the islands such as solar PVs and other means such as floating solar. Interested parties may apply through the investment office under the Ministry of Economic Development.
7. The fisheries sector holds great potential for investment. How is the government supporting sustainable fishing practices and ensuring the responsible use of this resource?
All the tuna in the Maldives is caught using traditional, low-impact methods like pole-and-line. The fisheries sector – which forms the primary economic activity in many of the country's inhabited islands. The government is seeking possible investors to develop the sector especially to invest on provision of canaries, collector vessels, increasing freezing capacities and technologies that may contribute to produce more value added products, and develop enabling sectors and activities.
8. Are there any specific incentives or programs in place to attract Singaporean investors who are interested in sustainable and environmentally friendly projects in the Maldives?
They may invest in the tourism, energy, fisheries and infrastructure sectors. The opportunities are available in many sectors for the investors.
9. Agriculture plays a significant role in ensuring food security. Are there any initiatives or incentives in place to promote efficient and sustainable agricultural practices in the Maldives?
We have recently formed AgroNational Cooperation to market the products produced by the communities, the cooperation may need more international partners to increase its efficiency and investment areas. We also have some islands leased to agriculture to private parties. These parties are also seeking investors to develop these islands and increase its production to meet the needs of the country. We are also promoting urban farming and also community gardening activities to contribute food security. However, building capacity and finding technologies remains a key challenge given the situation of our islands.
10. The Maldives has made significant strides in terms of democratic reforms in recent years. Could you highlight some key achievements and ongoing efforts to strengthen democratic institutions in the country?
Perhaps (1) introduction of Multiparty democracy. (2) more media and public freedom. (3) independent institution as play as an oversight function. (4) Judicial reforms.

11. How does the government strike a balance between pursuing sustainable development and environmental protection while considering the rights and livelihoods of local communities, particularly those living in vulnerable areas such as coastal regions?
– The development works are done after conducting environmental impact assessments and also complying the regulations which are enforced by the relevant government agencies such as EPA.
– Maintain planning regulation such as setback distances, environmental protection zones are also contributing to reduce the stress on the beaches and protect the islands.
– Advocating the public and also increasing the conservation efforts such as protecting the environmentally significant areas remains one of the key precursors to maintain the balance.
12. Has the government implemented any measures to ensure transparency and accountability in environmental decision-making processes?
Yes, to ensure the transparency all development projects are conducted after conducing an EIA and during the EIA process there is a wide range of consultation with relevant stakeholders and beneficiaries to incorporate their views and also reduce possible conflicts with communities. We are also working to strengthen the monitoring capacity of EPA and also building its human resources.

13. When it comes to protecting human rights in the Maldives, particularly in relation to environmental concerns and sustainable development, what steps does the government take?
The government works very closely with National HRCM to ensure the rights of the public are protected during the development processes. We also consider international best practices while implementing our sustainable development initiatives and environmental protection interventions.
IN DIPLOMACY SPECIAL Maldives Supplement
● MALDIVES AND SINGAPORE VITAL DEVELOPMENT PARTNERS – Introduction
● MALDIVES CELEBRATES 59TH INDEPENDENCE DAY and WISHES SINGAPORE A HAPPY NATIONAL DAY by Mr Abdulla Shahid, Foreign Minister of Maldives
● SINGAPORE AND MALDIVES MULTIPLYING STRENGTH ON MANY FRONTS Interview with High Commissioner of Maldives in Singapore Ahmed Thasmeen Ali
● INVESTING IN CUTTING-EDGE EDUCATION IN PARADISE