IN DIPLOMACY SPECIAL Maldives Supplement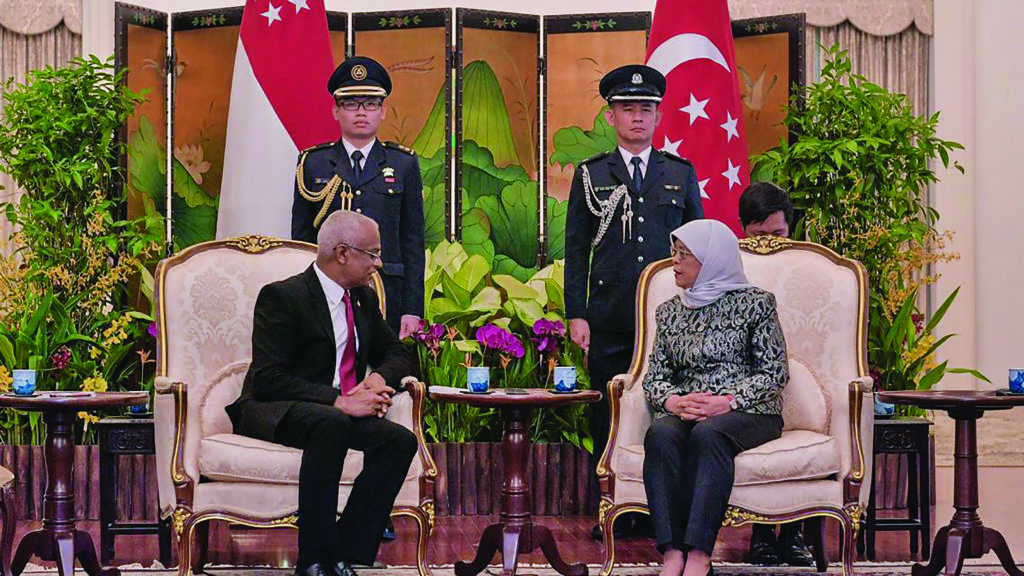 Bilateral relations between Singapore and the Maldives have flourished over the years, with both nations actively working together to foster stronger ties and achieve shared goals in economic development, trade, education, and beyond
MALDIVES and Singapore have enjoyed steadily growing ties since establishing diplomatic relations in 1975, with Singapore becoming a vital development partner for the Maldives.
This longstanding relationship started from people-to-people contacts between the two countries. Today it has extended to cooperation between the two nations spanning various sectors, including aviation, defense, education, employment, housing, health, justice, and trade. The opening of the High Commission in 2007 further demonstrated the significance the Maldives placed on this bilateral relationship.
High-level visits between the leaders of both countries have reinforced the bond. In July 2019, President Ibrahim Mohamed Solih and First Lady Fazna Ahmed were warmly welcomed to Singapore. President Ibrahim Mohamed Solih met the President of Singapore Ms Halimah Yacob (pictured left). and the State Visit highlighted the importance both nations attached to their relationship. Multiple Memorandums of Understanding (MOUs) have been signed to enhance this cooperation between the two nations since those early days. These agreements showcased the commitment of both countries to closer cooperation and mutual development in various sectors.
IN DIPLOMACY SPECIAL Maldives Supplement
● MALDIVES CELEBRATES 59TH INDEPENDENCE DAY and WISHES SINGAPORE A HAPPY NATIONAL DAY by Mr Abdulla Shahid, Foreign Minister of Maldives
● SINGAPORE AND MALDIVES MULTIPLYING STRENGTH ON MANY FRONTS Interview with High Commissioner of Maldives in Singapore Ahmed Thasmeen Ali
● CLIMATE CHANGE: STRIVING TO LEAD BY EXAMPLE Interview with Minister of State for Environment, Climate Change and Technology Ms Khadeeja Naseem
● INVESTING IN CUTTING-EDGE EDUCATION IN PARADISE
● COME EXPERIENCE LIFE IN THE MALDIVES