IN DIPLOMACY SPECIAL Maldives Supplement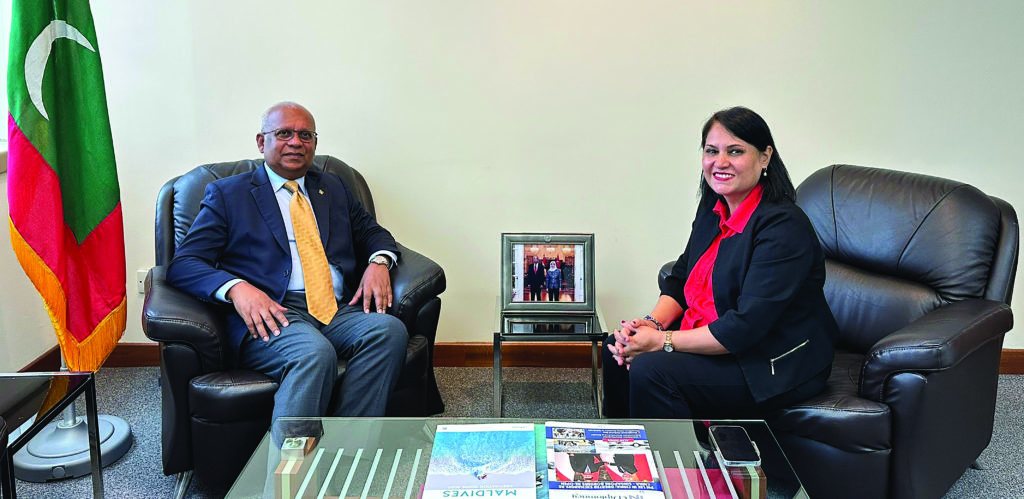 IN Diplomacy sought the views of H.E. Ahmed Thasmeen Ali, the High Commissioner of Maldives to Singapore, on bilateral ties, trade initiatives, investment opportunities, and upcoming programmes that bring both island nations together
How would you describe the current state of bilateral ties between Maldives and Singapore?
HC: The bilateral ties between Maldives and Singapore is excellent. We've had long-standing good relations at both the Government-to-Government level and among the people. Our relationship continues to strengthen.
Can you provide an overview of the major agreements or partnerships that exist between Maldives and Singapore?
HC: Certainly! We have some significant agreements and partnerships between our countries. For instance, the Singapore Cooperation Programme (SCP) has seen substantial participation from Maldivian individuals. There's also a 2-year Technical Assistance Programme set to start this year, signed during President Solih's State Visit to Singapore in 2019.
In terms of trade facilitation, are there any ongoing initiatives to further strengthen trade ties?
HC: We are actively coordinating efforts to explore new avenues for exporting food products to Singapore, with a particular focus on fresh seafood. This is possible due to the current level of air connectivity between our countries.
How has the High Commission of Maldives in Singapore actively contributed to promoting bilateral investment and trade between the two countries?
HC: The High Commission has been actively involved in promoting investment and trade between Maldives and Singapore. We collaborate closely with various Chambers of Commerce in Singapore, as well as with Tourism partners like NATAS, Enterprise Singapore, and Temasek Foundation. We also act as a bridge between businesses seeking to invest in or expand their operations to Maldives and relevant authorities in Maldives.
Are there any recent success stories or notable investments made by Singaporean companies in the Maldives? How have these investments contributed to the bilateral relationship?
HC: Certainly! Several Singaporean companies have made significant investments in the tourism sector in Maldives. Many renowned hotel franchises from Singapore have established their presence in our country, and this has greatly contributed to strengthening our bilateral relationship.
Are there any specific sectors or industries in which Maldives is actively seeking investment from Singapore? What makes these sectors attractive for Singaporean investors?
HC: Yes, Maldives is actively seeking investment from Singapore in sectors such as tourism diversification, renewable energy, waste management, and vocational training. These sectors offer growth potential and the opportunity to contribute to sustainable development in Maldives, making them attractive to Singaporean investors.
How has the Maldives positioned itself as an attractive investment destination?
HC: Maldives has enjoyed strong and sustained economic growth. The country's infrastructure, including connectivity, has seen considerable development. The annual growth was 6.4% in the five years prior to the COVID-19 pandemic. Maldives has pro-market policies and offers a liberal and transparent business environment. These include no restrictions on repatriation of profits and capital proceeds, no foreign exchange restrictions, and the availability of international arbitration and dispute settlement. It has an educated and tech-savvy young workforce, with 98% literacy and 63% mobile internet usage in 2019. The regulations governing foreign investments have been streamlined, with clear and convenient procedures for investors looking to invest in Maldives.
What are the key responsibilities of the High Commission of Maldives in Singapore in terms of facilitating bilateral ties, investment, and trade? How does the High Commission support the overall diplomatic relationship between the two countries?
HC: The High Commission acts as the main medium through which all bilateral activities between Maldives and Singapore take place. It facilitates, coordinates, and executes all Government-to-Government activities and cooperation between the two countries.
Are there any current or upcoming initiatives, events, or programmes involving Maldives that will take place in Singapore this year?
HC: Yes, there are several initiatives and events involving Maldives scheduled to take place in Singapore this year. These include participation in the ITB Singapore, NATAS Fair, Singapore Red Cross charity food fair, travel agents and media briefing on investment opportunities in Maldives, and think tank discussions.
With the upcoming 2023 Maldivian presidential election scheduled for September, what impact do you foresee on the bilateral relationship between Maldives and Singapore?
HC: The upcoming presidential election is an important event for Maldives, and the result will play a crucial role in shaping the country's future policies and direction. However, historically, our bilateral relationship has remained strong and unaffected by political changes. We are confident that our enduring partnership will continue to flourish regardless of the election outcome.
IN DIPLOMACY SPECIAL Maldives Supplement
● MALDIVES AND SINGAPORE VITAL DEVELOPMENT PARTNERS – Introduction
● MALDIVES CELEBRATES 59TH INDEPENDENCE DAY and WISHES SINGAPORE A HAPPY NATIONAL DAY by Mr Abdulla Shahid, Foreign Minister of Maldives
● CLIMATE CHANGE: STRIVING TO LEAD BY EXAMPLE Interview with Minister of State for Environment, Climate Change and Technology Ms Khadeeja Naseem
● INVESTING IN CUTTING-EDGE EDUCATION IN PARADISE