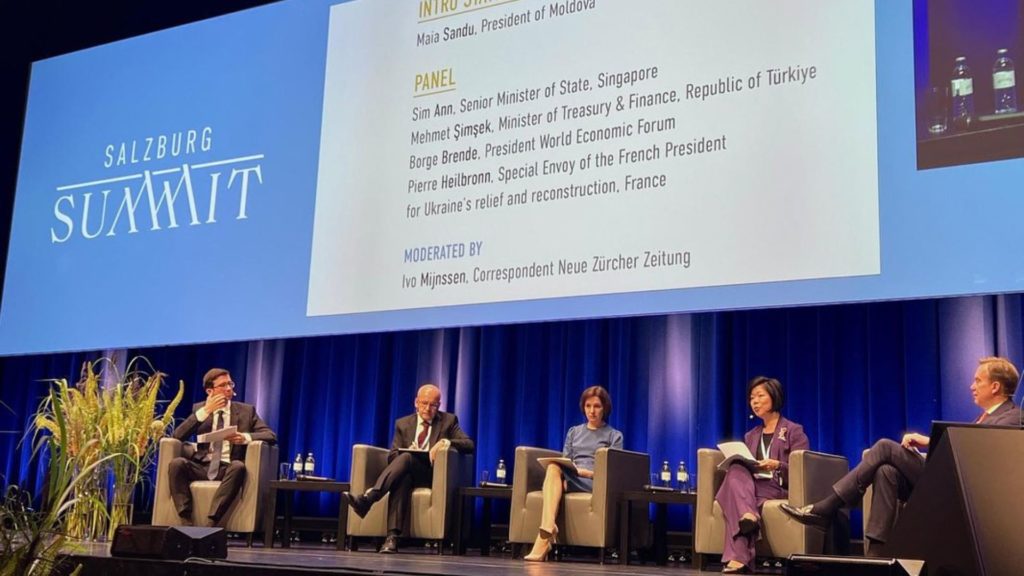 Singapore's Senior Minister of State Sim Ann advocated greater dialogue and cooperation among major powers in upholding international principles at the Salzburg Summit in Austria.
From 26 to 28 July 2023, Senior Minister of State (SMS) for the Ministry of Foreign Affairs and Ministry of National Development, Sim Ann, participated in the prestigious Salzburg Summit in Austria. The summit provided a platform for leaders and policymakers to discuss pressing global issues and foster cooperation between nations.
During her participation, SMS Sim Ann delivered a compelling speech on the 'Global Policy' panel, where she underscored the vital importance of countries adhering to the principles enshrined in the United Nations Charter and international law, especially in light of challenging geopolitical developments around the world. She emphasized that by upholding these principles, nations could effectively navigate complex global challenges and maintain international stability.
Moreover, SMS Sim stressed the significance of promoting greater dialogue and cooperation among major powers in addressing global issues effectively. She highlighted the crucial role played by both Asia and Europe in fostering such interactions and working together to tackle pressing global concerns.
In her remarks, SMS Sim also emphasized the ample opportunities and necessity for enhanced collaboration between Europe and the Asian region. Recognizing the potential benefits of increased cooperation, she encouraged further engagement and partnerships between the two continents to create a more interconnected and prosperous world.
During her visit to Salzburg, SMS Sim Ann engaged in several bilateral meetings. She had the honor of meeting with Johannes Hahn, the European Commissioner for Budget and Administration, who also serves as the patron of the Salzburg Summit. Together, they discussed matters pertaining to the European Union and the Association of Southeast Asian Nations (ASEAN), strengthening ties between the two regions.
Additionally, SMS Sim held a separate meeting with Harald Mahrer, the President of the Austrian Federal Economic Chamber, during which they exchanged views on various regional developments and explored opportunities for mutually beneficial cooperation.
SMS Sim Ann's presence at the Salzburg Summit and her meaningful contributions to the 'Global Policy' panel showcased Singapore's commitment to constructive international engagement and diplomacy. Through her engagement with European counterparts, she reinforced the nation's dedication to fostering stronger ties and collaboration between Europe and Asia in addressing global challenges and building a more interconnected world.