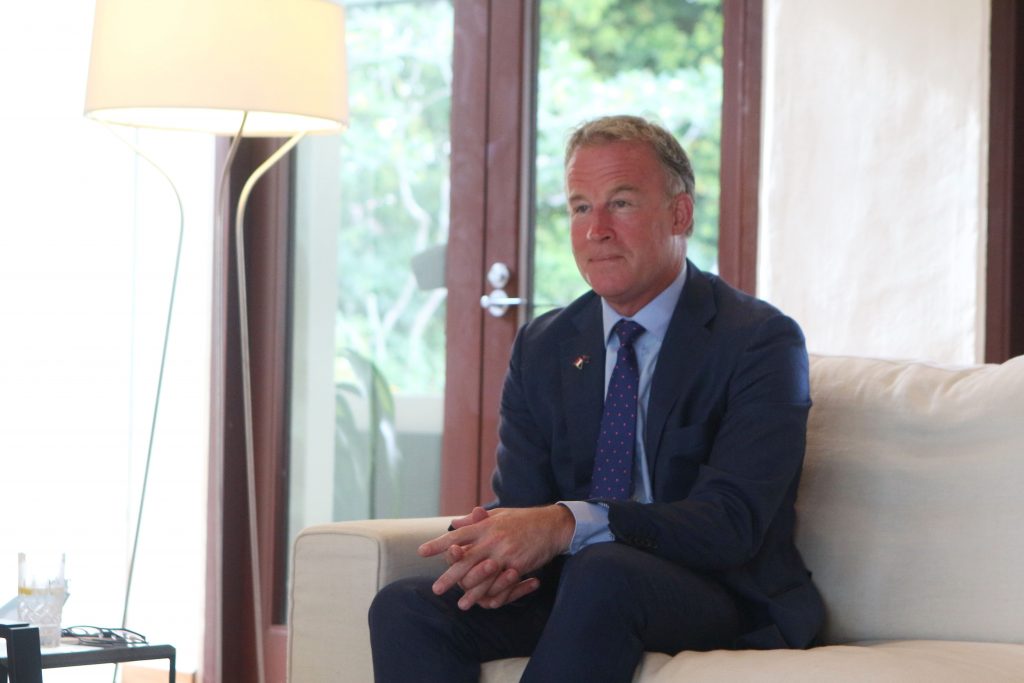 After having served as a two-term Premier of Tasmania the new High Commissioner of Australia to Singapore takes a career turn towards diplomacy. He explains why he sees enormous opportunities ahead for Australia and Singapore
THE incredibly youthful looking 52-year old Will Hodgman is Australia's first ever politically appointed High Commissioner to Singapore. The former two-term Premier of Tasmania said: "Certainly there have been many successful and high profile Australian politicians who have taken diplomatic roles across the world, especially in the US and UK, so I have had many fine role models." He believes: "In many respects politicians have skill sets that can add value to this important role. I also received a little training in the art of diplomacy and some trade craft in foreign affairs and was well supported prior to my arrival through Australia's Department of Foreign Affairs and Trade." He shared that another component of this formula is being able to tap into a network of former Australian politicians who he used to work with and who are now in diplomatic postings across the world, such as the former premier of New South Wales, HE Barry O'Farrell, who was his contemporary, and is now the High Commissioner to India.
The catalyst for the career change for him stemmed from the fact that he entered parliament at a relatively young age and has already served 18 years in the Tasmanian Parliament, six of them as Premier and eight as opposition leader. "I was at a point where I wanted a new challenge in my professional life. I genuinely believe that the opportunity generously offered to me by the Australian Prime Minister as the High Commissioner to Singapore is a job of a lifetime. It's something that I am very excited about, notwithstanding the very challenging circumstances that we are all living in (brought about by COVID pandemic)," he shared.
His enthusiasm and energy was quite infectious as he shared the plans he has for his tenure. "It is a very important relationship between Australia and Singapore and I am very optimistic about our future," he said.
The High Commissioner is no stranger to Singapore. He said: "In my former role as premier, I was also Tasmanian's Tourism Minister, Trade Minister, and Defence Industries Minister and in those roles I have led trade missions to Singapore." In fact, as he wryly recalled with a smile: "I have previously visited the Residence here (see accompanying story) and had dinner with then High Commissioner Philip Green and met with representatives of industry here such as Keppel Infrastructure Trust who, by the way, owns the Basslink power cable that connects Tasmania and Australia, which is very important for my state. People-to-people ties, especially in education, are also strong here, as there are literally thousands of Singaporeans who are former students of the University of Tasmania. Singapore is Australia's sixth largest trade partner and there are also very important defence and security connections; there's also the significant Comprehensive Strategic Partnership agreement that was signed between both countries' Prime Ministers (Mr Tony Abbott and Mr Lee Hsien Loong) in 2015."

Enormous Opportunities
"But I must say in the four months that I have been here I have learnt so much more about the depth and breadth of this important relationship," he said. Going forward, the High Commissioner sees several areas that both countries can help each other in the future. "There are enormous opportunities ahead but the most critical that we are dealing with now is COVID and making sure our respective communities living in each other's country are safe and well cared for. Understandably there will be those who are stressed because of the lack of ability to travel as easily as before and we need to support our citizens who may feel stressed by their current dislocation and, of course, (both countries) working together on battling this terrible virus," he said.
In this area, he said, it was fortunate that Australia and Singapore have "excellent partnerships in the scientific field as well as in research and innovation. We have collaborated for many years and so we can increase, in that regard, support for the vaccination roll outs in Australia, Singapore and Southeast Asia.
Next, there is also enormous opportunity to diversify our trade and investments. Australia's economy is performing strongly and there is now a shift to digital trade. Australia and Singapore has struck a new digital economy agreement late last year. We need to implement that; there are also great opportunities in the sustainability agenda in the area of renewable energy where Australia can export green energy and services to Singapore – which has ambitious plans itself in this sector. Then there is food security where the COVID scare has highlighted challenges in the supply chain. Australia has shown it can supply good high quality premium food to Singapore which is something else we can offer."
Undoubtedly COVID has affected two-way trade between both countries, but the High Commissioner said Australia has mitigated some of its effects with its implementation of the freight support subsidy scheme called IFAM or the International Freight Assistance Mechanism which has allowed 11,000 flights to bring fresh produce to other nations including Singapore.
International commercial tourism is another victim of COVID and that presents quite a challenge to Singapore without any domestic tourist routes or network. The High Commissioner pointed out: "That is why we are working very hard on potentially opening up a travel bubble between Australia and Singapore."
Another important element was international students who form the country's fourth largest export sector. He said: "From Singapore alone every year there are about 7,500 students who study Down Under. Many of them now are unable to do so and we are studying how we can get them back into the system to continue their education." He revealed that there is currently some ability for international students to return to Australia with the appropriate visas and exemptions but he admitted it is "quite limited and proving very challenging," and so there is a lot of work going on now to establish the travel bubble to help both tourism and the education sectors.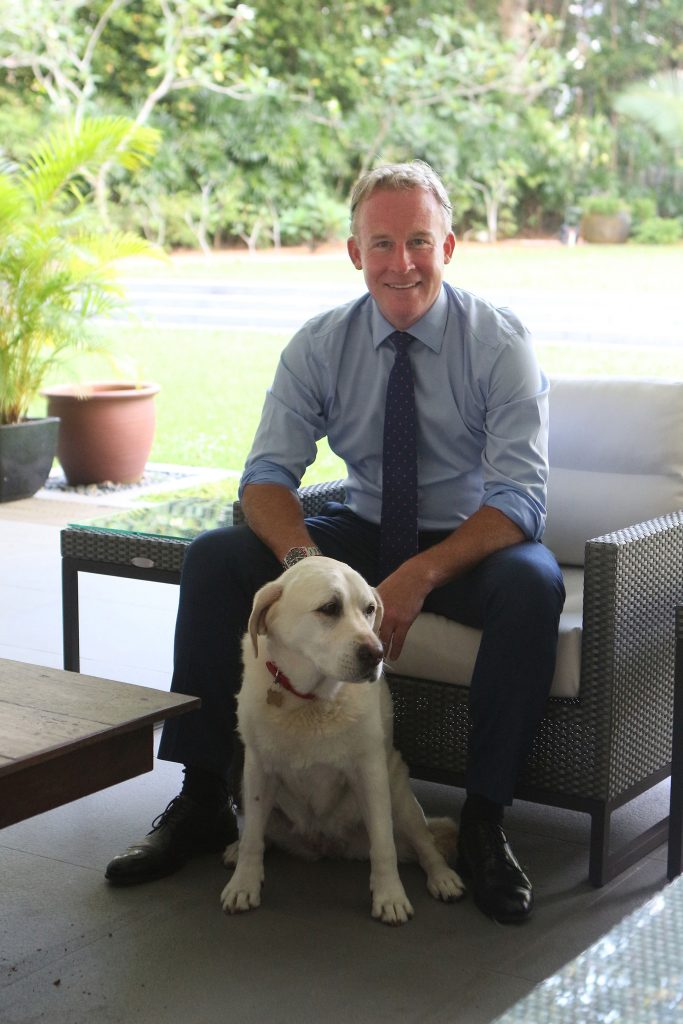 On what are the subjects or issues that he would like to see particular progress or want to highlight during his tenure here he said: "There are so many areas where I am very excited about our future even as we transition through COVID and after we go through during these challenging times. One area that stands out for me is renewable energy. I come from Tasmania which has achieved zero net emissions back in 2016! We are using almost entirely renewable energy and I was lucky that it happened during my term leading the government in Tasmania as premier. We have enormous capabilities and we are abundant in energy resources with hydro and wind power. In a broader context, Australia is also expanding into solar and the potential for hydrogen production and export — which can come to Singapore, which is well placed as an international port— and can be bunkered here to help de-carbonise the world' shipping fleet. It also goes very well too with Singapore's ambitions to improve its sustainability plans in the renewable energy sector and reducing emissions. I look forward to working with the Singapore government and with our respective agencies such as Singapore's A*Star and our own national science agency CSIRO (the Commonwealth Scientific and Industrial Research Organisation), which are already collaborating very closely particularly in renewable energy as well as food sustainability."
Having left as Tasmania's 45th Premier, the new Australian High Commissioner to Singapore seems to have taken into his stride the challenges of settling in his new career and position but admits to one of the biggest challenges for him and his wife Nicola. "To leave Australia is a big deal, particularly as we leave behind two sons – one in university and the other finishing his school. They both would love to come here to stay, and possibly continue their studies in Singapore," he said. While it is a big change in their lives they have brought with them their third child, 14-year old daughter Lily and another family member who the Commissioner said has become part of the "fine features of the Residence" — their 12 years old Labrador Retriever Maisie!

About the Interview Setting:


Australia High Commissioner's Residence
"I never thought I would come back and live in this place! It is magnificent. Australia has long had a very important presence here (Ed note: Australia was the first nation in the world to establish diplomatic ties with Singapore nine days after the island republic's independence in August 1965). It is important that we have a place that is welcoming and that is open to receive visitors."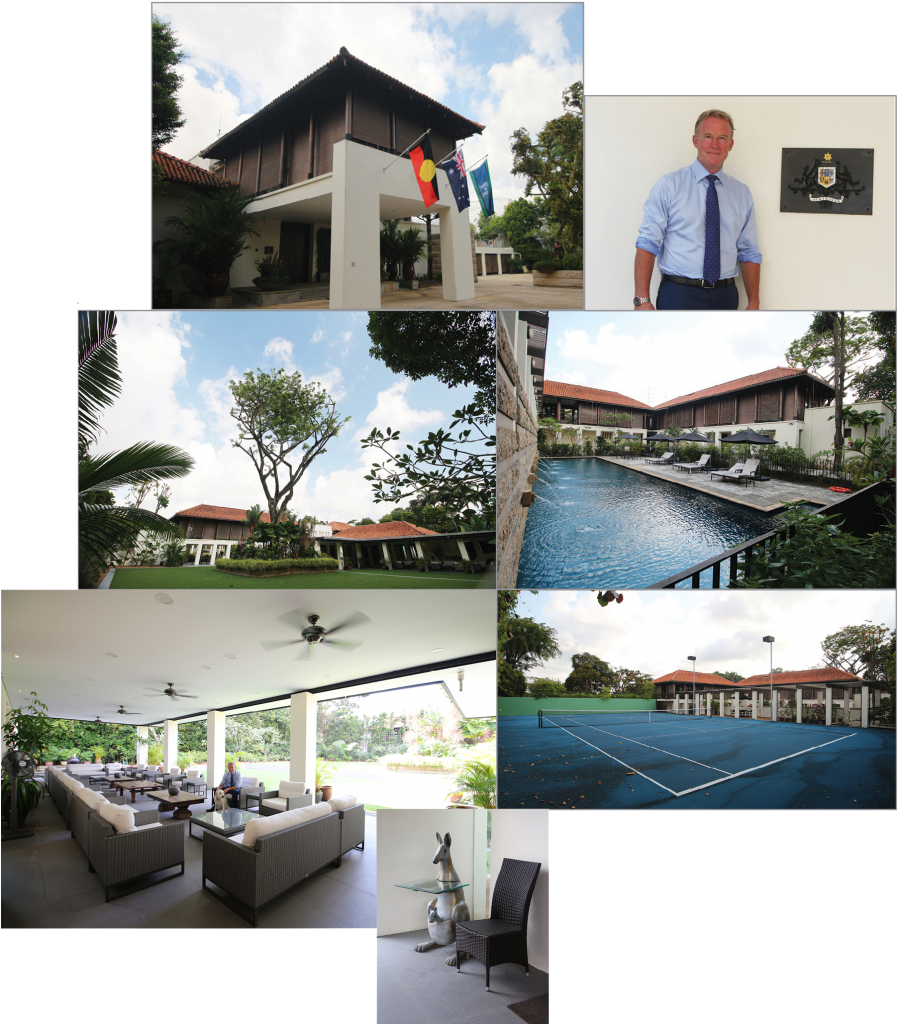 The Australia High Commissioner's original bungalow, built in 1847 at White House Park, was sold in 1996. The present layout of the Residence, which was designed by Singapore-based Australian Architect, the late Kerry Hill (replete with pool and tennis court) and allows the High Commissioner to host events where he can invite more than 300 guests.
"The original white bungalow was a beautiful property, much more traditional in design, but the new Residence is more modern and is very large, maybe too large for the current times as the number of visitors presently is restricted. When it is fully operational it is a wonderful showcase where we can put on events featuring things like Australian culture, food and a great place to build on those people-to-people links," shared HE Hodgman.
While magnificent in scale, much of the Residence is designed to be very functional and to support work being done with the large reception and dining rooms, many working spaces and the ability to host many guests outside who can enjoy the warm Singapore weather in the evenings around a barbecue with a excellent chef on hand working in an industrial-sized kitchen.
Photos by Michael Ozaki