The Ambassador of Mongolia to the Republic of Singapore, HE Tumur Lkhagvadorj, shares his plans with In Diplomacy's Editor-in-Chief, Nomita Dhar, on taking charge as the new Dean of Diplomatic Corps in Singapore
YOUR Excellency, it's my pleasure to congratulate you on becoming the new Dean of the Diplomatic Corps here in Singapore? What are your thoughts on this new position?
It's an honour to become the Dean of the Diplomatic Corps. The diplomatic community in Singapore is a very close knit one. The previous Dean, James Sinclair, the Ambassador of Chile, has been an outstanding Dean in connecting everybody here in the diplomatic community, making them feel very comfortable and engaging them in various activities. It's such a big honour for me to fill his very big shoes, and I have to say that I have felt the very warm support given by my colleagues to continue this role. I'm excited but at the same time it's a big responsibility to take on this role, I must admit.
For the benefit of the readers who are not just diplomats and people who read our publication, can you share with us how the deanship works?
Basically it's the role of the co-coordinator between the ambassadors of various countries to Singapore to engage in various diplomatic, government and non-government activities. Its role is also to say farewell to the old ambassadors and welcome the new ambassadors and general counsels to the country— and try to coordinate the best ways to represent Singapore to the world, and at the same time to engage with various representatives of international organizations of various countries and see how to engage them in the most efficient way.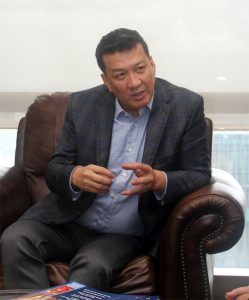 How long have you been in Singapore?
It's my fifth year now. It seems like a long time, but for me it feels like I just arrived yesterday—but along the way I've learned quite a lot about Singapore— but it's still a work in progress
So for 2020 what will be your plans as Dean? How will you keep the diplomatic community engaged and bring more opportunities for them?
It will be the usual engagement between the ambassadors in Singapore. I'm also working on what are the various interests of the ambassadors here and the embassies, to learn what Singapore's achievements are in the areas of Science and Technology, Education and Healthcare, so that everybody can learn from each other — and maybe some embassies are keen to represent them and engage with various embassies here. I will need the support of all the ambassadors and also the various organizations to learn from each other.
So right now it's one umbrella. Are you going to promote interest groups?
I will be working mostly with the Ministry of Foreign Affairs here in Singapore as to what are the key areas which the embassies should be interactive with and of the interest groups and organizations which represent Singapore interests— and what we can do together
As you shared earlier with us, you have been here for five years now. What do you like about Singapore?
Singapore is a very important spot. You call it 'the little red dot', but now it's a big presence not only in S.E.Asia but for the whole world; it's such a melting pot— diverse culture, diverse religions, diverse business areas— so that becomes very interesting. Every day we learn something new from each other. Singapore is a very important spot, not just for business, but also for culture and tourism — It's a fantastic place.
Internationally we are facing a lot of challenges— climate change is showing its face everywhere, and also in terms of business — the trade wars and the like. So how do you think diplomacy is relevant is such a situation and how can it change things on the ground?
All these challenges are not unique to one country or one region. They have become such a global issue that everyone is concerned. Different governments make their statements and come up with initiatives. For diplomacy the best approach is through the soft approach— dialogues and the cultural route such as art and music. Through all these ways you can make your voices visible. The work of our embassies is to make it visible to everybody. I think every embassy has its own plan as to how to make this all visible. I think the diplomatic community needs to come together even more closely in this effort.
There's also a women's wing to this diplomatic dean's role. How does it operate? Will your wife be involved?
Yes the spouses are a very important part of the diplomatic community. The head of missions' spouses group is involved in a lot of the engagements and various activities planned. They have their own network for tea and coffee mornings and lunches. My wife has been a very active member and I think she will be co-ordinating with all the spouses as the Dean's wife now.
When the new diplomats arrive, how does the Dean's office assist them in settling down?
We organize a diplomats' luncheon at which we introduce the newcomer to the others. Sometimes it's not right away on the diplomat's arrival, but it does happen in due course. Those who have been in Singapore longer also reach out to the newcomers.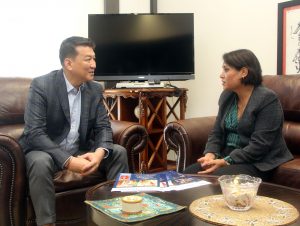 There are all these events that are arranged …like the lunches, the ball, the regatta and the Ambassador's Cup. There used to be a Charity Bazaar also, which was very good. Are you considering having it this year?
We will consider it by consulting with our groups.
Tell us something about your country.
Mongolia has a long history, but this year has been a milestone year for us. It's been 50 years since we signed diplomatic relations with Singapore. So 2020 is our 50th anniversary. Our embassy is working to promote Mongolia-Singapore relations with art and culture fiestas, there will be an official visit, business forums, cultural exchanges etc. There will be lots of announcements coming up about all these.
Last year we had a very successful World Opportunity Forum, in which your country participated as well. By popular demand we are having it again in the month of May this year. So this is an invitation for you to invite investors from your country to participate again.
Thank you for the invitation. We look forward to it.